Paychex HR and Payroll Services in Texas
Paychex payroll, HR solutions, and PEO in Texas can help you improve efficiency and productivity so you can focus on growing your business. With conveniently located offices in Dallas, Austin, and Houston, we can help you find payroll and HR services that fit your business needs.
Paychex Texas Locations
Among the leading payroll and HR companies in Texas, Paychex works with businesses throughout the Lone Star State: organizations near the Alamo and San Antonio River Walk, businesses near Big Bend National Park, companies near Houston Space Center, and beyond. Find us at a branch near you:
Customer Support in Texas
We can help you whenever you need us, with multiple support options including phone, email, and chat options available 24/7.
 
Paychex Services for Texas Businesses
The Single Platform for Your HR, Payroll, and Benefits in Texas
Our flexible technology is built to help you manage human resources and payroll more simply. Looking for PEO* companies in Texas? We also offer comprehensive options for businesses of all sizes.
The Value of PEOs in Texas
Working with a Texas PEO can help you save time and money managing your payroll, HR tasks, health insurance, retirement plan, and other employee benefits so you can use those resources where they'll matter most.
Paychex HR PEO in Texas includes HR advice for your specific issues from a dedicated HR professional, plus support with recruiting, hiring, and employee retention, simplifying benefits administration and keeping you up with the latest federal and Texas laws and regulations.
Find the Right Solution for Your Business in Texas
Provide a few company details and we can recommend solutions that work for your business and employees.
Find Your Solution
How many employees do you have?
Paychex Is the Smart Choice for Payroll and HR in Texas
Pays 1 in 12 U.S. Private Sector Employees
We have decades of experience helping businesses save time and improve payroll accuracy.
Largest HR Company for Small to Medium-Sized Businesses
Tackle current and future HR challenges with the help of our comprehensive human resource solutions.
World's Most Ethical Companies, 13-Time Honoree
More than half a million businesses trust us with their payroll and HR needs.
Additional Resources for Businesses in Texas
Benefits are any type of perk or compensation that are offered on top of an employee's regular wages. Ranging from traditional to creative, a small business's employee benefits can be a strategic tool that helps your business stand out among competitors and demonstrates how well the business takes care of its employees.
Employers should not underestimate the importance of employee benefits for small businesses. According to its 2022 Trends report, the Boston College Center for Work & Family attributes overwork, burnout, and a quest for more purpose and values-driven work as some of the reasons behind millions of Americans leaving or changing jobs each month. A small business employee benefits package that meets employees' needs on these issues, when added to a competitive salary, can attract job candidates, and encourage great employees to stick around, helping to ensure the longevity of the business.
What should you keep in mind when building a small business employee benefits program? Here are some questions to guide you through the process:
Do Small Businesses Have To Provide Benefits?
Some employee benefits are legally mandated by state or federal laws. As a result, there are a certain number of basic benefits for small businesses that a worker is entitled to receive.
The U.S. Bureau of Labor Statistics reported that the cost of these mandatory benefits make up a very small portion of a worker's hourly wage. As of June 2022, the median cost to businesses of private sector employees came to $2.93 for every hour worked.
All employers, regardless of size, are required to provide the following benefits to employees.
Social Security and Medicare
Social Security and Medicare are funded by the Federal Insurance Contributions Act (FICA), a federal payroll tax, and are used to provide benefits to older Americans, disabled individuals, and children. Social Security benefits are based on an employee's lifetime earnings record.
Workers' Compensation Insurance
Workers' compensation insurance is a safety net that provides financial support to people unable to work due to a workplace injury or illness. Subject to some exceptions, workers comp insurance is generally required for all employers, regardless of size.
Unemployment Insurance
Qualified full-time and part-time workers receive financial protections in the form of income for a limited period of time when they are let go due to mergers, layoffs, or termination without substantial proof of cause.
You may notice that health benefits are not part of this list. There are mandated health benefits for applicable large employers (ALEs); companies with an average of 50 or more full-time employees, including full-time equivalents, in the previous calendar year. There are no such requirements for smaller businesses.
When should a small business offer health benefits? The answer varies for each business, but health benefits should be provided by every employer, no matter the size, who wants to attract reliable workers and who cares about the overall health and well-being of their employees. Fortunately, there are several affordable health benefit options available to small employers that can help you keep your employees happy, healthy, and productive.
Why Is It Important for Small Businesses To Offer Employee Benefits?
The importance of employee benefits lies in its function as a strategic tool. While some benefits are required by law as we've outlined above, savvy small business owners recognize that simply meeting the legally required minimum benefits offerings may not be in the best long-term interests of the business. Many employees consider the benefits package a major factor in deciding whether to accept a job offer or a top reason why employees choose to leave a job. To build and keep a strong labor force, employers must be competitive in their benefits offerings.
Small business employee benefits can be personalized to fit corporate culture and workers' needs. Finding a sustainable work-life balance that protects employees' financial, physical, and mental wellness is a top priority for many workers. A small business benefits package that can help them achieve it will likely inspire loyalty and nurture positive attitudes in the workplace.
What Does a Basic Benefits Package Include?
A typical benefits package for small businesses can include health insurance, dental and vision coverage, paid time off, a retirement plan, a flexible spending account, and a health savings account/health reimbursement arrangement. Other benefits offerings may include life insurance and disability coverage (five states require that employers provide short-term disability insurance to employees). Although mandated by federal and state law, Social Security, workers' compensation and unemployment insurance taxes are considered employee benefits as well.
What Benefits Can a Small Business Offer?
Health Benefits
Not only can healthcare costs create financial anxiety among workers, but businesses lose money and productivity when employees are sick or managing a chronic health condition.
Financial Health Benefits
When employees fret over finances due to today's high cost of living, they are likely to come to work filled with anxiety and be distracted, making them less engaged and productive. Chronic anxiety can also increase their risk for physical and mental health issues.
Retirement accounts: Give employees the ability to make pretax contributions to a retirement account, like a 401(k), and reap the benefits of compounding interest. Consider making a matching contribution to help workers achieve the savings goals they need. HSAs can also serve as a vehicle for retirement savings.
Annual pay raises: Reduce the impact of inflation on your employees financial health by implementing a system that provides for regular cost of living adjustments in addition to any annual performance-related increases they may receive.
Financial education: Financial wellness includes understanding how to manage finances. Classes and workshops in money management can empower employees to make smart decisions with their funds and give them lifelong skills for better financial fitness.
Tuition and student loan assistance: Many college-educated employees are burdened with student debt. A benefit that helps with student loan repayments can make your business look more attractive to many Generation Z, millennial, and even Generation X workers. Another variation is to provide a tuition reimbursement program to help employees further their education.
Mental Health Benefits
Creativity, engagement, productivity, and even physical health can all take a hit when a worker is suffering from chronic or acute mental health issues. These can arise from feeling overwhelmed in the workplace or at home.
Employee assistance program (EAP): An EAP gives employees confidential, 24/7 access to trained professionals and counselors who can help them and their dependents with a variety of life's stressors: anything from parenting teenagers to relationship issues to anxiety or dependency.
Employee resource groups (ERGs): Giving employees a chance to bond or learn more about shared interests, characteristics, and/or experiences can help create a culture of acceptance, respect, and inclusion within your business.
Social perks: Socializing with other employees and bonding over shared experiences can help a worker feel connected and part of a community. Such activities can also increase resiliency against depression and feeling isolated.
Flexible work schedules: Balancing home and work obligations in today's demanding world can deplete an employee of time and energy, leading to burnout. Choices in flexible and hybrid work schedules allow employees to juggle work and home responsibilities more equally.
Wellness programs: Encouraging behaviors that improve physical and mental health, either through classes, inclusive group challenges, or incentives can create a sense of teamwork and accomplishment, all while helping lower healthcare expenses for employees and a business.
Fringe Benefits
Additional benefits in the form of cash, cash equivalents, or services are all considered fringe benefits and can help strengthen worker loyalty. Many of these are ideal benefits for small businesses because they are often relatively affordable.
Dental and vision: Healthcare plans typically do not cover dental or vision costs, yet both are an important and integral part of overall wellness. Without a dental or vision plan, many employees may opt to go without.
Life insurance: Give employees peace of mind that in the event of the unthinkable, their dependents will have a financial safety net.
Dependent care flexible savings account: Childcare and eldercare expenses can overwhelm a worker's monthly budget. Similar to a medical FSA, a dependent care FSA lets an employee set aside pretax earnings for qualified care expenses, thus reducing their annual tax obligation.
Gift cards: Gift cards to places like restaurants, grocery stores, and gas stations are a way to recognize a job well done and can go a long way toward validating a worker's contribution while putting a little extra money in their pocket. Take care to be equitable in the use of gift cards to avoid having some staff members feel overlooked and forgotten.
Paid volunteer days: Many workers want to contribute their time to a meaningful organization but lack the time or money to do so. A paid volunteer day lets them know your business cares about giving back to the community and lets employees fulfill a greater sense of purpose.
Memberships and passes: Passes to museums, sports events, public transportation, or even a gym membership are all extras that can help your employees enjoy their life while experiencing a sense of gratitude to their employer for making it happen.
What Benefits Can Set My Company Apart From Competitors?
Research and determine what other firms in similar industries are offering their employees — perhaps the local Chamber of Commerce or a local HR association have benefits survey results for the local area. Your insurance and tax professionals are also good resources for getting information on "what everybody else is doing." It may also be helpful to talk with employees and determine what they would most like to have — and there may be an affordable way to get them what they want.
For example, employers can open an IRA or 401(k) plan without a company contribution. In the case of health coverage, they can set up a high-deductible health plan and fund a portion of the deductible through a health reimbursement arrangement — there are numerous options available, and it's worth having a conversation with your CPA or insurance broker. It makes the most sense to think about starting or expanding benefits that will mean something to your workforce, and maybe provide tax savings for the business.
How Much Do Benefits Cost a Small Business?
Depending on what's being offered, some employee benefits don't cost small businesses anything. Some benefit plans do not need any funding from an employer (other than administrative costs to manage the plan), such as a flexible spending account for dependent care expenses as well as dental and vision insurance, which can be paid completely by the employee who enrolls in the plan. Depending on the size of your business, you may also be eligible for a small business health care tax credit if you offer healthcare to employees.
To further minimize costs associated with your small business employee benefits program, consider non-traditional benefits, such as flex scheduling, employee assistance programs, or telecommuting. You can also include low-cost benefits such as paid time off enhancements, free meals, or rewards for a job well done (like gift cards for a local coffee house, gas station, etc.) to incentivize employees.
How Do I Show Employees the Value of the Benefits I'm Offering?
Create and distribute a total compensation summary for each employee. These statements illustrate, in dollars and cents, the value of not only the employee's salary but also the employer's contribution toward both mandatory and voluntary benefits. Seeing these figures in black and white can help employees understand the real value of these benefits.
If you've previously offered benefits and are changing or updating your benefits package, develop a communication plan (scroll down to Establish a Communication Plan) for delivering this information. A well-thought-out plan can help ensure that employees thoroughly understand the reason for the changes, the impact of new and updated benefits offered, and where to go for additional information or questions.
How Can I Minimize the Work Involved With Managing an Employee Benefits Program?
Technology now makes it possible to integrate your benefits administration with your payroll processing. While offering a benefits package is important to your business, it doesn't need to add additional administrative burden onto your HR team. Solutions like Paychex Flex® can handle the heavy lifting while still allowing you to do what you do best — run a successful business.
How To Offer Benefits as a Small Business
You may be wondering, how can a small business offer benefits that can compete with larger corporations? Making strategic choices that personalize your offerings to your employees' needs can help ensure you develop a benefits package that works to support your brand and business objectives. In addition to researching employees' needs, ask them what they want. You can also research your competitors to make sure your benefits stand apart from the competition.
Seeking assistance from a third-party HR services provider can help you organize the most comprehensive and advantageous benefits package. With a reputable, outsourced benefits provider like Paychex, you can save time, money, and headaches by reducing administrative overhead and the associated potential risk of errors, all while staying ahead of ever-changing state and federal regulations. See Paychex's employee benefits package options and discover how you can offer more to your employees than you may have thought possible. Your business and your workers will be glad you did.
---
Insurance sold and serviced by Paychex Insurance Agency, Inc., 225 Kenneth Drive, Rochester, NY 14623. CA License 0C28207.
Key Takeaways
65% of employees consider themselves a "quiet quitter."
Quiet quitters are 36% more likely to say their manager influences their work ethic.
To weed out potential quiet quitters, 61% of HR professionals ask interviewees what they love about their current or previous role.
A Shift in Workplace Philosophy
"Quiet quitting," or doing the minimum amount of work required to keep a job, is rapidly spreading through the workforce. To find out how this trend affects workplaces, we surveyed more than 1,000 full-time employees about these behaviors and the reasons behind them. We also asked hundreds of human resources (HR) professionals about their strategies for identifying and handling quiet quitters. Read on to find out how businesses try to prevent quiet quitting and how you can catch it before it happens in your workplace.
Why Employees Quietly Quit
To begin our investigation into quiet quitting, we asked survey participants how they define it, if they consider themselves a quiet quitter, and what factors impact their work ethic.
Forty percent of employees surveyed define quiet quitting as only taking on work tasks within their job description. For them, duties assigned outside work hours, special projects, and the like, aren't required and, therefore, not their responsibility. They clock in, do their job, and clock out.
Another 24% define quiet quitting as setting firmer boundaries at work, possibly in an attempt to ensure their career doesn't infringe too much on their personal life. Having a good work-life balance is an issue many struggled with during the pandemic, particularly after switching to a work-from-home lifestyle. Our remaining respondents view quiet quitting as an indirect or slow way to quit their job: 23% say it's a way to get fired rather than quit, and 10% define it as a decline in work before resigning.
Based on these definitions, 65% consider themselves quiet quitters, with remote workers being most likely to do so (81%). Hybrid workers have the second highest rate of quiet quitting (61%), while in-office workers are the least likely (38%). Some aspects of quiet quitting might be easier to get away with while working from home versus at the office, where employees tend to be monitored more closely. With this in mind, our findings make it easy to see why companies are eager for employees to return to the office.
So, why are many employees suddenly choosing to forgo any duties beyond their job responsibilities? The majority of quiet quitters say their manager affects their work ethic (57%), as does their mental health (55%), and salary (51%). Employees who feel they are not adequately compensated may also be less willing to tolerate an unpleasant boss or unbearable co-worker — both factors that have impacted the work ethic of more than half of those we surveyed.
On the other hand, other employees who don't consider themselves quiet quitters said it's the job itself that drives their work ethic: More than half (61%) say their job responsibilities influence their work ethic. As with their quiet quitting counterparts, mental health concerns influence many (52%), while less than half name their salary (49%), manager (42%), workplace conditions or atmosphere (38%), or co-workers (36%) as main influences on their work ethic.
Whatever has caused their demotivation, the difference between the workplace philosophies of quiet quitters and other workers has significantly impacted their job security. Within the last year, 69% of quiet quitters received a warning at work compared to only 16% of those who didn't label themselves quiet quitters. And, nearly three-quarters of quiet quitters have been fired in the past year compared to only 16% of other employees.
How Can You Tell If Your Employees Are Quietly Quitting?
The warning and firing rates of quiet quitters illustrate how managers have stood firm against these employees' dwindling attention and work quality. Unfortunately, these high employee turnover rates can put a particularly heavy strain on HR departments. So, how are HR professionals handling this phenomenon?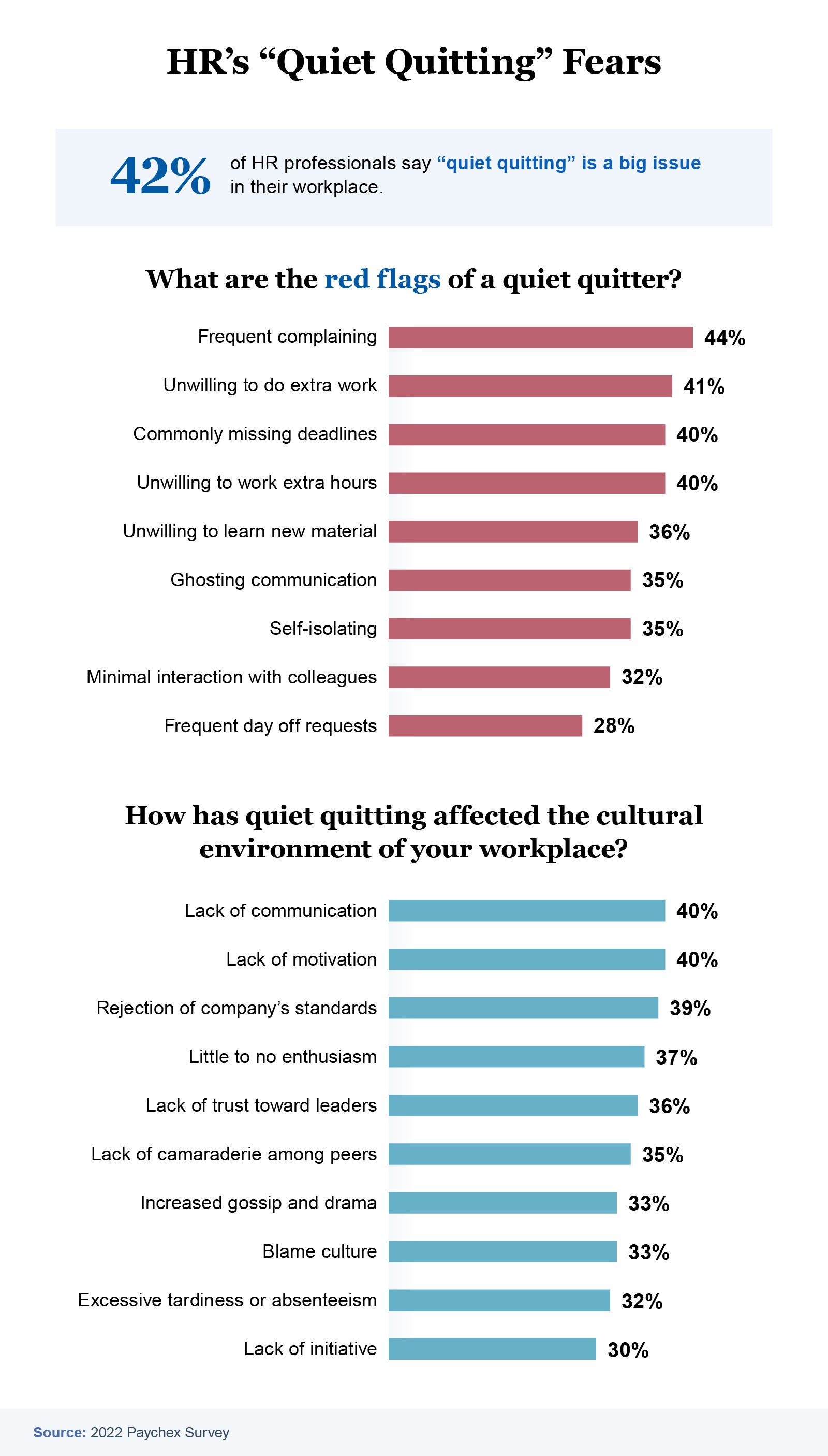 HR employees are on high alert for quiet quitters, with 42% of those surveyed saying it's a major problem in their workplace. As such, they pointed out some red flags to help you spot the behaviors associated with quiet quitting.
The biggest red flag HR professionals note is constant complaining (44%), closely followed by an unwillingness to do extra work (41%), and regularly missing deadlines (40%). Isolation (35%) and minimal interaction with colleagues (32%) are other red flags.
In short, quiet quitters are impacting more than just their own work — they're affecting the entire workplace. HR professionals say quiet quitting contributes to a work culture lacking in communication and motivation (40%), adherence to company standards (39%), and camaraderie among peers (35%). Quiet quitting also increases gossip, drama, and blame, according to 33% of HR professionals.
Identifying and Remotivating Quiet Quitters
With quiet quitting causing such a disintegration in workplace productivity and morale, HR professionals have come up with ways to stop it in its tracks. What are they doing to get quiet quitters motivated to do their best work, and how are they keeping unmotivated prospects off the payroll from the start?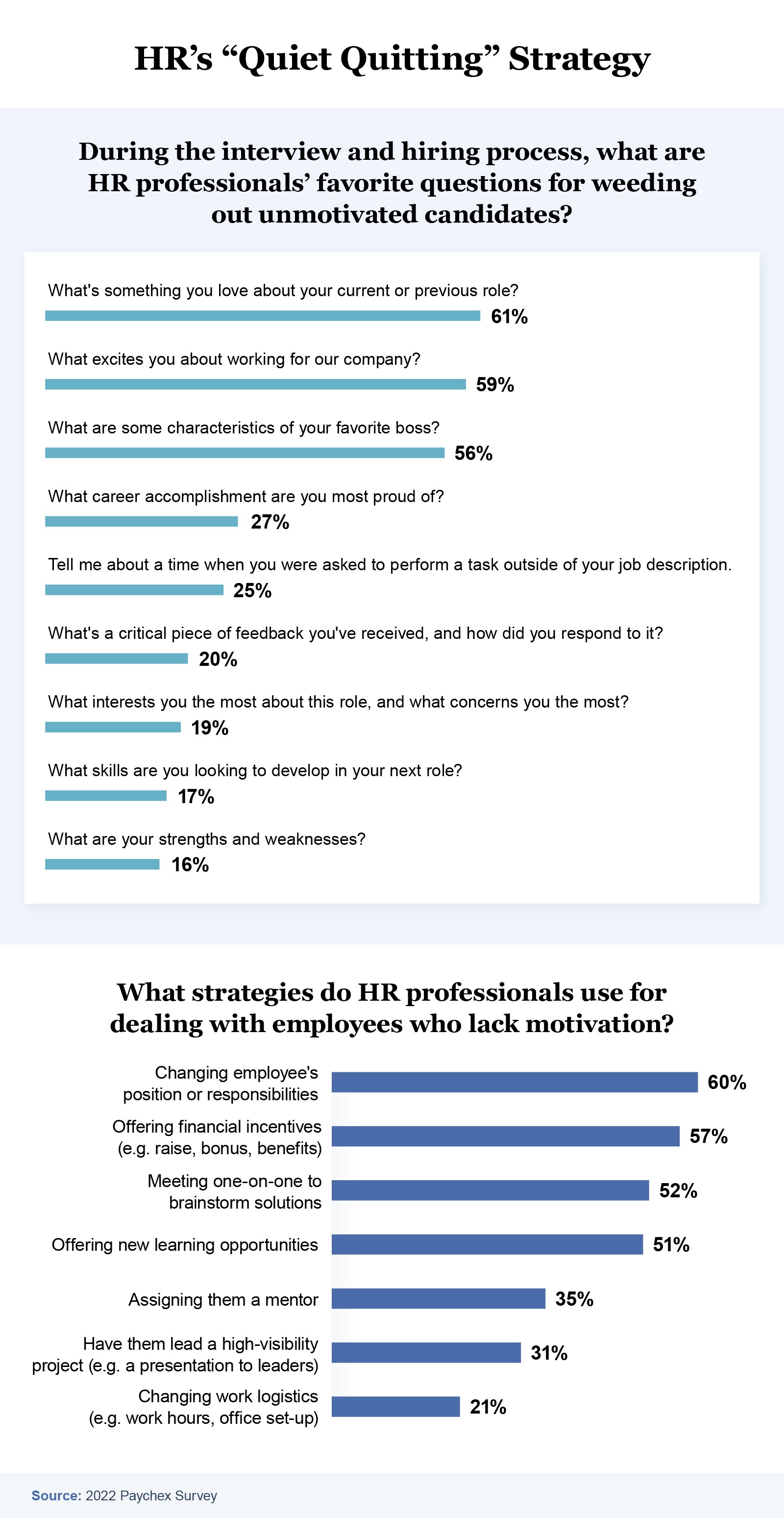 HR professionals say they ask pointed questions in job interviews to weed out unmotivated candidates. The question most asked by HR during hiring is, "What's something you love about your current or previous role?" Designed to uncover the level of interest someone has in their work, this question can quickly determine if a candidate is motivated by a love for the job or is just looking to fill their nine-to-five.
The third most asked question is, "What are some characteristics of your favorite boss?" In addition to displaying the candidate's level of enthusiasm about their job, this question can also reveal their relationship with a former employer. It might be a red flag if they can't think of anything they love about a former boss (or worse — if all they have are complaints).
Despite an organization's best efforts to keep unmotivated employees off of payroll, it may be inevitable. Even the most highly motivated employees can face burnout and fade into quiet quitting mode. Luckily, HR professionals have developed some strategies for reengaging these employees. The No. 1 strategy HR professionals note is changing an employee's position or responsibilities (60%).
Financial incentives — including raises, bonuses, and benefits — are another commonly used strategy (57%), tackling an issue reported by many quiet quitters: salary. The third most common strategy is to hold a one-on-one meeting with the employee to brainstorm solutions for improving their engagement, together (52%). These meetings can not only make an employee feel valued; it can offer them an opportunity to voice concerns they may not feel confident bringing up on their own, and give them a greater sense of control over their position.
Overcoming Quiet Quitting
The "bare minimum" philosophy of quiet quitters is disrupting the productivity and culture of many businesses. While a legitimate concern for employers and HR professionals, it's also an attempt to achieve work-life balance — an issue present throughout the pandemic that persists for many today. This means it's become more important for the "work" half of that balance to include substantial purpose and reward. For some quiet quitters, that purpose is found when an employer demonstrates a commitment to their mental health and makes the employee feel heard, valued, and in control. For others, the reward is more straightforward: more pay for the work.
To focus more on employees' well-being, employers can offer the option for employees to switch up their job responsibilities, allowing them to work on what interests them so they can stay engaged. HR professionals can help by meeting with and listening to employees, helping them to feel heard and maintain a sense of ownership over their position. And, of course, employers can also make employees feel valued through monetary incentives. Changes like these can combat the troublesome trend of quiet quitting and bring positivity and productivity back to the workplace.
Methodology
Paychex surveyed 1,042 full-time employees about "quiet quitting," with 204 of those surveyed being HR professionals. As for workplace status, 46% of employees surveyed worked remotely, 30% worked a hybrid schedule, and 24% worked in the office.
About Paychex
Paychex is a leading provider of integrated human capital management solutions for human resources, payroll, benefits, and insurance services. Founded over five decades ago, Paychex simplifies the complex processes of running a business, so you can focus on what matters most.
Fair Use Statement
If you've found our study about quiet quitting interesting and useful, you're welcome to share our data for noncommercial purposes. Please link back to our study so we can get proper credit for our exploration of quiet quitting and its effect on the workplace.
Key Takeaways
78% of women have experienced gender bias or discrimination in the past year.
62% of women have reported a male co-worker to HR for harassment.
74% of women are afraid of being laid off amid all the tech layoffs.
Understanding the Tech Environment for Women
Although there are many women in the technology industry today, they have been historically underrepresented in the field. In 2018, we analyzed the climate for women in tech to better understand the problems they faced. But how have things changed in the last four years? To find out, we decided to do it again in 2022.
We wanted to know if women still face the same challenges as before, so we dug into their education, current jobs, and reasons for entering their respective tech fields. As the country recovers from the pandemic and faces a potential recession, we also wanted to understand how women were affected by recent layoffs. To do so, surveyed 1,000 American women in the technology industry. Here's what they had to say.
Getting Started in Tech
With so many barriers to entry for women in the technology industry, including a lack of support for women pursuing education in STEM, we first wanted to know what their reasons were for choosing a career in tech.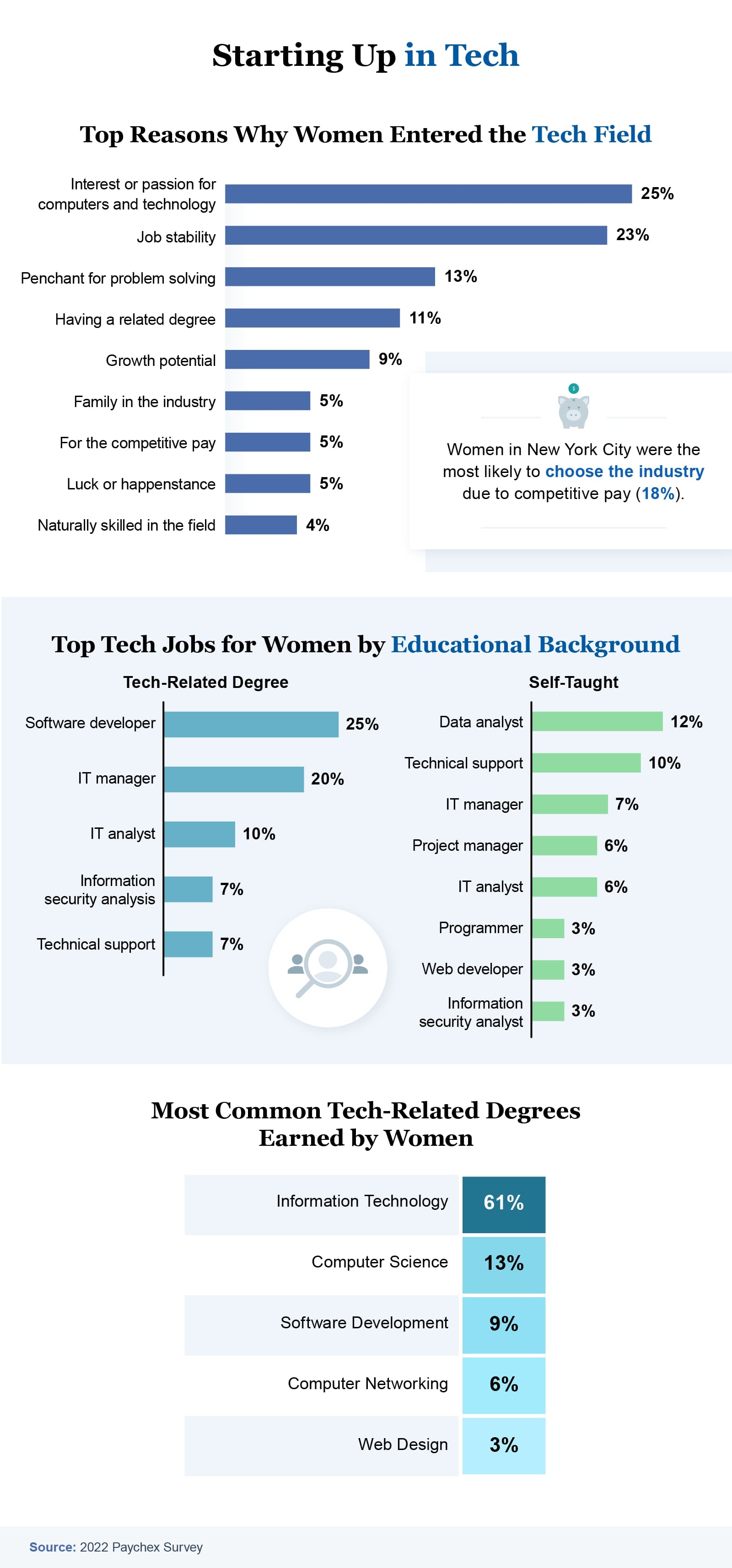 Despite the stigma women might face for pursuing technology-related careers, an interest in or passion for computers and technology was the top reason survey respondents entered the industry (25%). This finding is similar to the top motivator in our 2018 survey: a love for computers and tech. Almost as many women (23%) said job stability was their main reason for joining the industry in 2022.
Considering tech positions are in high demand, it makes sense that so many women would see the job market as stable. But the benefits and salaries are another matter, with only 5% of women citing competitive pay as the biggest draw for female tech workers. Of course, this varies based on location — for example, 18% of those who named pay as their primary reasoning in 2022 were in New York City. And in 2018, California Bay Area women were three times as likely to cite high pay than those living in other places. The importance of high earnings in areas with high living costs hasn't changed much.
Having a tech-related degree may seem like an obvious motivation to seek a career in tech, but only 11% claimed this as their top reason for working in the industry. While the degrees earned by most women we surveyed (over 60%) were in information technology (IT), many other respondents' tech skills were self-taught. Among them, the most common professional position was data analyst, while for those with a tech degree, it was software developer.
Women's Struggles in the Tech Industry
Although women get into the tech industry for many different reasons, many have something in common: the challenges they experience in the workplace. Next, we asked women about their experiences and feelings about being a woman working in a tech field.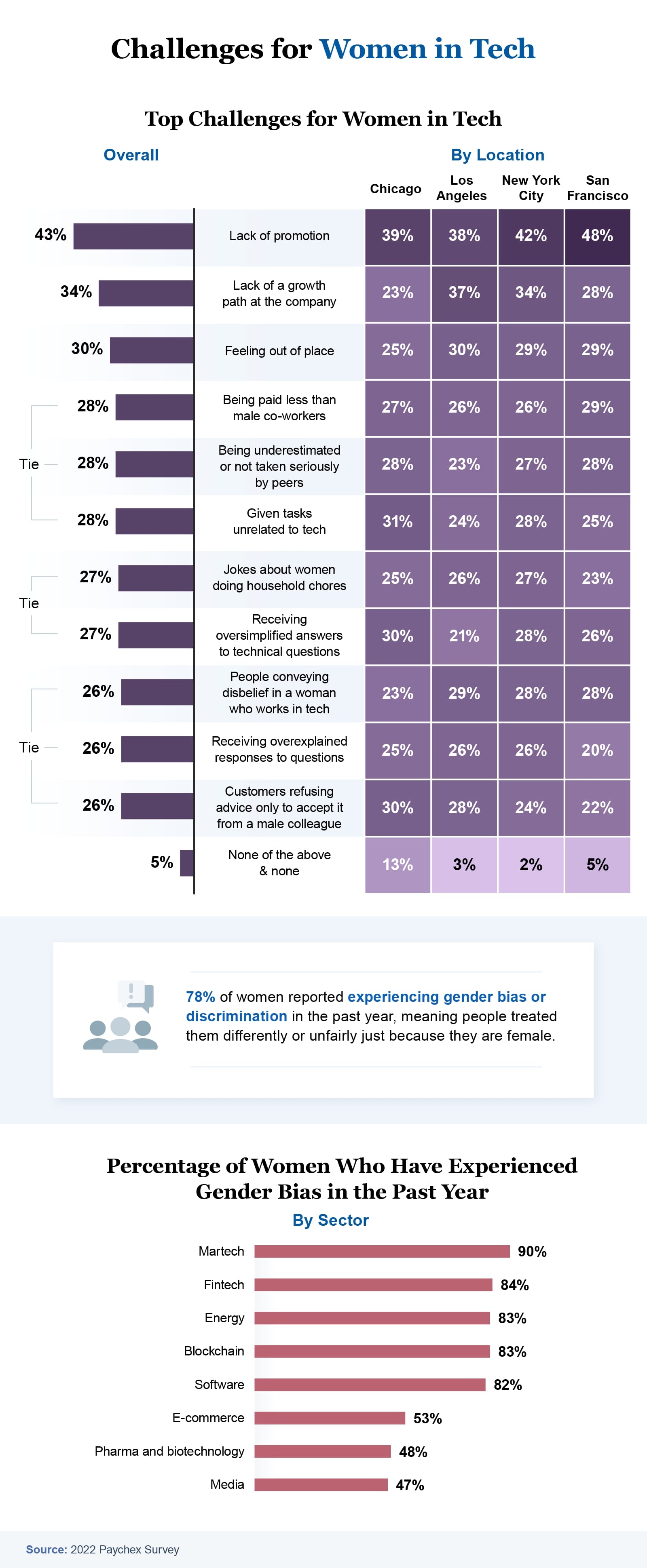 The challenge most commonly faced by women in the tech industry was a lack of promotion, as cited by 43% of respondents. With no way to move up in the ranks, 34% felt like there was also a lack of a growth path for them within their company. Feeling like an outsider was also prevalent, with nearly a third saying they've felt out of place at work.
A few years ago, being underestimated or not taken seriously by peers was the greatest opposition women faced — 67% of respondents reported this in 2018. Although this issue still landed among the top five most common challenges in 2022, there has been a significant decrease: Only 28% of women said their peers underestimated them or didn't take them seriously.
The prevalence of issues like these varied depending on geographic location. In San Francisco, women felt the wage gap more, with 29% of women saying they weren't paid as much as their male co-workers. And at 37% in Los Angeles, women felt the lack of growth opportunities more than those in any other city.
Think our modern era is the picture of gender equality? Think again. More than 1 in 4 of the women we surveyed said they've heard jokes in the office about women doing household chores. And the prejudice wasn't limited to the workplace: 78% reported experiencing gender bias or discrimination in the past year, whether in their personal or work lives.
Gender-based workplace discrimination varied by tech sector. For instance, nearly all women in the marketing technology sector (martech) have experienced gender bias (90%). More than 80% of those working in financial technology, energy, blockchain, and software have as well. The lowest instances of gender discrimination were reported by women in media-related tech jobs, but it was still reported by nearly half (47%).
Coping With and Overcoming Inequalities
As more women enter the tech workforce and are honest about the challenges they face, the more they can work together to overcome discrimination and bias in the workplace. To conclude our survey, we asked women about steps they've taken to protect themselves or their colleagues at work. They also shared their career outlooks.

Many women have had to take action against inappropriate behavior in the workplace: 62% said they reported a male co-worker to HR for harassment and 60% for gender bias. Women seem to be reporting these incidents more frequently now than in 2018 when only 19% of our survey respondents reported co-workers for bias or discrimination, and 21% spoke up about harassment.
The burden of bias against women in the tech industry is heavy enough to make many want to change careers (62%). Many we surveyed were even planning to act on it soon: 57% said they plan to leave the industry in the next six months. This shows an increase from the 2018 average when only 24% of women said they had considered changing fields for this reason.
The threat of layoffs and the anticipation of a recession have compounded these problems for women in tech. Even giant tech company Meta recently let much of their staff go in a push to reduce costs. Nearly three-quarters of our respondents (74%) said they were afraid of being laid off. Many of them already had, with 84% of respondents from New York City saying they had been laid off recently.
But of women who had recently been let go, 96% went on to another tech industry job where they made even more than they had previously: an average increase of $10,660. We saw even bigger increases in some places, especially San Francisco, where they earned over $38K more on average at their new job. Most women said it took between two and five months to find a new job, but it was worth the wait.
Moving Forward
Women in the technology industry still face a myriad of challenges in the workplace, from lesser pay to being undervalued and even harassment. But by far, their biggest challenges were a lack of growth potential at their workplaces and worries about potential layoffs. However, fewer cited workplace challenges in 2022 compared to 2018, and they have since been more likely to report co-workers for gender bias, discrimination, or harassment.
Still more, though, are considering leaving it due to gender-based pressures, pointing to a need for further support. Tech companies must do more to bridge these gaps for women in the workplace and give them the same opportunities and respect as their male counterparts.
Methodology
Paychex surveyed 1,000 American women in the technology sector about their experiences. The average age was 32, and their locations were as follows: 42% lived in New York City, 12% in Los Angeles, 7% in San Francisco, 7% in Chicago, and 32% in other U.S. cities.
About Paychex
Paychex provides payroll, human resources, and benefits outsourcing services for small to medium-sized businesses. Our tools make hiring, managing, and retaining employees easy.
Fair Use Statement
If you enjoyed our findings, feel free to share them for noncommercial purposes. Please be sure to link back to our original article as a credit to our Paychex research team.
Join Our 700,000+ Customers and Get Help Managing HR, Payroll, and Benefits for Your Texas Business