Paychex HR and Payroll Services in Texas
Paychex payroll, HR solutions, and PEO in Texas can help you improve efficiency and productivity so you can focus on growing your business. With conveniently located offices in Dallas, Austin, and Houston, we can help you find payroll and HR services that fit your business needs.
Paychex Texas Locations
Among the leading payroll and HR companies in Texas, Paychex works with businesses throughout the Lone Star State: organizations near the Alamo and San Antonio River Walk, businesses near Big Bend National Park, companies near Houston Space Center, and beyond. Find us at a branch near you:
Customer Support in Texas
We can help you whenever you need us, with multiple support options including phone, email, and chat options available 24/7.
 
Paychex Services for Texas Businesses
The Single Platform for Your HR, Payroll, and Benefits in Texas
Our flexible technology is built to help you manage human resources and payroll more simply. Looking for PEO* companies in Texas? We also offer comprehensive options for businesses of all sizes.
The Value of PEOs in Texas
Working with a Texas PEO can help you save time and money managing your payroll, HR tasks, health insurance, retirement plan, and other employee benefits so you can use those resources where they'll matter most.
Paychex HR PEO in Texas includes HR advice for your specific issues from a dedicated HR professional, plus support with recruiting, hiring, and employee retention, simplifying benefits administration and keeping you up with the latest federal and Texas laws and regulations.
Find the Right Solution for Your Business in Texas
Provide a few company details and we can recommend solutions that work for your business and employees.
Find Your Solution
How many employees do you have?
Paychex Is the Smart Choice for Payroll and HR in Texas
Pays 1 in 12 U.S. Private Sector Employees
We have decades of experience helping businesses save time and improve payroll accuracy.
Largest HR Company for Small to Medium-Sized Businesses
Tackle current and future HR challenges with the help of our comprehensive human resource solutions.
World's Most Ethical Companies, 13-Time Honoree
More than half a million businesses trust us with their payroll and HR needs.
Additional Resources for Businesses in Texas
While working from home may offer various opportunities to businesses and employees, it's important that employers think strategically about the best ways to develop and manage a remote workforce. It may also be top-of-mind as companies consider ways to fortify themselves against the Great Recession by implementing work-from-home (WFH) policies that may help retain workers and attract new ones who are prioritizing their personal and professional well-being. Additionally, having a strategy for managing remote teams can help keep your business operating in the event of another coronavirus variant outbreak.
Remote work may offer benefits for employees and employers alike. Working from home may offer staff significant work-life balance opportunities, such as an improved focus on projects and the elimination of commute times. Businesses can reduce costs (e.g., expenses related to utilities, janitorial services, or even mortgage and lease arrangements) and help maintain a healthy workplace when viral illnesses are at their peak.
No matter the circumstances that have employers considering remote workforce management, implementation often comes with challenges. Maximizing benefits while navigating potential pitfalls requires a clear strategy, the right infrastructure, and a close eye on both culture and human resource management. If you have questions about managing remote employees, are planning to evaluate your current WFH policy, or anticipate having remote employees, the following 10 best practices can help guide you through the process.
<iframe allow="autoplay *; encrypted-media *; fullscreen *; clipboard-write" frameborder="0" height="175" style="width:100%;max-width:660px;overflow:hidden;background:transparent;" sandbox="allow-forms allow-popups allow-same-origin allow-scripts allow-storage-access-by-user-activation allow-top-navigation-by-user-activation" src="https://embed.podcasts.apple.com/us/podcast/dont-let-your-top-talent-become-someone-elses/id1507824762?i=1000559422630"></iframe>
1. Set Clear Expectations and Document Policies
Successfully allowing your employees to work remotely starts with establishing clear parameters. No matter the circumstance for considering a WFH policy, it's important to set and communicate expectations for remote employees from the beginning, including:
Which positions may be eligible to work from home,
Guidelines around hours of availability,
Job responsibilities, and
Performance goals.
A remote arrangement or WFH policy should also establish clear business hours and address how to properly track hours worked, communication frequency, and data security best practices.
When a manager takes time to discuss the expectations about working offsite, it sets a precedent for clear and open communication. This is critical to not only effectively managing remote employees, but supporting their ability to turn in deliverables, ask questions, engage with the business, and get the answers they need to do their best work. This conversation should be ongoing, whether the arrangement is permanent or temporary.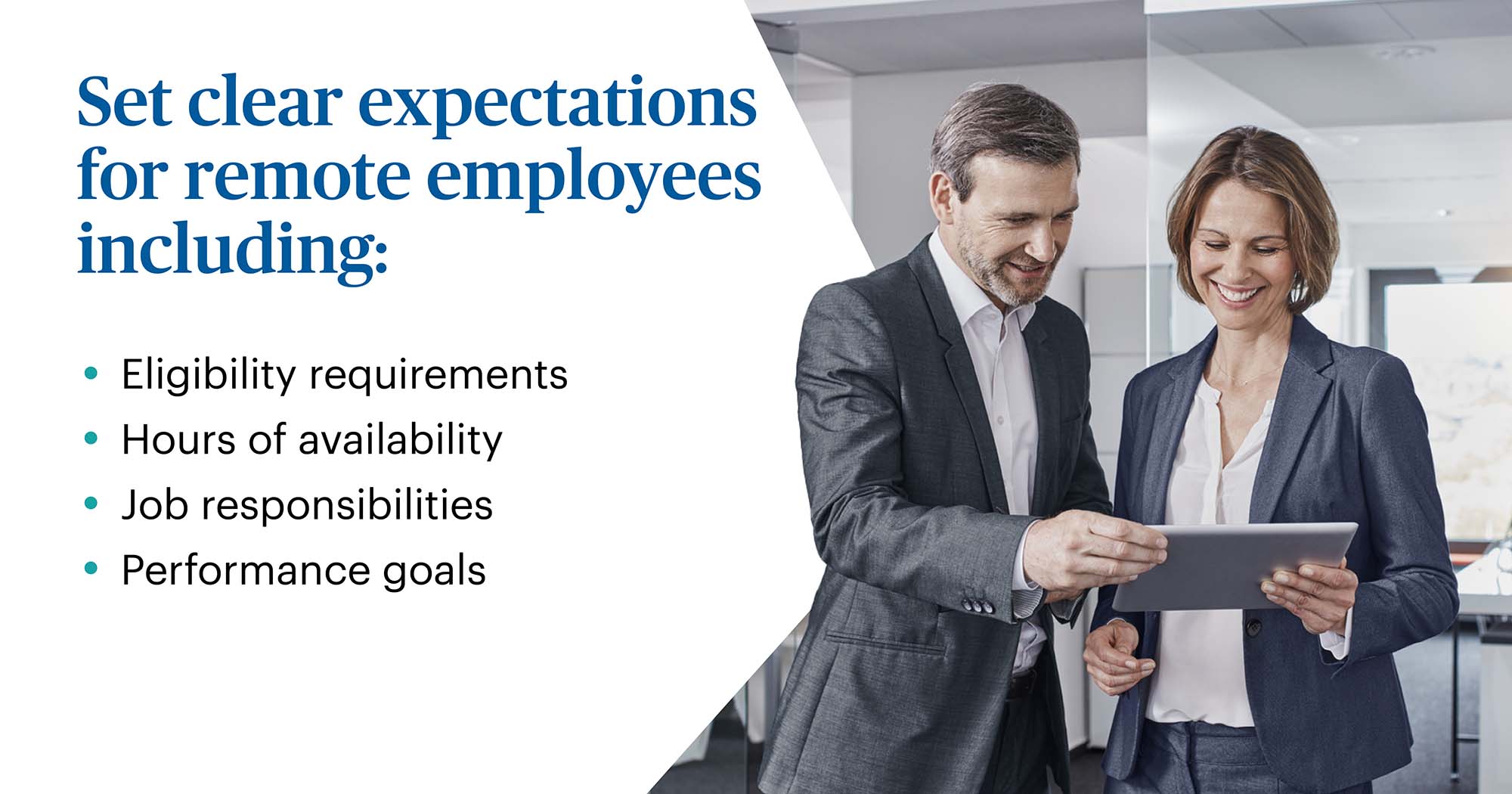 2. Address Onboarding Challenges
Remote workers face a unique set of challenges during the onboarding process. They aren't physically immersed in the business culture and cannot walk down the hall to ask a colleague a quick question. It may be more difficult for a new, remote worker to develop relationships with their co-workers. These interactive aspects of work can be achieved but often require more detailed explanations and follow-up in a remote environment than a traditional in-office workspace.
An employer can set clear expectations, but remote workers need the right kind of support to meet those expectations from a remote location. This includes having the right technology and training to understand how to use it. Training should also emphasize the business culture and provide ways for a new hire to get to know other employees. For instance, consider pairing a new employee with a co-worker who can mentor the employee until they feel comfortable. Managers need to make sure they are available to answer questions and help new, remote workers access the resources they need for success.
3. Evaluate Your Technology
Technologies that help employees collaborate and connect are essential for managing remote employees and allowing team members to communicate with each other. As such, your IT strategy may need to evolve to accommodate this. Consider hardware investments such as laptops, smartphones, and tablets. You may also consider if a "bring your own device" (BYOD) policy is right for your business. A good rule of thumb is for workers to test-run these devices before starting to work from home, to make sure they can connect to the internet and any job-specific internal networks while away from the worksite.
It may also be important to leverage cloud-based software systems and collaboration tools that make it possible to have conference calls, host webinars, work on documents simultaneously, engage in video chat, and participate in a way that can help increase productivity and build relationships.
Virtual communication and project management platforms allow employees to share knowledge, encourage conversation, and enhance meetings while staying connected with their supervisor, team, and company. Providing technical training to instruct remote employees and their managers on virtual tools and resources can encourage use.
Your technology should also support other business functions that remote workers need. HR and payroll services would ideally include an employee self-service feature, so workers can get answers to questions about their pay, hours, and benefits at their convenience without always having to speak to someone in HR.
4. Develop Collaboration Methods That Support Remote Workers
These days, remote work has become the norm, rather than the exception. Team members may be working on a project across different geographic areas and work environments. Because collaboration and clear communication are essential to productivity and the success of projects, collaboration methods should work for both remote and in-office employees.
Video fatigue is real. Using brain scans, researchers have found that video meetings require more cognitive processing than traditional, in-person meetings. There are several ways to combat this phenomenon.
Ask yourself if a meeting is truly necessary. Perhaps the objectives can be met through an email with a conference call for follow-up.
Carefully consider which meetings are essential for video and which ones can be handled in other ways.
Adjust meeting length and style to be more appropriate for online communications. If video meetings are critical, try and group them together in a block. This can improve efficiency by creating fewer disruptions to an employee's workweek. Whenever possible, make the video portion optional.
Recognize that distractions of a different type are inherent with remote work locations. A dog can start barking during a conference or video call or a barista may be heard in the background. If a critical meeting is scheduled where these types of disruptions would be problematic, let staff know ahead of time so they can make appropriate arrangements.
5. Outline How Supervisors Can Stay Visible Without Micromanaging
Micromanaging an employee can imply a lack of trust, which is typically not a healthy foundation for a happy, productive workforce. Recognize that individuals have different work styles. One of the advantages of a flexible work environment is that it can allow an employee to take advantage of when they are most creative and productive, which may not perfectly align with traditional work hours.
That said, managers need to maintain communication with their teams and have visibility into work output. In a remote work setting, managers may need to check in more regularly with employees, but this could be perceived as micromanaging. It may be worthwhile to talk with supervisors before employees start working from home to discuss how to keep teams focused and productive when they're working remotely.
6. Create Human Capital Management Infrastructure
HR software can help facilitate collaboration across the company, allowing managers and staff located in different locations to easily share resources with remote employees.
From an HR perspective, companies can take a variety of steps to improve their ability to manage and serve a remote workforce. Cloud-based HR software can give employees self-service access to a range of different applications such as:
Time and attendance reporting
Benefits enrollment
Information management
Training and professional development
A flexible human capital management infrastructure can make it easier to successfully serve a remote workforce, while potentially delivering an outstanding HR experience.
7. Promote Culture and Information Sharing
When your team is dispersed, it's important to have a clear plan for promoting culture, disseminating knowledge, and communicating values. Tools such as an employee handbook and regular communications from leaders can help convey that information. This may include facilitating regular meetings, company-wide discussions, and forums.
It may be worth it to consider ways to bring employees together for occasional in-person interactions in ways that combine professional development and exposure to company culture. An annual, in-person retreat can be organized either regionally or even nationally. Consider offering an event once or twice each year to encourage remote workers who live near each other to get together. Doing so can strengthen a sense of team and camaraderie.
8. Understand Expense Reimbursement for Remote Workers
Remote workers are likely to have a set of expenses that differ from their in-office colleagues and it's important to understand how to make these reimbursements equitable. For instance, does the business provide on-site workers with coffee, tea, or snacks? Perhaps give remote workers a small stipend for the equivalent at their home office. Please note that there are reimbursement rules in certain jurisdictions that you should consider before making any final decisions.
9. Provide Meaningful Learning and Growth Opportunities
Knowledge-sharing is also critical when explaining key performance indicators for job evaluation. Feedback and follow-through on the remote employee's performance is critical to productivity and accountability.
Look for opportunities for the employee to evolve and develop in their role. A learning management system (LMS) is an ideal way to administer, document, track, report, and deliver educational resources, training programs, and opportunities to all employees. An LMS not only allows employees to learn when it is most convenient for them, but it may allow for anytime, anywhere access on any device — a notable benefit for offsite workers.
10. Consider Remote Employee Engagement and Teambuilding Activities
In the absence of face-to-face contact with colleagues and managers, remote employees could feel forgotten, disconnected, or unmotivated. Teambuilding activities can play an important role in engaging and nurturing a sense of camaraderie and can help workers stay productive and positive.
Activities based around health and wellness is one way to help keep employees engaged and connected. Additionally, healthier employees can mean a more vibrant and happier workforce with fewer health claims. Initiatives such as team-based step-counting contests or various physical and mental health challenges can be organized and tracked remotely to include all workers, regardless of location. This can be especially impactful if employees struggle to fit in physical activity around their work schedules or are at risk of burnout.
Establishing ways to celebrate and recognize employees' successes and accomplishments both professionally and personally can help nurture bonds and appreciation across teams. Be careful to make sure recognition is inclusive. A remote worker with a quiet, introverted personality can be easily overlooked. And don't overlook the impact that fun activities can have as well. If it fits with your business culture, encourage remote workers to introduce their pets or consider the occasional, designated video social hour.
Pitfalls and Challenges of Managing Remote Teams
While there are many benefits to a remote workforce, there are challenges of managing remote teams. These can include:
Failing to Differentiate Between Remote Work and In-Person Work. Remote work environments remove much of the uniformity and control that are typical of a traditional, physical location. Many of the rules for success that apply to a traditional office don't always transfer to a remote location.
No Clear Expectations or Boundaries. One of the benefits of working remotely is the ability to better balance personal and professional responsibilities. Due to different time zones or schedules, a remote worker may work different hours than a traditional worker. Lack of clear expectations around deliverables, desk time, and other responsibilities can develop a disconnect between a worker and a manager.
Poor Communication. When managing a remote workforce, out of sight should not be out of mind. Regular communication is critical to keeping a remote worker and a manager aligned with their needs and goals. Information bottlenecks due to missed emails or phone calls, lack of clear instructions on assignments, and not being available to talk and answer questions are all examples of poor communication.
Feelings of Isolation or Loneliness. Human engagement is an important part of mental health. A remote worker does not have the benefit of office camaraderie and the energy of spontaneous, work-related interactions. Couple this with poor communication and remote workers can struggle with developing a sense of attachment or loyalty to your business.
Burnout. Blurring the lines between home life and work can lead to a remote worker putting in long hours, including weekends and holidays. This can lead to burnout. Symptoms of burnout include diminished enthusiasm and engagement as well as an increased risk of quitting.
Lack of Trust. Remember that you hired an employee because they impressed you with their credentials and work ethic. Forgetting this and replacing it with a belief that a remote employee is trying to do as little as possible leads to micromanaging and a toxic work environment.
The Importance of Effective Remote Work Management
Remote work has become a lasting fixture in the business environment and the importance of remote work cannot be ignored. Manage a remote team successfully and an employer is likely to gain increased productivity, with loyal workers who are physically and mentally healthier. Other benefits can include lower attrition rates and an increased hiring pool. Mismanage a remote workforce and the opposite can occur in the form of frustrated workers, high turnover, and anemic output.
Like many things, effective remote work management is a learned skill and requires the ability to have an engaged and learning mindset. It's not just employers that need to adjust. Employees must also develop a different set of skills that allows them to be successful in a home office. Working together, and sharing successes, tips, and insights, employers and their workers can reap the benefits that come with this work arrangement.
HR Is Critical for Managing Remote Workers
When a business has remote workers, a combination of clear communication, effective technologies, and efficient collaboration tools must be part of the equation. A dedicated HR professional can guide you through each of these steps, and help you make sure your company and remote employees are set up for continued success.
When competition is fierce for top talent — in addition to high levels of worker stress and the time-consuming and costly hiring and recruiting process — employers need to understand how to approach employee flight risk. In many circumstances, employees who have decided to leave may not be open to reconsidering their decision, in spite of the benefits you offer or how much you solicit their feedback. But it's important for employers to identify some common signs an employee may be about to leave, take proactive steps in employee retention that can help keep a high-performing workforce, and understand how such strategies can positively impact the business.
What Do We Mean by Employee Flight Risk?
Employees who are a flight risk are workers who are most likely to leave their employer. A flight-risk employee may be dissatisfied with factors such as their current pay, position, or future with the business, to the point where they choose to look elsewhere for new opportunities. For this reason, flight risks and disengaged workers often go hand-in-hand.
Signs an Employee May Be About To Quit
Part of identifying whether an employee is about to quit involves taking steps well before they begin to feel unhappy or disengaged. This involves developing a strong benefits and compensation structure that aligns with employees' needs and skills, maintaining close relationships with them, and keeping lines of communication open. By learning and understanding more about their personal and professional concerns, you can recognize when someone is dissatisfied at work and take steps to address issues before they become breaking points.
The following are some common circumstances that may lead to an increased chance of an employee becoming a flight risk:
Major Life Changes Outside of Work
When something big occurs in an employee's life, it often presages a change in attitude about their job. Such big events can include marriage, divorce, a sudden (and/or serious) illness, childbirth, or the death of a loved one. We've seen this over the past few years during the "great resignation", as employees struggled with many challenges in the wake of the pandemic, opting for more work/life balance or prioritizing time with their families. In such situations, employees may reflect on what they're doing at the time and, if they determine the situation isn't making them happy, may opt for "greener pastures" elsewhere.
This is a tough situation for managers and HR teams, since they may not know the full story behind an employee's personal issues or changes that they're going through. Bringing emotional intelligence into conversations with employees early on might make a difference between an employee staying or going. On the other hand, acting without emotional intelligence (e.g., just offering a perfunctory "congratulations" or "sorry for your loss" and then forget about it), may deprive you of an opportunity to prevent the exit of a valued employee.
Changes in Job Role or Responsibilities
Employees should find meaning and value in the work they do each day. In circumstances where an employee's role or responsibilities have changed recently, they may be overwhelmed, underwhelmed, or feel that new tasks don't align well with their career aspirations. They may also no longer have a clear understanding of how their day-to-day work contributes to the business's larger goals. This could lead to the employee doubting their abilities, feeling unaligned with the business at large, and in search of a new start elsewhere.
Employees who take on new projects or roles need resources and training to help them ramp up and be put on a path to success. Managers and supervisors also play an important role here. They should have honest, ongoing conversations and check-ins with the employee about what the new responsibilities require, set measurable and attainable goals to help the employee stay on the right track, and work through any obstacles along the way.
Dissatisfaction With Compensation
One of the biggest catalysts for turnover is employee pay. And within this concern, there could be multiple issues:
The company pays employees below market value and/or pay gaps exist between peers within the business
Employees perceive that they're underpaid but don't understand how their compensation is calculated
If employee compensation isn't competitive with the rest of the market, or there are pay disparities between employees in similar positions, flight risks could be imminent. You should evaluate industry data about compensation as well as the business's pay-banding approach, which can clearly define upper and lower pay limits for a specific position. If you identify employees who are below the minimum of their salary range, or whose performance warrants a raise, you should communicate with impacted staff and make those adjustments.
In the case of perceived low pay, just paying your employees and hoping they come around likely won't go very far to assuage their concerns. You should also demonstrate your commitment to fair and equitable pay across your organization. Even where not required by law, consider adopting a culture of pay transparency and communicating about the methodology you're using to make pay decisions. If you're not, recognize that your competitors may already be disclosing this valuable information to your employees and other job candidates. Once your transparency plan is in place, it can aid in your recruiting and retention efforts, improve company culture, and help build trust with employees.
Changes in Company Policies
A new company policy or change in procedure that comes out of the blue can blindside employees, especially if employers don't ask for their input before making any decisions. That's because employees want to know that they are being heard at work and that their well-being is part of the consideration process. Where appropriate, check in with employees to see what feedback they have on current company policies or how they would perceive potential changes in the future. This type of feedback usually indicates where employees are feeling dissatisfied or have developed a sore spot for company policy over time.
For instance, if you're thinking about switching your benefit offerings, a good first step may be to get a sense of employee utilization rates of current benefits, what workers would like to see in the future, and where they think the business could be doing better. A conversation about benefits may lead employees to confide that the business isn't doing enough to help them save for retirement, and that they've been talking to other companies with a more robust 401(k) plan. Getting this feedback and taking it into account when making policy decisions can elicit more trust from employees and boost their confidence working for you. And in this example specifically, enhancing your benefits package can be great for long-term retention.
Lack of Development Opportunities
Providing training and development opportunities sends a clear message to your staff: you care about them and believe in their abilities. This can foster a sense of belonging in employees who may work harder with a deeper commitment to their teams. But without such opportunities, employees may question their future with your business.
Training is an important piece of the larger employee lifecycle. It can help develop the skills and expertise needed within your business and is critical in developing your organization's future leaders. Offering professional development opportunities for your employees is also key to their engagement and desire to stay with the company. Having a robust training program can help you stand out as an employer to attract and keep top talent.
How To Calculate Employee Flight Risk
Investing in the right technology may make it easier to take a deeper dive into the company's data and tie it back to critical decisions around employee retention and turnover. HR teams can use predictive HR analytics to help them identify employees who may be a flight risk (usually aggregated at the manager or department level vs. individual level), determine areas of the business where turnover risk is highest, and uncover any underlying issues. Analytics can also help HR more accurately determine what current retention strategies are working well.
Calculating employee flight risk with HR analytics requires details such as:
Employee demographic data
Tenure with the business
Performance metrics and employee reviews information
Engagement survey data
Employee workloads
PTO and vacation usage
Absenteeism rates
Compensation data
Larger industry metrics around compensation and benefits
Building flight-risk models based on this information can result in a better understanding of:
The catalysts that drive turnover
Actions that can reduce or increase attrition
Specific investments needed to drive retention
Of course, insights from HR analytics alone can't keep employees. What's important is turning insights into action once you have these findings. This includes talking to employees and managers, providing training, evaluating your compensation and benefits, and much more.
Why Is It Important To Identify When Employees Are Flight Risks?
Sometimes there's not much you can do to cause an employee to change their mind about leaving. After all, turnover is part of running a business. But it's important for you and your HR team to keep an eye on such behavior to help mitigate being caught by surprise. Consider what the impact of even one employee leaving can have on the business and the workforce that's left. Re-hiring and recruiting for an open position in a tight labor market is costly and time-consuming. Remaining employees may feel resentful picking up additional work in the meantime, and morale can take a considerable downturn.
Don't overlook the power that a well-timed conversation with a "suspect" employee might have. It could uncover causes for grievance that you can address and perhaps change for the better. The key here is being proactive in your retention efforts, communicating with employees, and demonstrating how much you value your workforce.
How To Prevent an Employee From Quitting
There are many reasons for employee departures, and understanding why individuals leave is key to helping others stay. Though it's impossible to retain every employee, there are many innovative retention strategies that can help your business mitigate turnover, foster an engaged workforce, and create a desirable workplace. While you can execute targeted strategies with the goal of improving employee satisfaction, it's also wise to consider that long-term worker retention is a holistic effort, which may include:
Benefits offerings
HR insights and analytics
Quality hiring
Providing career development opportunities
Open communication policies, especially at critical junctures such as employee performance reviews and exit interviews (or even a stay interview)
Again, it's impossible to fully eliminate employee attrition. But you can encourage workers to stay by getting their input on areas for improvement and focusing on developing well-rounded employee retention efforts.
Stay Proactive To Help Reduce Flight Risk
The unexpected departure of a top employee is never desirable, but keeping an eye out for warning signs can at least reduce the element of shock involved. When early intervention is possible, you may be able to ward off that departure and retain your team. Beyond that, it's imperative to focus on retention efforts and proactive measures like offering a range of attractive employee benefits, which can go a long way in keeping great employees around for the long term.
Developing an accessible workplace is good for business and your employees, but the process can quickly lead to roadblocks without a thorough understanding of employer responsibilities and best practices. Whether it's the belief that certain employees won't perform well or fear of bringing profits and performance down, these are unfortunate but also common misconceptions.
Accommodating for accessibility in the workplace requires knowing what it looks like, understanding different types of accommodations your employees may require, and knowing how to create an inclusive and diverse environment for everyone.
What Is Workplace Accessibility?
Workplace accessibility is making sure everyone — regardless of their abilities — has the tools and support they need to succeed in their job.
When understanding workplace accessibility, employers should recognize that there are numerous federal, state, and local anti-discrimination and privacy laws protecting the rights of individuals with disabilities. Perhaps the most well-known is the Americans with Disabilities Act (ADA). The ADA stipulates that covered employers are prohibited from discriminating in employment based on disability status and are required to provide reasonable accommodations to otherwise qualified individuals with a disability unless doing so would create an undue hardship. The ADA also protects employees with disabilities from retaliation when enforcing their rights under this law.
Some common ways that ADA compliance may take shape in the workplace include:
Providing Braille signage in common areas
Installing wheelchair access at building or room entrances and exits
Restructuring job functions or modifying work schedules
Providing closed captioning or transcripts for audio recordings and videos
Ensuring computer programs support assistive technology
Types of Accessibility in the Workplace
Understanding the many dimensions of accessibility in the workplace can help you make necessary adjustments toward employees with a range of abilities.
While you may be familiar with the examples listed above, know that accessibility in the workplace involves more than physical accessibility, which might be the first thing that comes to mind (e.g., accommodations around the office due to an employee's physical disability). Consider that if employees use digital technology to do their job, access HR information, or participate in a work event, those technologies and materials must also be accessible and compatible with assistive technology devices. Examples of technological accessibility may include providing closed captioning for video conferences or building a website that can be easily navigated by people with visual impairments via a screen reader.
Another important type of accessibility is attitudinal awareness. This is defined as a person's mindset that influences their behavior toward different types of people and concepts. Those without attitudinal awareness may discriminate against others, make false assumptions about someone's abilities, or simply avoid interaction altogether. These actions can be detrimental to employees as well as the business, which is why you should do everything possible to avoid them. Instead, communicate with the team, provide training to improve awareness, and focus on equity and inclusion.
Why Is Accessibility Important in Business?
It's not only existing employees who may need additional assistance that can benefit from developing an accessible workplace. An accessible work environment also can help businesses increase productivity, ensure a wider pool of talent can join and contribute to the business, expand their potential customer base, and comply with regulatory requirements. It's also part of building an inclusive workplace, giving employees varied perspectives, a greater sense of optimism, and better problem-solving skills as a result of working alongside colleagues with unique backgrounds and ways of thinking.
How To Make a More Accessible Work Environment
Working with people with different abilities is an organizational effort. Success depends on participation by every employee and leader to help others feel comfortable, valued, and equally treated. So how can you start making the workplace more accessible?
Ensure Every Aspect of the Recruitment Process Is Accessible
Applications and job forms should be truly accessible, with accommodations for those who may have trouble reading computer screens, for instance. Consider large print or versions available in Braille, closed captioning, compatibility with assistive technology like screen readers, and make sure descriptions emphasize essential job criteria. Other examples include making alternate arrangements for those who can't easily travel to an in-person interview, or providing an interpreter if a job candidate needs one.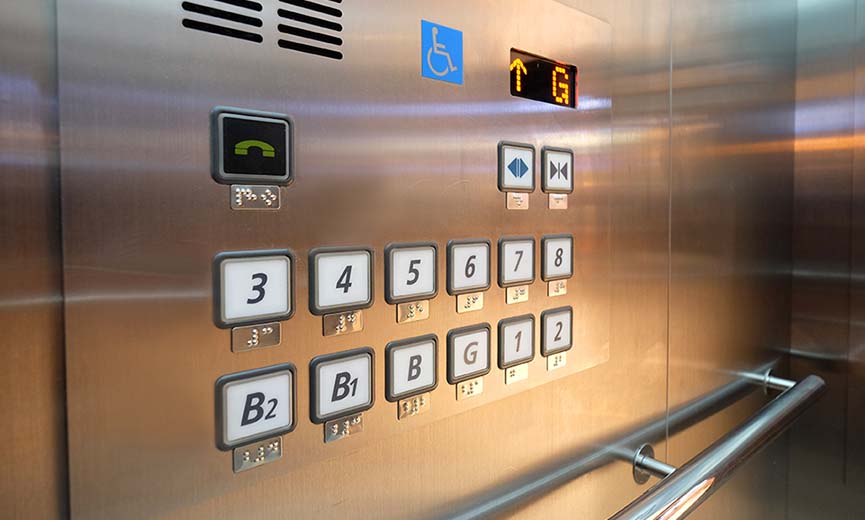 Examine Your Company Policies
Make sure your employee handbook addresses accessibility as well as diversity and inclusion policies. Employees should have guidelines on how to request accessibility tools if they need help, along with any training on how to use them. And ultimately, make sure your company celebrates inclusion and those with varying abilities as part of its efforts toward a more diverse workplace.
Train Managers on How To Work With Employees With a Range of Abilities
Some managers may feel intimidated working with employees with disabilities. This may simply come from a lack of knowledge, so provide resources and training to help them feel prepared and empowered to manage with a focus on inclusivity.
Make Adequate Arrangements for an Inclusive Workplace for All
Actively removing barriers to participation, such as installing wheelchair ramps or providing hearing loops or computers, can help individuals with varying abilities feel welcomed and accommodated. Resources such as noise-canceling headphones, soft lighting, and adjustable stand/sit desks may also be helpful to others. If arranging for a conference or offsite meeting, check ahead of time to make sure the facility is capable of accommodating all employees.
Require Unconscious Bias Training for All Employees
Employees may be unaware of how certain conversations, words, and actions may be inadvertently discriminating against other colleagues. Formal, ongoing training sessions for all employees can go a long way in alleviating unintentional discrimination issues, and help nurture an inclusive workplace environment.
Make Reasonable Adjustments for Remote Workers
Remote and flexible working options have become increasingly common, so don't forget that offsite employees may need certain accommodations as well. Consider providing work-from-home stipends that employees can use to purchase ergonomic seating or sit/stand desks. Provide any other special equipment that workers may have had in the office that they may need now at home. Video conferencing technology can also help employees keep in contact with colleagues and reduce feelings of isolation or anxiety. Your employees, regardless of their location, should feel supported, included, and valued.
Stay on Top of Accessibility Laws
It's your responsibility as an employer to understand and comply with accessibility laws. Regularly assess your workplace and any applicable legislation to determine how you can better identify and address accessibility issues. Stay proactive, take a forward-thinking approach, and consider working with an HR professional who can help you better understand your obligations around accessibility.
Help Develop an Inclusive Workplace
At its crux, providing workplace accessibility means prioritizing diversity and inclusion, an effort that can help bring different backgrounds, experiences, and insights into a workplace. These factors can help a business appeal to a wider group of customers and help build a stronger, higher-performing workforce. Work with an experienced HR team who can help ensure your workplace is an open and accommodating one for all who work for and with the business.
Join Our 700,000+ Customers and Get Help Managing HR, Payroll, and Benefits for Your Texas Business