Plans & Features
Our industry-leading solutions deliver the flexibility and features you and your clients need.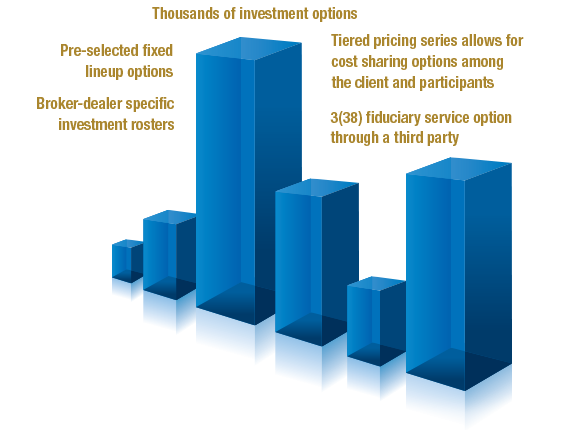 Investment Flexibility
Choice and control are the key components of a tailored 401(k) plan. Paychex provides the options and freedom to design a plan that meets the unique needs of each of your clients.
Thousands of investment options
Tiered pricing series allows for cost sharing options among the client and participants
3(38) fiduciary service option through a third party
Pre-selected fixed lineup options
Broker-dealer specific investment rosters
Complete Investment Neutrality
As the trusted advisor to your clients, you are the investment expert. We provide the means, administration, and recordkeeping to help deliver a plan that is right for them.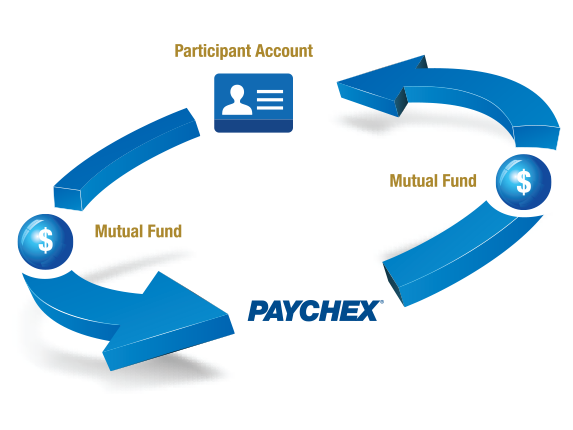 Fee-Levelized 401(k) - Return of Recordkeeper Revenue Share
With our Return of Concessions feature (ROC), Paychex does not retain any form of revenue-sharing payments ("concessions") that are routinely provided by investment companies to 401(k) plan recordkeepers or third-party administrators. Instead, these concessions are returned to the participant accounts from which they were generated. This allows you and your client to prioritize the best interests of the participants by adopting fiduciary best practices, including:
Fee equalization – All participants pay the same percentage of the benefit
Share class neutrality – Investment options are unbiased and diverse
Fee transparency – Statements provide clear information with no hidden fees
Fee-based? Commission-based? No problem — we have compensation solutions for both.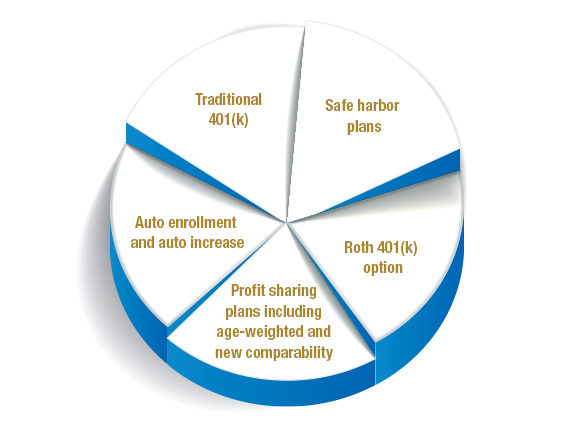 Plan Design - Plan Options with Expert Assistance
Every client is different. We have plan options to fit your needs and experts to help find the perfect features. Here are just a few:
Traditional 401(k)
Safe harbor plans
Roth 401(k) option
Profit sharing plans including age-weighted and new comparability
Auto enrollment and auto increase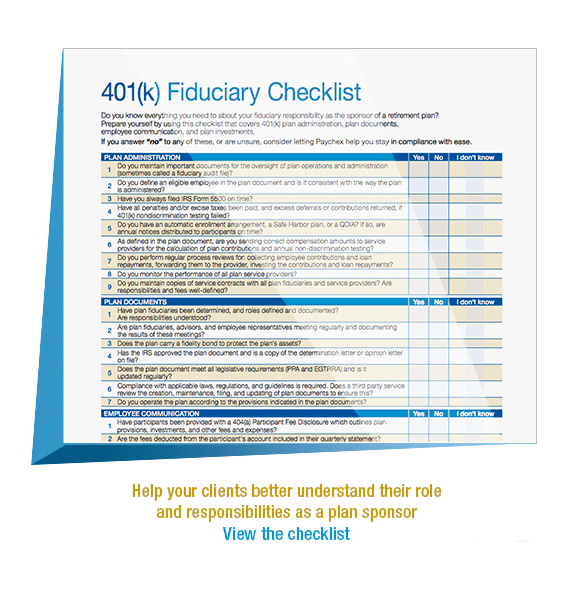 Fiduciary Solutions - We've Got Your Back
Rules and regulations for retirement plans are complex and evergreen. You don't have to be the expert — and you don't have to do it all yourself. Paychex offers solutions, including choices through third-party providers that can help mitigate the risks for you and your clients if and when you need them.
3(38) Investment Management - Our solution, through a third-party, provides a 3(38) fiduciary who assumes responsibility for all investment activities. This fiduciary has full discretion to choose, manage, or remove investments within the employee benefit plan
3(21) Investment Guidance - The third-party 3(21) fiduciary will provide a list of investments appropriate for use in retirement plans from which you and your client can choose
3(16) Plan Administration - The third-party 3(16) fiduciary is responsible for the day-to-day administration, including filing Form 5500, monitoring plan operations, distributing annual notices, and approving distributions and loan requests
Custodial and Trust Services - The Paychex solution offers safekeeping of assets, including reconciliation and reporting
Fee-Levelized 401(k) - This feature ensures unbiased investment options, no hidden fees, and equalization of fees for all participants
View the Checklist (PDF)
Online Plan Management - Access Plans from Anywhere
See all your Paychex plans and total AUM in one place — and on the go — via desktop, tablet, or smartphone. Plus, manage your clients' plan and investments and access your full book of business with Paychex in our easy-to-use Advisor Console. View the demo here, then watch your email for more information, or subscribe today.
Your clients and their participants will also have online access — all updated in real-time. You see what they see to help keep things on track. This can reduce demands on your time while allowing you to have more productive conversations.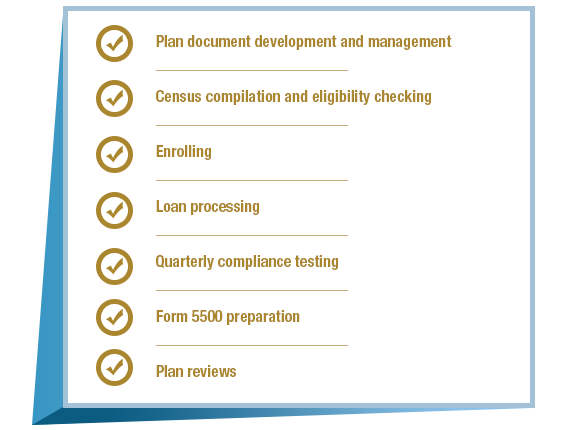 Recordkeeping & TPA Services
As a recordkeeper, we manage the employee transaction requests and records — how much they want to contribute and to what investments — and process those contributions.
Then, as the third party administrator (TPA), we keep the plan moving:
Plan document development and management
Census compilation and eligibility checking
Enrolling
Loan processing
Quarterly compliance testing
Form 5500 preparation
Plan reviews
You can enjoy these services bundled or unbundled, depending on your needs and preferences.
The ultimate bundle occurs when the client also has payroll with Paychex. All the data is stored in a single employee record, and the efficiencies have tangible benefits:
Increase data accuracy
Minimize risk
Reduce administrative activities