Credit card processing
If your credit card processing service just accepts credit cards—and nothing else— your business is missing out on all the other benefits our modern payment service has to offer. The Paychex credit and debit card processing service can help you eliminate paper checks, offer gift cards to new and loyal customers, and even earn additional revenue for your business through dynamic currency conversion.
Accept more card types

Enhance your ability to serve even more of your customers by accepting all the major card types — MasterCard®, Visa®, Discover®, and more.

Get funds faster

With one of the latest cutoffs of any processor, our convenient next-day funding option can help your cash flow by delivering your funds faster.

Get PCI compliance protection

Help your business comply with the payment card industry data security standard and reduce your risk of fines with our built-in PCI service.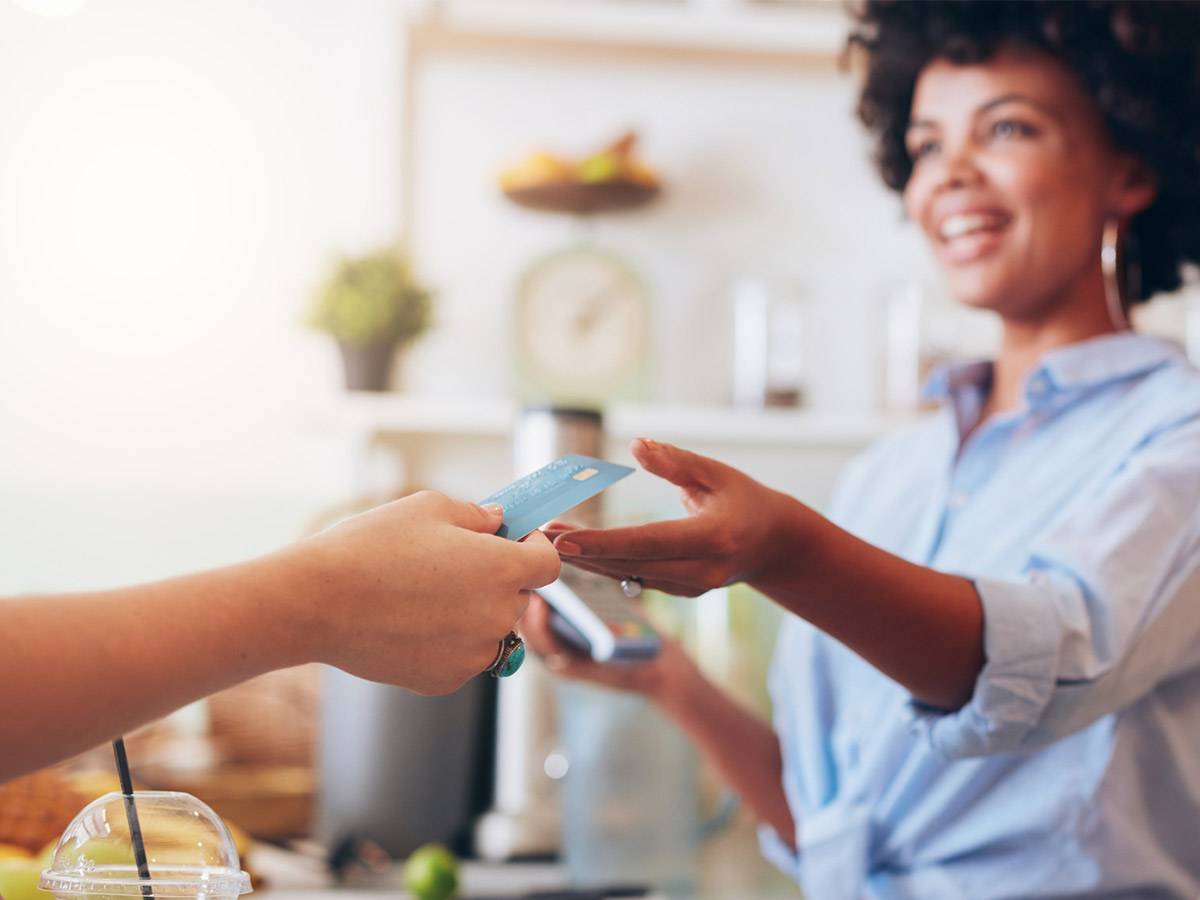 What you can get with Paychex credit card processing
The ability to accept a variety of credit cards
EMV "chip" card-enabled terminals
Next-day funding without paying higher processing rates
Included PCI service with compliance reminders
Monthly billing to help you avoid daily processing fees
Electronic gift cards
Ability to sync payments with QuickBooks®
Options to add surcharges for credit card payments
Expect more from credit card processing services
EMV "chip" card readers

Still haven't upgraded to an EMV "chip" credit card terminal? Paychex has you covered. We offer a wide range of EMV-enabled countertop, Bluetooth®, and wireless terminals, which also support NFC for mobile payment options such as Apple PayTM.

Dynamic currency conversion

Create an additional source of revenue for your business and let your international customers see exactly what their total purchase is in their home currency. Each receipt shows the purchase in U.S. dollars, the conversion rate, and the cardholder's home currency amount.

Electronic gift cards

Encourage repeat business, attract new customers, and boost sales with electronic gift cards. Choose from standard or custom cards — and, best of all, the program is fully integrated with our credit card service for convenient one-stop sourcing.

QuickBooks plugin

Save time spent on double data entry, and lessen the risk of key errors, by integrating payment processing with your existing QuickBooks software. Our secure plugin allows you to process credit and debit card transactions from within QuickBooks, all with free installation and low merchant account rates.

Credit card surcharging so you pay 0%

To help you take advantage of new rules permitting businesses in most states to add a fee for using credit cards, Paychex offers Zero-Cost Credit, a solution from our partner CardX.

Here's how it works: Before a transaction is processed, Zero-Cost Credit determines whether the card being used is a credit or debit card (businesses are not permitted to add a fee to debit cards), and, when permitted, automatically applies a fee whenever a credit card is used, so you receive 100 percent of the sale.

Card surcharges based on actual costs

It costs an average of 2–3 percent to process a credit card payment. To compensate, many government and educational institutions pass on a flat-rate processing fee for card payments. But this approach is problematic because different card types have different processing costs.

Intelligent Rate for Government and Education, a solution from our partner CardX, solves this problem by pricing cards at their actual costs. As a customer types card info into the payment page, Intelligent Rate calculates the cost of the card and automatically prices the service fee in proportion to what the transaction will truly cost — allowing customers with low-cost cards to absorb a lower fee.
Something more to consider