AICPA-Paychex Partner Program
Empowering the Professional.
Trusted. Innovative. Elevating.
Paychex is proud to be the preferred payroll, retirement, and human resource services provider for CPA.com, a division of the AICPA. It's the result of the AICPA's trust in the Paychex program to deliver enhanced value to their members' clients.
In today's regulatory climate, employers need advisors and partners to help them throughout the entire employee life cycle, from recruiting to retirement. By joining the over half of U.S. firms and 30,000+ CPAs already enrolled in the AICPA-Paychex Partner Program, you can capitalize on this opportunity by offering clients exclusive offers on Paychex payroll, HR, and 401(k) services — with an unheard-of-in-the-industry money-back guarantee.
One month of FREE payroll, retirement, and HR services

Six-month, money-back satisfaction guarantee for payroll and retirement services

Restrictions may apply. See full terms and conditions.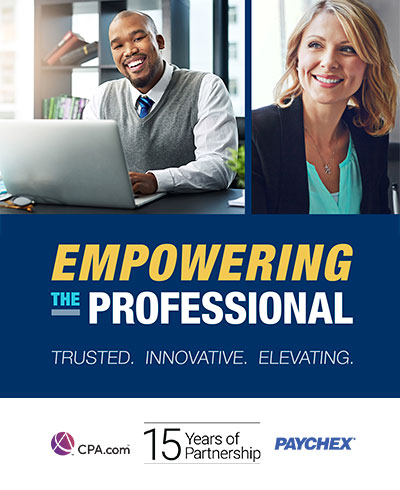 What you'll get with the AICPA-Paychex Partner Program
Special offers for your clients on Paychex payroll, retirement, and HR services
An opportunity to drive a new business service in HR analysis/consulting, with Paychex as your back-office expert
Dedicated service from our highly trained payroll and HR professionals
Get your firm a top-notch 401(k) plan — and FREE payroll!
Offer your entire firm an easy and affordable 401(k) plan and free payroll by joining the AICPA 401(k) Plans for Firms – the retirement solution for the AICPA membership.
AICPA 401(k) Plans for Firms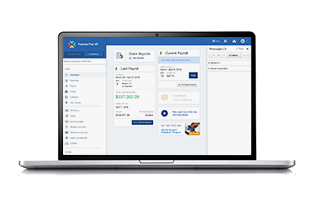 Free tools to help diagnose client HR issues
Client HR Compliance Analysis

This diagnostic tool provides everyday questions for you to ask clients in an advisory (and billable) setting, addressing common problem areas such as:

Recruitment and retention
Managing employees
Workplace safety
Wage and hour
Non-harassment
Workplace violence
 

Client HR Compliance Analysis – Accounting Professional Resource

This informational tool provides you with guidance on what to listen for from your clients as they respond to the topics addressed in the HR Compliance Analysis Diagnostic Tool.