Prioritizing Employee Loyalty Amidst the Great Resignation
Human Resources
Article

Last Updated: 09/21/2021
Retaining top talent has been a persistent challenge for many employers throughout the years, but the COVID-19 pandemic has only added complexity. As work arrangements evolve, the priorities and needs of employees are rapidly shifting as well.
To understand how the factors influencing employee loyalty are changing, Paychex® and Future Workplace® conducted an online survey of 630 full-time employees exploring their current loyalty to their employers, and feelings around the transition back to the office.
Research Overview
The research features the results of an online survey of 630 full-time employees at U.S. companies with 20 to 500 employees conducted from June 30, 2021 through July 10, 2021. It is the second in a series of monthly surveys Paychex is conducting in partnership with Future Workplace to explore the concerns and priorities of employees as they navigate the modern workplace.
The results of this survey point to the growing importance of the processes, principles, and policies employers must leverage when transitioning employees back to the office, which will ultimately influence their ability to attract and retain top talent. The key findings from the research are as follows:
---
Interested in our webinar on this topic? View the recording.
---
#1 Employee loyalty is at significant risk with more than a third of Gen-Z and Millennial workers actively looking for a new job.
While the survey showed that 66 percent of employees overall are not currently looking for a new job, these statistics changed based on the age and current working arrangement of the respondent. Despite only 20 percent of Boomers (born between 1946 and 1964) and Gen X workers (born between 1965 and 1980) reporting that they're actively looking for a new role, 44 percent of Gen Z workers (born between 1997 and 2012) are actively looking for a new job.
Furthermore, employees who are working in a fully remote environment are significantly less likely than those working in a hybrid environment to be looking for a new job (58 percent vs. 73 percent)
#2 An increase in pay is the top driver of employee retention overall. A raise of 10-15 percent is most impactful for retention.
The survey revealed that an increase in pay is the biggest driver for employee retention. Sixty-one percent of respondents agree that loyalty to their current employer would increase if they received a raise in pay. More specifically, 42 percent of employees feel that a 10-15 percent salary increase would entice them to stay at their organization. Among those employees polled who are actively looking for a new job, only four percent said a 3-5 percent pay increase would entice them to stay, and only 16 percent said a 5–10 percent increase would motivate them to stay.
#3 Different generations have different priorities when it comes to benefits and incentives, such as workplace flexibility and wellbeing programs.
When asked what offerings drive their loyalty to a company, employees' answers varied greatly depending on their generation. The survey results showed that Gen Z employees are less likely than those in older age groups to be motivated by pay increases, for example.
And, Millennials (born between 1981 and 1996) and Gen Z workers are more likely than Gen X and Boomers to be motivated by flexible working hours, mental health benefits, employee wellness benefits, and childcare benefits.
After an increase in pay, a stay bonus (39 percent), more paid time off (39 percent), flexible working hours (35 percent), and better/more accessible health insurance (23 percent) were the top offerings found to drive employee loyalty.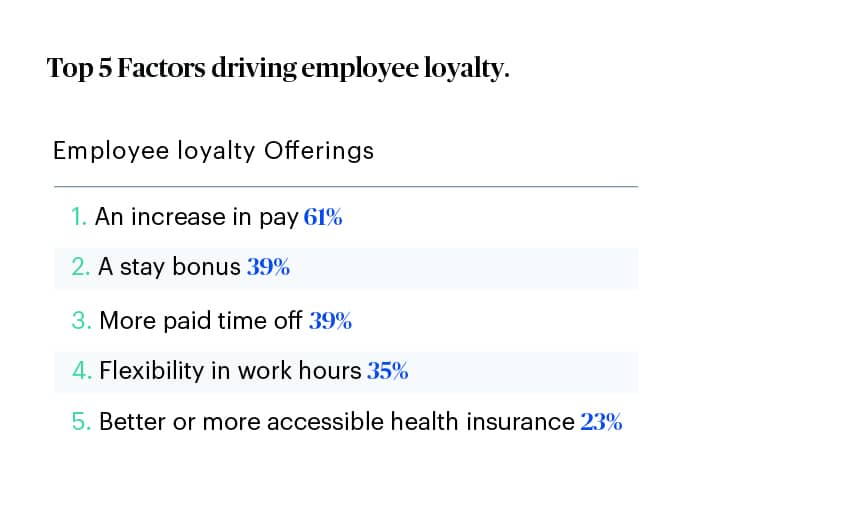 #4 The commute to work is the top concern for workers as they look to the future of the workplace.
The top concerns employees have as they return to the office include:
The commute to and from work
Vaccination status of co-workers
Sanitation practices of their employer
Physical distancing
As employees look ahead towards a transition back to the office, they are concerned about how employers will manage this process. The commute to-and-from work was identified as the top concern (29 percent), followed by the uncertainly of not knowing if colleagues had received a COVID-19 vaccination (25 percent), the sanitation practices of their employer (22 percent), physical distancing (22 percent), and equity for all workers in accessing career development opportunities (21 percent).
Note: This research was fielded prior to the spread of the highly contagious COVID-19 Delta variant in the U.S., which began causing a rise in infections and hospitalizations in late July and early August.
Key Considerations for Employers
Today's workforce has been changed by the COVID-19 pandemic. The pandemic has re-shaped their priorities and crystalized their vision of an ideal workplace. As such, it is crucial that employers remain aware of their employees' needs, and respond accordingly, to recruit and keep top talent. Based on this research, employers may wish to consider:
Conducting employee surveys and tailoring your workplace incentives to encourage retention. Most workers across generations will be motivated by pay increases, but younger generations prioritize wellness and employee lifestyle benefits in addition to salary.
Regularly communicating your plan for returning to the office with employees. If you are planning on transitioning workers back to the office but have not yet started the conversation with them, now is the time. Provide specifics, where possible, about tactical plans, and be prepared to answer questions honestly and with empathy.
Establish clear workplace health and safety policies as employees return to the workplace. Employees need reassurance that you have taken steps to help make the workplace a safe space for them to work. They will also need support as they make the transition back to an in-person environment. Be sensitive to potential employee safety concerns by specifying and communicating your company's sanitation practices and physical distancing requirements. Furthermore, as cases and concerns around new COVID-19 variants arise, be cognizant of federal, state, and local laws and regulations that may impact your return-to-office plans.
Define principles and guidelines for hybrid and remote work. Continuing to offer hybrid or remote work arrangements may help ease employee concerns about commuting to-and-from work amid the pandemic and provide the work-life balance that many of those in the modern workforce are looking for. In addition, establishing a clear set of guidelines for how remote and hybrid workers will be able to take advantage of ongoing development opportunities is crucial. More than 20 percent of employees surveyed said they are concerned about the long-term impact that remote work could have on their career development. In the new work environment, it is crucial to make sure remote and hybrid workers have the same access to benefits and opportunities as those working in the office.
"The way employers approach the hybrid workplace and embrace both the learnings and challenges of the past year and half will have a lasting impact on who stays, who exits, and who builds their skills to prepare for a new role at their company."
-Jeanne Meister, HR expert and managing partner, Future Workplace
How Paychex Can Help
If you're looking for ways to recruit and retain top talent in today's competitive labor market, Paychex is here to help. With Paychex HR Services, you'll have access to a dedicated HR professional who can help you develop effective benefits packages and implement employee engagement strategies that can help ensure employee satisfaction.
And, for more resources and information to help you navigate the new work landscape, be sure to visit our COVID-19 Help Center.
Tags