Eight Recruiting and Hiring Trends for 2022
As we move into the second half of 2022, attracting and retaining talent continues to be a top priority for many business leaders, in a work environment that has been greatly reshaped by the COVID-19 pandemic. Many employees are continuing to re-evaluate their priorities and values, with the impact being mass resignations and a highly competitive talent marketplace for employers.
HR leaders admit that their companies are still struggling with critical hiring and retention goals. According to the 2022 Paychex Pulse of HR survey1, half of respondents said their organizations are not effective at hiring, onboarding, and retention.
In this article, we'll discuss the recruitment and hiring trends related to talent acquisition, including:
Recruiting Trends
Recruiting Moves from Reactive to Proactive
The future of recruitment will be proactive, intentional, and highly targeted. Recruiting trends will involve actively searching for candidates for specific positions and creating groups or categories of candidates be ready when specific jobs become available. Recruiters and employers will pick out potential employees before the hiring demands are apparent.
Proactive recruiters will be first to the table with ready-now candidates in an attempt to make their placements quicker, beating out the competition. This will require building relationships, nurturing talent pools for future posts, and understanding the skills needed to hone recruitment efforts and stay ahead of recruiting trends.
HR leaders today say the top five most effective tactics that they have deployed to encourage candidates to accept job offers include1:
Offering higher pay
Offering remote/flexible work
Emphasizing company culture
Making offers quickly and using salary/compensation benchmarking to create competitive offers
Emphasizing career advancement/development paths
Extending Recruiting on Social Media
As businesses use social channels to grow their brands and generate leads, digital recruitment via social media is equally valid for recruiting talent. Social outlets such as LinkedIn, Indeed, and Glassdoor can be integral to the future of hiring. Posting job opportunities and targeting social media platforms may be a very successful way of recruiting talent that can be targeted to your industry and the skills you are seeking. You can even narrow searches to specific candidates who are actively seeking new employment opportunities. When your company uses modern recruitment tools like social media to build a relationship with your target audience, you are more likely to attract quality applicants and stay on top of hiring trends.
Creating Diverse and Inclusive Environments
Diversity, equity, and inclusion (DEI) programs can deliver positive business benefits, and HR leaders recognize this. Seventy-one percent of HR professionals said their companies are doing at least one of the following1:
Offering bias and other DEI-related training
Ensuring that vendors and partners have a proven commitment to DEI
Making DEI guidelines and documents easily accessible to employees
Getting help from an HR or DEI consultant to create a plan
Beyond aspects such as age, race, and gender, companies may also consider flexible work options and customized benefits as part of their diversity initiatives and ensure they are taking an equitable approach to give all workers a fair chance of doing their best work. Using AI and inclusive technologies may help companies weed out bias so that you won't miss out on great talent.
Offering Employee Benefits That Are Valued
Gaining a competitive edge in talent acquisition means offering valued and meaningful benefits. Health and retirement benefits, as well as financial and mental health counseling services are a great way to support the physical, emotional and financial well-being of your employees. Rewards and recognition programs, in addition to offering robust learning and development opportunities, can also help employees feel more engaged with your company. Consider conducting regular surveys to gauge which benefits are valued most by your employees, to give your business a competitive edge.
According to the 2022 Pulse of HR, organizations have increased the benefits they are offering by an average of 22%, compared to what they were prior to the COVID-19 pandemic1.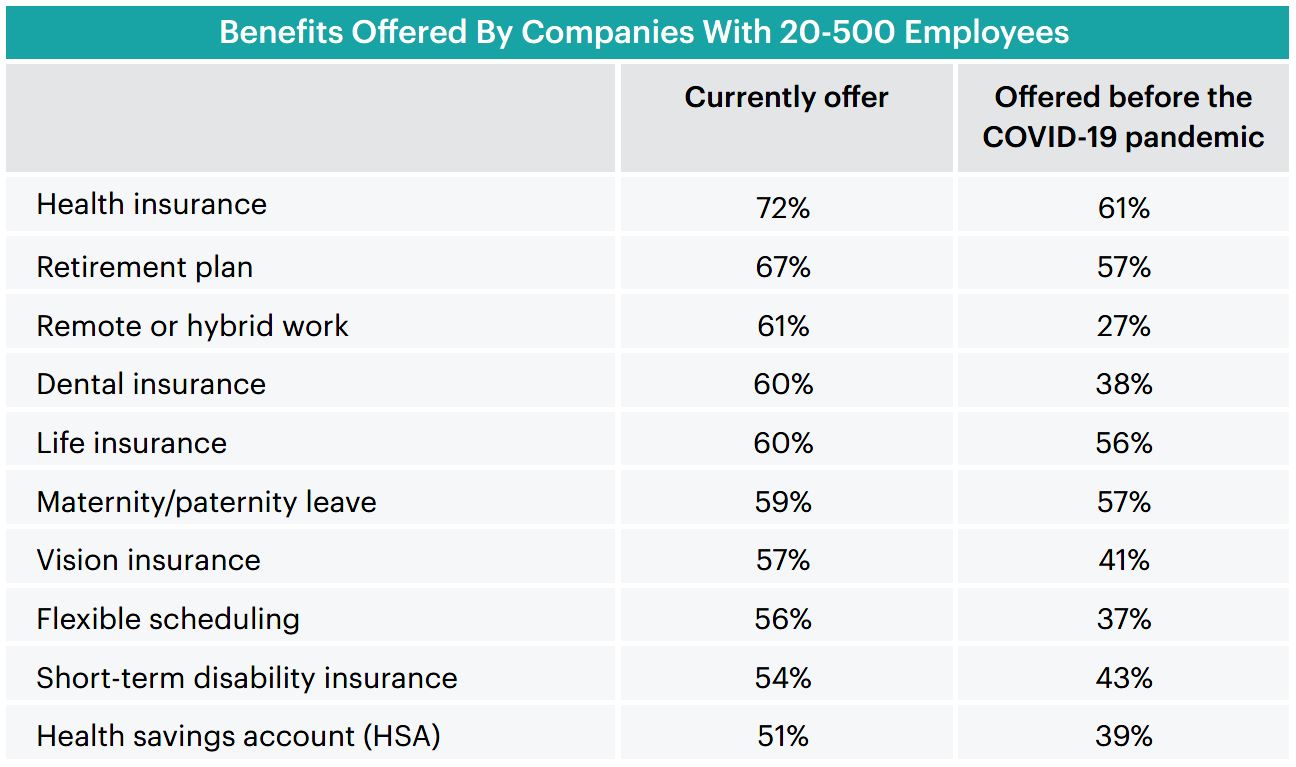 Hiring Trends
Hiring for Soft Skills; Training for the Job
When you're competing for talent in a tough employment market like the one we are in today, you can try pivoting your approach and consider what skills are needed to align with your culture and employer brand, rather than just focusing on the specific job that needs to be filled. For instance, soft skills, such as problem-solving, collaboration, and leadership, can be more challenging skills to hire for than hard skills like accounting, technical support, or cashier processes. A candidate's soft skills can significantly influence their ability to fit in with your culture. Explore recruiting for soft skills you might want to bring into your organization, knowing you may be able to train a candidate on some of the hard skills required to execute on the job, such as learning your administrative processes and technology platforms.
Emphasis on Employer Branding and Company Values
To recruit and hire the best talent and stand out from the competition, employers may create a candidate experience that is compelling, positive, and distinct Employees may be looking to join a company aligned with their purpose and values, one that will help deliver meaning in their work. In addition, employees evaluate companies based on their employer brand: what they stand for, how they treat their employees, their company values, opportunities to learn and grow marketable skills, and competitive compensation and benefits.
Internal Recruiting and Hiring
Tapping into internal talent pools can help fill talent gaps by focusing on upskilling and reskilling current employees to meet changing and future business needs. Often great candidates can be hidden in plain sight when recruitment efforts are focused outside of a company. Intelligent companies are focusing on their future by using internal recruiting for talent mobility.
Providing ongoing opportunities for career development is one of the best benefits your organization can offer employees. It shows your commitment to their career well-being. Today's employees seek opportunities to develop skills that have marketable value both within the future of your business and outside of your employment. Help employees know what future skills are needed for success and provide opportunities to develop their skills sets and career paths to demonstrate you are invested in their growth and development. This will also help you stay abreast of current and impending recruitment and hiring needs to inform your talent acquisition strategy.
Hiring Remote Workers
While working remotely became the default operating environment during the COVID-19 pandemic, both employers and employees have determined that it's here to stay. In fact, four in 10 HR leaders with a remote workforce say that remote/hybrid work improves employee emotional/physical/financial well-being, boosts retention, enhances quality of work, and increases productivity.That may be why the number of companies offering remote or hybrid work has increased by 124% since before the pandemic, and those offering flexible scheduling have increased by 50%.1
As a result, the hiring of remote workers continues to place importance on digital hiring trends. Use modern recruiting techniques such as video interviewing and scanning social media channels for the latest hiring practices that aren't limited by geographic proximity.
Stay Ahead of These Hiring and Recruiting Trends
As we begin 2022, many businesses are focused on re-establishing goals, work norms, and business models, and reinvigorating the workforce. As a result, organizations struggle to keep pace with the ongoing changes they face. Staying ahead of hiring and recruiting trends will help you better compete for talent.
The competitive talent and recruitment market can be complex. Understanding modern recruitment trends and their impact on your business will help you attract talent to your organization. Using hiring services and HR expertise from third-party providers can go a long way to help you with your talent recruitment needs.
Professional employer organization (PEO) services provided by Paychex Business Solutions, LLC (Florida employee leasing license GL7), Oasis Outsourcing, LLC (Florida employee leasing license GL42), and their affiliates, which are licensed or registered to provide PEO services where required by law.
---
1 The 2022 Paychex Pulse of HR Survey was conducted via an online survey from April 15 - May 6, 2022, among 1,000 HR decision-makers at U.S. companies with 20 or more employees. It is the sixth in an annual series of benchmark surveys investigating HR leaders' challenges, priorities, and use of technology.