What Is the Employee Succession Planning Process?
Human Resources
Article

Last Updated: 02/22/2023
Having a succession plan in place can help your employees at all levels feel that they're growing and developing their careers in a way that contributes to the company's success. Here's what you need to know about effective employee succession planning.
Uncertainty about the future of your business can be stressful. Especially in today's business climate and amidst the Great Resignation, business owners and managers need to focus on retaining quality employees by providing them with a reason to stay. A formal employee succession planning process can help companies identify key performers and future leaders, and work with them early to build long-term trust and loyalty. Having a plan in place can also help set an employee's expectations for their future career track and can ensure that everyone is working toward achieving the company's overall strategic goals.
What Is Succession Planning and Its Purpose?
Business succession planning is the process of designing and implementing a plan for the continued operation of a business in the event that members of its core leadership team retire, get promoted, or decide to move into new roles outside of the organization. The purpose of succession planning is to ensure that the business can continue to thrive without significant interruptions, even as key leaders move out of their current positions and are no longer able to continue running the business in the same capacity.
Depending on the size of your business, your succession planning strategy may involve putting together an entire management team that is capable of taking over specific roles within the day-to-day operations, or it may include identifying and developing one or more key leaders to handle core responsibilities of the entire business in the event that its owner or owners are no longer able to do so. By taking proactive steps in the succession planning process, businesses can ensure their continuity and long-term success.
Who Is Responsible for Succession Planning?
Succession planning is a process that businesses use to ensure that key employees are replaced in the event that they leave their position. This process can be overseen by a variety of different people within a company, depending on the size and structure of the organization. In some cases, succession planning may be the responsibility of the human resources department. In other cases, it may be overseen by a specific manager or executive. Regardless of who is responsible for overseeing the process, it is important that the necessary employees are aware of succession planning and understand their role in the process. By having a clear succession plan in place, businesses can minimize disruptions and ensure that they have the talent they need to continue operating smoothly.
Types of Succession Planning
The structure of a succession plan may vary depending on the size of the company, the expected timeline when a successor will take over, and the current structure of the business. For example, some businesses may have key leaders over multiple departments and need a plan for each functional area, while other businesses may have a smaller core leadership team, and require a less complex plan. Likewise, businesses in some industries may experience C-level turnover more frequently or have employees on staff that are closer to retirement. All of these factors can affect both the timeline and needs that your succession plan should address.
As you begin exploring the succession planning process, you'll want to consider what is right for the business and its current management team. Your succession plan may need to focus more on training and development of current employees to fill future leadership gaps or you may need to develop a plan that focuses on ideal steps for various scenarios so that your current leaders can pivot quickly and keep operations running smoothly as changes occur. No matter which type of succession management is right for your business, it is important to consider both current and future needs of your business and build your plan accordingly.
What Are Some Pros and Cons of Succession Planning?
One of the most important decisions made within a business is who will take over a key leadership role when a current employee leaves. This single decision can have a major impact on the long-term success or viability of the business. However, succession management also requires time, effort, and money to set up and organize properly.
Benefits of Succession Planning
With careful preparation, a succession leadership plan can be used to help ensure that the business remains successful and profitable for years to come. The efforts required to develop a succession plan can also offer managers and key employees several other benefits before the plan is even implemented.
Peace of Mind
Having a succession plan can bring peace of mind to both current and future employees. When the future of a company feels uncertain or disorganized, potential employees may pass up a leadership opportunity for a company with more perceived stability. Likewise, current employees may opt to leave their positions for an organization with established processes to facilitate future success, leading to additional turnover and more uncertainty. Peace of mind can help everyone involved continue operating to the best of their abilities.
Business Continuation and Growth Opportunities
Having a solid continuation plan in place helps to ensure the sustainability and longevity of the business, which is especially important for companies that answer to shareholders. When shareholders are happy and feel positive about the future of the business, there may be more funds available for employee raises and projects that promote additional growth within the organization.
When employees are presented with succession opportunities, this also fosters a sense of purpose and drive towards future career advancement. This drive can lead to additional productivity and initiative that continues to propel the business forward.
Minimal Disruption During Changeover
Change is hard no matter when it happens, but you can minimize the disruption associated with a change in leadership by planning ahead. Succession plans can help promote a greater sense of teamwork and encourage lower-level employees to step up and help the organization navigate through the change rather than leaving them feeling left on the sidelines. By working together to fulfill and complete a previously outlined succession plan, employees can feel a greater sense of accomplishment with minimal disruption to the operation.
Challenges of Succession Planning
Although succession planning is a vital part of business operations, it can also be a complex and challenging undertaking. Being prepared for these challenges before taking any succession planning steps can help ensure a successful end result.
Identifying Potential Leaders
Choosing the right successor(s) can be an agonizing decision. While some employees may show the talent and drive required for the role, they may not want the position. Other individuals may show the desire to move into a key leadership role but may not be ready for the challenge. Almost no one is ready for the role immediately or they would already be in that position, so ensure you have time to develop your potential leaders into the role. Don't plan to pick them out of a ready supply of perfect candidates.
Adjusting Policies and Procedures
To ensure a smooth and seamless transition, certain internal policies and procedures may need to be updated to fit with the new leadership style. While these changes are not likely to be drastic, they will still take careful planning and time-consuming work in advance to minimize disruptions and set clear expectations from the beginning.
Stakeholder Communication
It is important to communicate openly with employees and customers throughout the process to keep them informed and reassured. Say too much and you may cause unwanted confusion as the succession process unfolds. Say too little and you may leave stakeholders feeling uncertain about the future of the company. Any communication should be carefully worded and thought-out to ensure that everyone involved feels positive about the new direction of the organization.
Succession Planning Process and Steps
A viable employee succession plan requires proactive effort and the implementation of several key succession planning steps.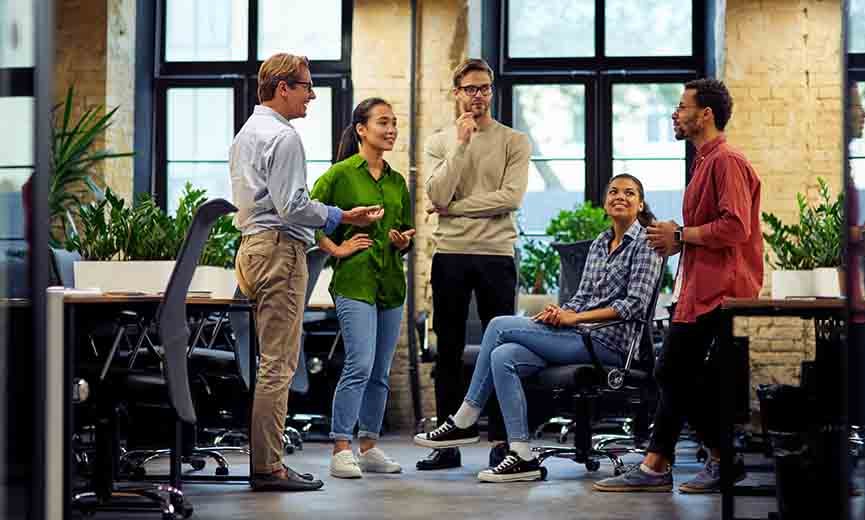 Develop the Succession Goals
To develop a detailed plan, you need to consider the desired outcome. Do the identified successors have the same vision for the organization as the current leadership? Or would the ideal leaders be ones who can take the company in a bold new direction? Is the goal to identify replacements with extremely similar ideals and values? Or is it more important to identify the most capable and qualified individuals, even if they have different mindsets? Whatever the end goals, professional succession planning must first start with the end result in mind in order to identify the necessary steps for achievement.
Identify Critical Roles and Positions
Some businesses will only need a single successor while others may need an entire operational team. A detailed succession plan should identify those critical roles and positions that will be required for ensuring smooth operations after current members of the leadership team are no longer running the company. Even if the ideal candidates to fill those roles are not yet identified, you can develop a detailed list of the roles that will be needed.
Create Success Profiles
After identifying the key leadership roles that will need to be filled, the next step is to craft detailed profiles for the ideal employee succession candidates. These profiles can be in the form of a job description, skills list, or any other format you desire. Ideally, the most helpful success profile will include all of these elements. By outlining what is needed — both in tangible skills and intangible qualities — you will be better positioned to identify leaders who can be developed to fit that mold.
Set Up Professional Development Plans
It is unlikely that an individual in your organization will be fully ready to step into the role and continue business operations without any additional development. After identifying key leaders who are a close match for your success profiles, identify any development needs to fill in the gaps. Then work on developing those skills by using a formalized succession planning template, instead of waiting until the necessary skills are needed.
Incorporate Criteria Needed for Advancement
A formal succession planning strategy typically uses documented criteria to identify the steps required to progress into a higher position. When a succession plan is properly implemented, employees can be rated consistently on metrics that align with the company's goals and business strategies. Managers can compare candidates for promotion based on the criteria identified and determine which employees currently have the skills to progress. During annual performance evaluations, managers can also use the succession plan's advancement criteria to provide feedback to those looking to progress to a higher position. By giving managers a way to communicate which skills are needed to advance, employees can better understand where they should focus their time spent on career development.
Institute a Mentorship Program To Help Employees Grow
Designated mentors can be an important part of the employee succession planning process. Developing a one-on-one relationship with a higher-level staff member gives employees the opportunity to ask specific questions about career advancement. The mentor's higher level of experience allows them to guide staff members with leadership potential and encourage the development of crucial skills needed to progress. In addition to working with a mentor, employees with potential to advance may also wish to shadow someone in a role they're interested in. Shadowing, even for a short time, can offer insight into the expectations and workflow of a more challenging position.
Review Succession Plans As the Business Changes
Setting goals and criteria for succession planning is only the start of a long-term strategic process. Tione Torrens, Paychex DEI program manager, recommends that a succession plan include "a commitment to review it on at least a semi-annual basis, as people's goals, actions, and developmental goals may change." Adjustments may also be required as the business environment changes and the company grows.
Succession Planning Considerations and Best Practices
In general, all companies (even those with relatively small business volume) should seek out talent to promote and develop. Larger companies often formalize a succession planning strategy within their documented, company-wide personnel policies and procedures. When drafting these policies, it's best to keep the following best practices in mind:
Encourage a Forward-Thinking Mindset
A consistent process applied throughout the company can ensure that everyone is focused on the same goals when it comes to succession planning. Rather than asking employees to focus solely on current responsibilities, they should also spend time thinking about their future roles in the company. Career planning is essential at every level to match up the best people with future internal job openings.
Increase Companywide Efforts To Identify Talent
When seeking talent, cast a wide net and promote diversity in working styles. According to Torrens, individuals involved in succession planning "should have a direct influence on developing and promoting future talent." Encourage rotation within the company to find out if an employee is a better fit in a different role. When the right people are involved in a professional succession planning process, the chances of finding the best contributors in every line of business increases.
Identify Specific Criteria Needed for Promotion
HR professionals can contribute to the planning process by identifying specific succession planning considerations to be used when evaluating potential candidates for promotion. Torrens suggests "an agreed upon system of evaluation, free from emotion." Potential should be a key factor, she adds, as well as an employee's ability to promote the company's mission and values. Because the individual will be taking on additional responsibilities, gather their input as far as willingness to do what it takes to move up. Does the higher position include increased managerial responsibility or overtime expectations? Would the individual need advanced knowledge and are they willing to put in the time for training or education?
Encourage Development Through Feedback
As individuals progress into new roles, their skill sets need to broaden. During this crucial time in their careers, feedback will be essential. Torrens recommends at least three categories of evaluation:
Ready to promote to the next level
Has potential for promotion
Does not currently have the desire or skill set to advance
Once promoted, an individual may become responsible for areas of the company where they've spent little time working in the past. For this reason, a succession leadership plan should include opportunities for cross-functional development throughout an employee's career. Additional exposure to all facets of the business can increase knowledge and help employees make the best decisions for the company.
The implementation of succession planning best practices isn't limited to large companies. Smaller, growing businesses should also think about the future of their team and work with current employees to ensure that when the time comes, they'll be ready to step up to help the company perform successfully in the future.
The Importance of Succession Planning
Without formal succession plans in place, job uncertainty may affect employees' career decisions. By outlining the company's future plans and what's expected of leaders within the organization, the business can help employees focus on developing the necessary skills to achieve their personal career goals. If your company needs assistance drawing up a formalized plan, an experienced HR professional can provide additional guidance and support.
Tags