Online payroll made easy with Paychex Flex
Every hour you spend on payroll is one less hour for you to promote and market your business, serve customers, and drive revenue and growth. Put that time to better use by making the move to Paychex Flex®, our flexible online HR and payroll solution. It's exceptionally easy to use — so you'll be free to focus more of your time and talent on what you value most.
Quick and easy online payroll processing

Paychex Flex makes running payroll online simple with an easy-to-use design that just makes sense. Choose from three different pay entry options, including a grid view for quick data entry.

Help protect against mistakes

Our online payroll services have built-in safeguards, such as notifications to alert you of potential payroll issues, that can help ensure each payday runs as smoothly as possible.

Give your employees access

Spend less time answering employees' questions by giving them controlled access to their payroll information online, including check stubs from direct deposit, W-2s, and more.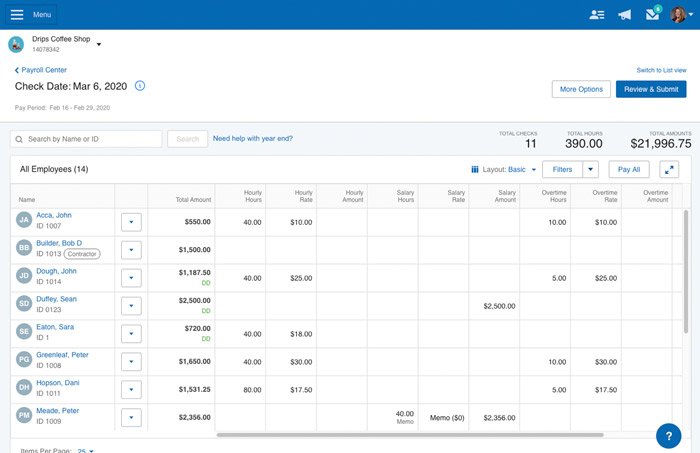 What you get with Paychex Flex online payroll services
Cloud-based, easy-to-use online payroll software
Intuitive, user-friendly interface
Easy online payroll processing in as few as two clicks
Built-in safeguards
Automatic payroll tax calculation, payment, and filing
Free mobile app — start payroll on your desktop, finish on your phone or tablet, or vice versa
Reporting and analytics
Employee access to payroll online
24/7 customer service & tech support from experienced payroll professionals
Payroll online is a breeze with Paychex Flex
Run payroll quickly and easily

Enter and submit online payroll information in as few as two clicks.

View critical data at a glance

Key info, such as upcoming check dates and cash required for your next payroll, is available from the main dashboard.

Run reports

Get immediate access to common reports such as your payroll journal, cash requirements, and tax deposit notices.
Everything you need to manage payroll online — and so much more
Process payroll online on the go

With the free Paychex Flex mobile app, you can process payroll from wherever you are. And because Paychex Flex is in the cloud, you can even start payroll on your desktop and pick up where you left off on your mobile device, or vice versa.

Drive insights with powerful reporting and analytics

Run a smarter business with more than 160 standard reports and dashboards, plus the flexibility of fully customizable and configurable workforce analytics. Popular reports include:

Cash requirements
Payroll journal
Department summaries
Tax deposit notices

Fast online payroll that allows you to spend less time on data entry and improve accuracy

Our general ledger service syncs payroll with your GL, which makes it easy to import payroll data directly into many popular accounting software programs. It's streamlined, secure, and a smarter way to manage your books.

See your most important payroll information online at a glance

You don't have time to hunt around for the payroll information you need. Paychex Flex makes it easy to get your most important data — such as upcoming check dates and the cash you'll need to have on hand for your next payroll — available right from the main dashboard.

Do it yourself, but not without a safety net

Some providers cut corners when it comes to support. But we know that payroll can be complicated and you might have questions. That's why every Paychex online payroll client has access to 24/7 service from experienced professionals, as well as the option for a dedicated payroll specialist to serve as your single point of contact for payroll and tax needs.
Ready to take the next step?