Digital Training and Onboarding
Human Resources
Article

Last Updated: 05/10/2021
In 2021, perhaps more than ever before, the importance of work flexibility can't be understated. Not only do employees and their companies both have to think about working remotely as a necessary skill in ways that may not have been relevant in the past, but work-life balance has taken on new meaning as employees and their families spend more time at home.
And while millions of Americans have had months during the COVID-19 pandemic to adjust to work without an office or a near-endless series of video conferencing and calendar invites, there's another aspect of working from home that's had to conform to the "new normal" without much notice: employee hiring and training. More than navigating a fully digital interview process, companies (and the people they hire) are learning how to take the onboarding process digital too.
So how are businesses adapting, and are employees noticing a difference? To find out, we surveyed nearly 900 working Americans, including employees and managers, to find out what remote onboarding looks like. Read on as we explore how satisfied employees are with their remote onboarding experiences, the most common methods and resources for digital training, and where managers have found challenges (and success) along the way.
Virtual New Hire Training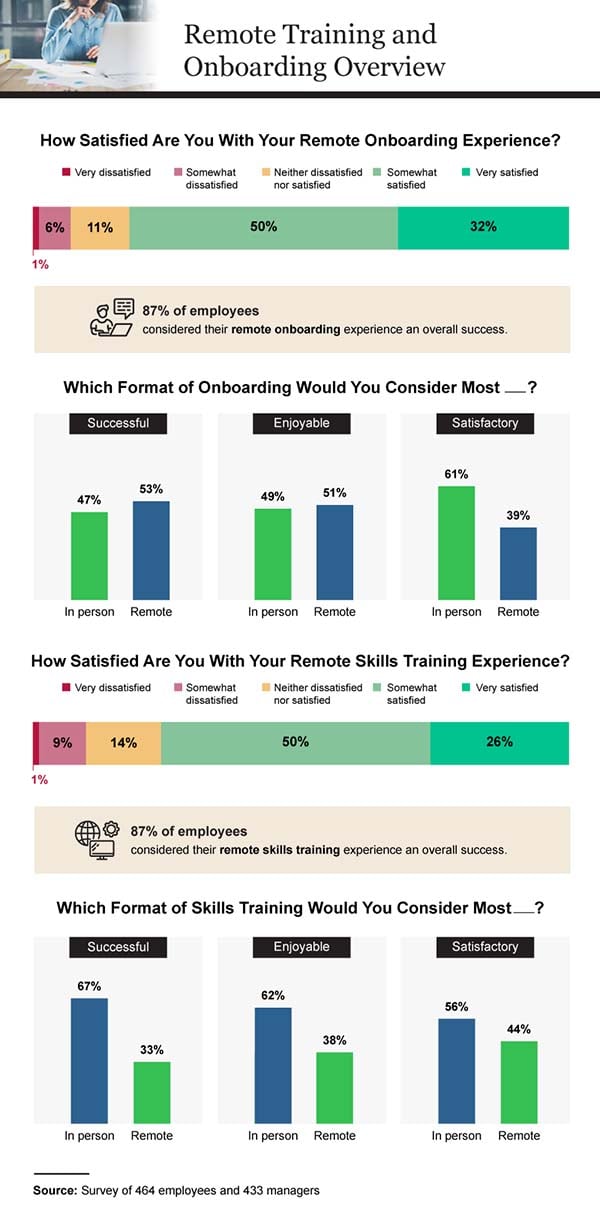 Making a good first impression can be just as important as laying the groundwork for workplace success and establishing boundaries and expectations. The onboarding process gives employers an opportunity to do all of these things, which is why it's crucial to avoid key missteps, like failing to address employee needs and differences or expecting charts and graphs to carry the weight of communication. These mistakes can set employees and their teams up for failure, and the virtual onboarding can make getting things right even more difficult.
Among those surveyed, 87% indicated their initial onboarding was a success. Thirty-two percent identified themselves as very satisfied, and another 50% of employees said that they were at least somewhat satisfied with their digital onboarding experience. Fifty-three percent of employees said remote onboarding was successful, while 47% felt this way about in-person interactions. And while 51% of employees rated remote onboarding as enjoyable, compared to 49% who said the same of in-person onboarding, physical interaction (61%) was far more likely to be considered a satisfactory experience over remote onboarding options (39%).
When training for remote skills, 87% of employees also identified these exercises as a success, though it was in-person training that respondents considered more successful (67%), enjoyable (62%), and satisfactory (56%).
How Employees Are Embracing Remote Learning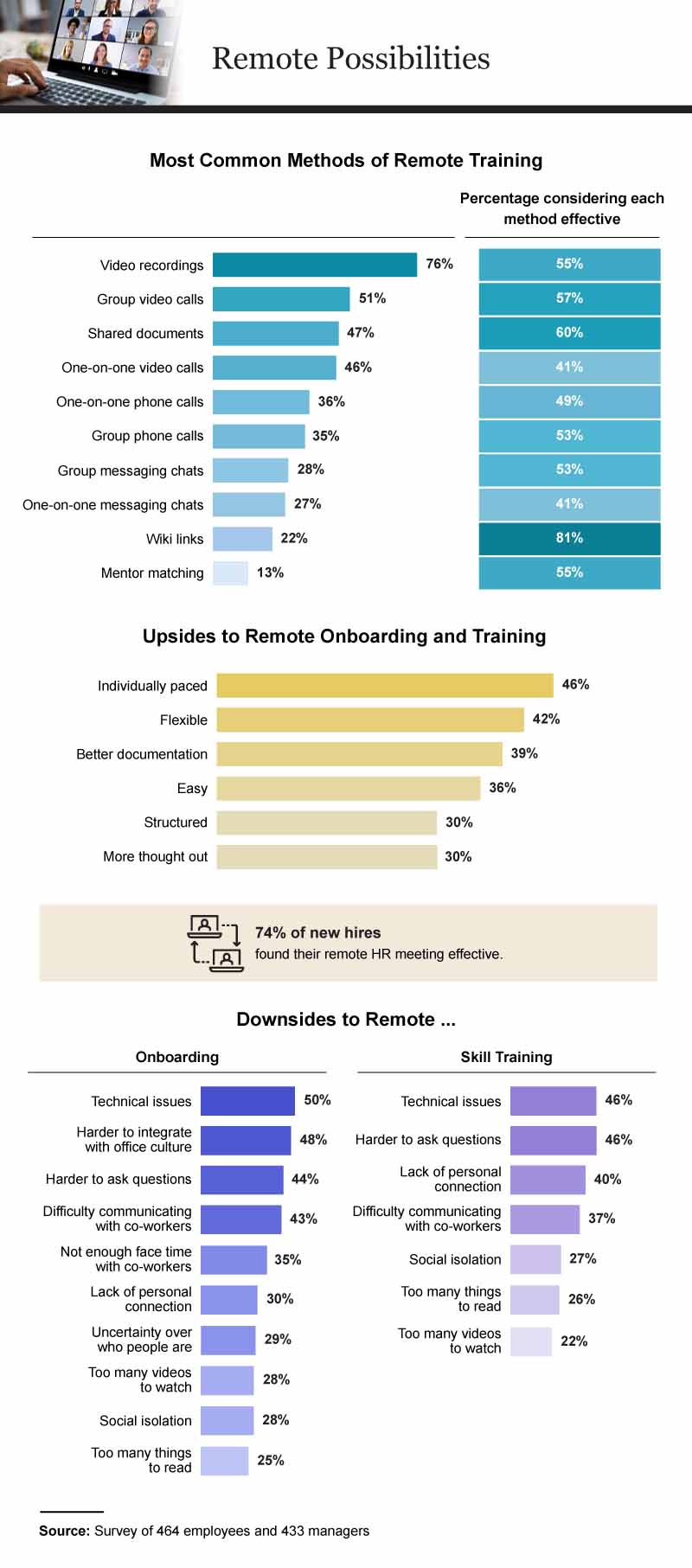 Learning and development are often viewed as fundamental aspects of both job success and workplace growth. Despite this level of critical importance, there remains room for improvement in both the execution and retention of workplace training to ensure teams are getting the professional development they need in a way that's effective.
In remote training, the most common methods of remote learning may not always be the most effective. Employees reported using video recordings (76%), group video calls (51%), shared documents (47%), and one-on-one video calls (46%) the most frequently in their training. When asked what they considered the most effective, employees identified wiki links (81%), shared documents (60%), and group video calls (55%) among their top three choices. In fact, video recordings and mentor matching were both rated as equally effective (55%), but just 13% of employees had the opportunity to participate in mentor matching as a method of remote training.
Finding the most effective method of remote training may take some trial and error, but that effort could pay off. Forty-six percent of employees said remote learning lets them go at their own pace, and nearly as many said it was flexible (42%), provided better documentation (39%), and was easy (36%). On the other hand, downsides to remote onboarding included technical issues (50%), making it harder for teams to integrate with office culture (48%), and making it more difficult for employees to ask questions (44%).
The Most Effective Remote Training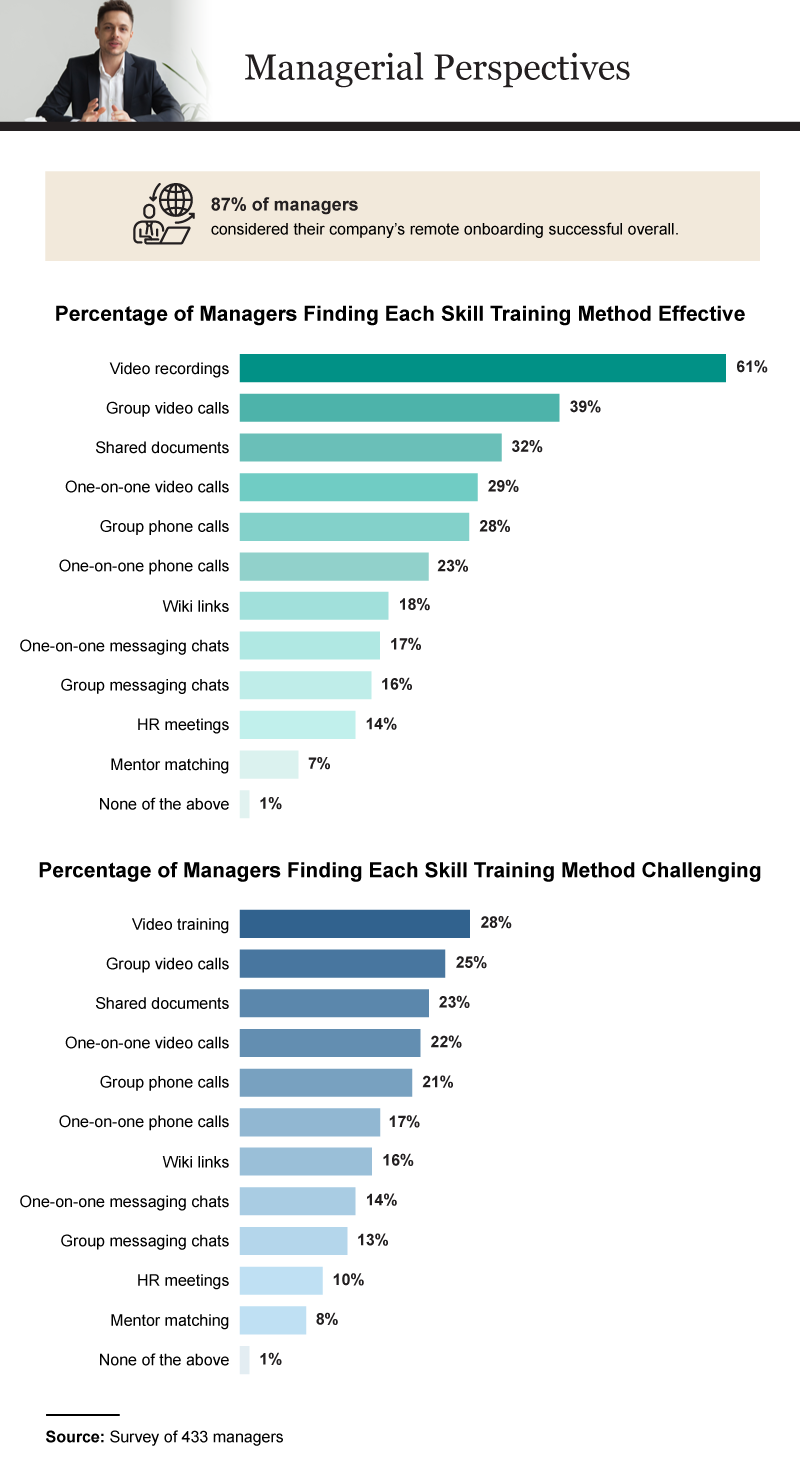 Not unlike employees, 87% of managers also reported their company's remote onboarding was generally successful. As we found, the methods of training managers found the most challenging were also the most common styles of remote skill training and onboarding. Video recordings (28%), group video calls (25%), shared documents (23%), and one-on-one video calls (22%) were the most likely to be identified as challenging.
While these technology-based training methods may be difficult for some, it's important to recognize that supporting employees and their needs may require a digital presence from businesses that continue to work remotely. According to HR professionals, adapting to evolving technology can strengthen corporate success and increase employee productivity.
When asked what the most effective method of remote learning was, managers indicated video recordings (61%), one-on-one video calls (39%), shared documents (32%), and group video calls (29%) were the most successful.
Adapting to Remote Work
For many businesses, employees may be working from home for the foreseeable future, and that means they'll be onboarding and training from home too. Despite the drawback of potential technical issues, employees reported some benefits to remote training, which is generally more flexible and lets them go at their own pace. It's important to recognize that some of the more effective options aren't always the most common.
At Paychex, we're committed to helping you simplify your onboarding process. By offering your employees the ability to train on a mobile device or laptop and letting you customize the experience for your employees with videos and messages, you'll save time with employee self-onboarding and make a good impression while you're at it. You can even include employee handbooks, policies regarding OSHA and other safety programs, employee services screenings, and recruiting and applicant tracking for future hires. Learn more about Paychex's employee onboarding software and digital HR services today!
Methodology and Limitations
We surveyed 897 full time employees who have been onboarded to a company remotely, participated in skills training remotely, or have onboarded new employees remotely as a manager. 464 respondents were employees with no supervisory or managerial duties, and 433 respondents were managers. Among our respondents, 496 were male, 400 were female, and 1 did not identify as male or female.
To help ensure data accuracy, all respondents were required to identify and answer an attention-check question. In certain cases, questions and answers have been rephrased for clarity or brevity. These data rely on self-reporting. Potential issues with self-reported data include, but are not limited to, telescoping, selective memory, and attribution errors.
Fair Use Statement
Are your readers still getting used to working from home? We encourage you to share the results of this study on remote learning for any noncommercial use. Please include a link back to this page in your story as credit to our contributors for their work on the research and graphics found here.
Tags