Workforce analytics and reporting
Business decisions often depend on hard facts about your operations and your employees. Get the payroll, HR, and benefits insights you need to make data-driven decisions with the robust workforce analytics capabilities within Paychex Flex®. Or authorize your accountant, bookkeeper, or advisor to access your reports so they can continue to provide the support you need.
Out-of-the box reports

Use our time-tested standard reports or customize them to meet your individual needs.

Robust HR analytics

Understand your situation better with powerful exploratory analytics and the ability to build custom workforce reports to meet the unique demands of your business.

Quick answers

Our Quick Answers feature makes frequently referenced information — hours, total earnings, net pay, tax liability, etc. — available at a glance, without having to generate a PDF report.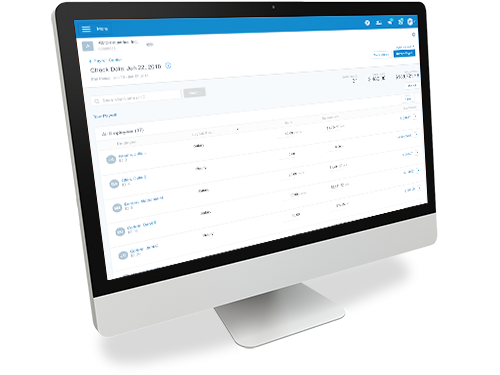 Gain deeper insights that fuel growth
What you get with Paychex Flex workforce analytics:
160+ standard reports
Reports available via desktop or mobile device
Per-pay-period, quarterly, or custom range sets
Quick access to frequently requested reports
Export flexibility
Easy-to-use dashboards for a variety of functions — payroll, time and attendance, recruiting, HR, and more
The ability to create custom reports from scratch
Get the workforce analytics you need, when you need them
View reports fast

Quick Reports gives you immediate access to all your most important reports, right from the main dashboard.

Add reports to favorites

Designate the reports you use most often and have them available for quick and easy access right when you log in.

Build custom reports

Choose parameters to customize reports by specific or relative dates, employee, type, and many other attributes.
Analyze employee trends, labor costs, and more
Function-focused dashboards

Access the analytics you need to evaluate and proactively address workforce costs and trends, with visual dashboards for services including:

Payroll labor costs
HR workforce trends
Recruiting and applicant tracking
Time and attendance
Affordable Care Act reporting

Flexible report sets

Retrieve reports in packages of per-pay-period, quarterly, or annual data, or create your own set of favorite reports.

Data export

Export report data to third-party software and add your own fields, build graphs, or adjust the formatting. Export as: