The Paychex Advantage
It's our business to help you grow your business and delight your clients. You be the hero. Let us be your support.
There's a Better Way to Be 401(k)onfident
Ask yourself:
Could you use more time and resources to answer clients' technical questions about their plans?
Do you need an easier way to keep up-to-date on constantly changing regulations?
Are proprietary investment choices limiting your clients' options?
How many times have you thought: "My time is precious. I need something more efficient."
The good news: there is a solution. And Paychex can help.
Flexibility

Each client and each plan is unique. That's why Paychex Retirement Services features flexible plan designs and a wide range of investment options with no proprietary requirements, ever. We are investment-neutral and client-centric.

Service

As the trusted advisor to your clients, you are the investment expert. Paychex provides the means, administration, and recordkeeping to help deliver a plan that is right for them. And we provide the dedicated service you'd expect, in the form that suits your needs, from do-it-all-for-me to DIY online, before and after the sale.

Regional wholesalers and sales reps
U.S.-based retirement specialists
Dedicated Account Manager for plans over $500K in assets
Dedicated onboarding coordinator

Peace of Mind

You and your clients can be confident that the right information goes to the right places at the right time — minimizing fiduciary risk, maximizing data accuracy, and saving time on administrative work. 

Our Paychex Flex® solution cultivates a single employee record across all of our services, ensuring payroll and retirement solutions are conveniently and wholly integrated.
Heritage
We're In It for the Long Haul

As a holistic provider of retirement, payroll, HR services, and more, Paychex specializes in all the "behind-the-scenes" activities. We understand the flow of data and the regulations from both payroll and 401(k), the IRS, the DOL. In fact, we've been doing it for more than 40 years — and supporting financial advisors for more than 20 years.

What's more, you and your clients can rest assured we'll be here for the long haul. In times of calm and of volatility in the industry, Paychex has stayed the course. Stability is a cornerstone of our business.

Grow Your Retirement Business with Support You Can Trust

Our specialized knowledge helps ease the complexity that goes hand-in-hand with administration, compliance, and the regulatory requirements of managing a 401(k) plan. We are a proven team player — not your competition — whose goal is to support you, your clients, and their employees with a 401(k) experience that fits everyone's needs, both now and in the future.

You and your clients can rely on us to support you through every step, from plan design, to onboarding, to ongoing plan administration.

#1 seller of plans for 10 consecutive years*

(AICPA) Trusted Business Advisor Program

Preferred provider of retirement services for over 12 years for the American Institute of Certified Public Accountants (AICPA) Trusted Business Advisor Program

AICPA member firms

Exclusive provider of retirement plan services for AICPA member firms

1 in every 10 plans uses Paychex for 401(k)

More than 600,000 payroll clients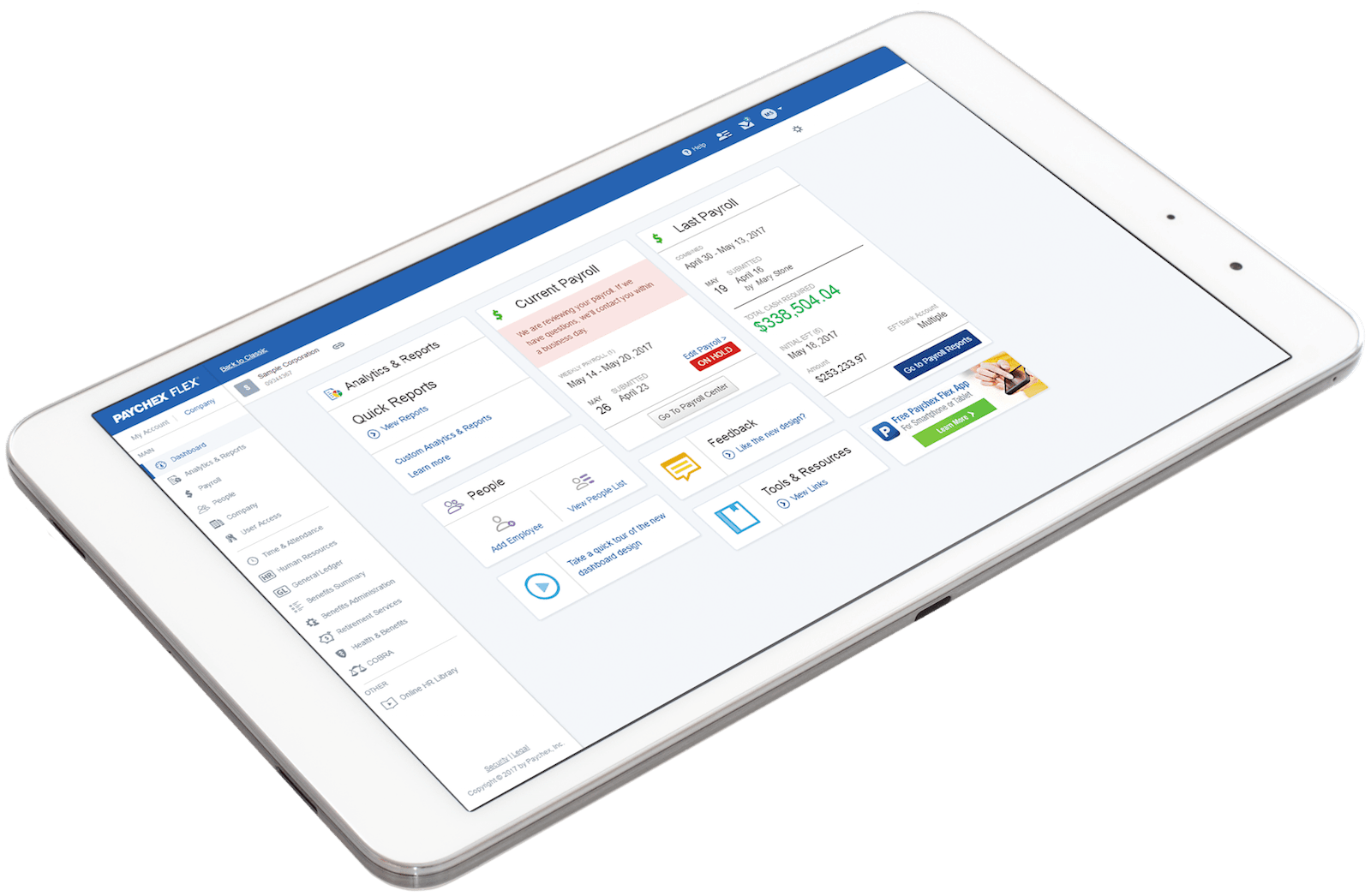 Beyond 401(k)
The Power of One
Paychex offers so much more than just retirement services, so much more than payroll and HR. Our solid history of catering to small businesses has advanced to support the complex human capital management needs of any size business, thanks to our robust Paychex Flex® solution.
Paychex Flex is what makes our solutions automated and seamless. But it's more than simple integration of services. In fact, it isn't integration at all — it's one platform, one employee record. It's time-saving and error-reducing, minimizing administrative work, making life easier for plan sponsors — which means less involvement for you on the small stuff. And more time focused on having meaningful, more lucrative conversations.