Online payment processing
Don't have room for (or want to deal with) a traditional payment terminal? No problem. With our mobile and online payment processing services, you can take payments anywhere, anytime. Use them on the go, at your place of business as your primary payment terminal, or as an additional terminal during busy sales seasons.
Turn your computer into a payment terminal

Use your existing PC to accept credit/debit cards, eChecks, and gift cards with VirtualMerchant —no software required. Process transactions in person, by phone, or online.

Take payments from your mobile device

Let customers pay by credit card right from your smartphone or tablet with VirtualMerchant Mobile, our full-featured mobile payment processing app for iPhone®, iPad®, and AndroidTM devices. All you need is a card reader, which comes free!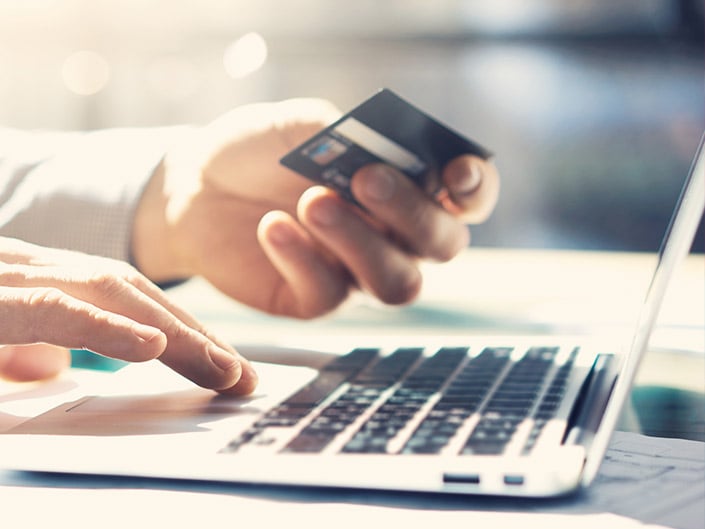 What you get with Paychex online and mobile payment processing
Fast transactions (in as few as three seconds) via your desktop or mobile device
The ability for customers to sign on your screen and have an electronic receipt emailed to them
Dynamic currency conversion
QuickBooks® plugin
Flexible solutions to meet the needs of your business
Free card reader for your mobile device
The highest security standards
Process payments from within QuickBooks

Expand the built-in capabilities of QuickBooks with a powerful plugin that allows you to do even more with your accounting software.

Process credit cards, checks, ACH, and Electronic Funds Transfer (EFT) transactions.
Process payments directly from invoices or receipts.
Help ensure your transactions are PCI DSS compliant by securing your credit card and banking information with full tokenization security.

Opt for a more flexible online payment processing solution

If you process just a few sales a month, or if you want to avoid a multi-year contract for payment processing, our Clear and Simple program may be a great fit.

$10.00/month with no early termination fees
Support for all major credit cards
Reduced transaction fees
Next-day funding, electronic check service, electronic gift cards, dynamic currency conversion, and multi-currency.
Up to $100,000 in financial coverage for PCI-compliant merchants
Free access to VirtualMerchant or the VirtualMerchant Mobile payments app.
information with full tokenization security.
Something else to consider