Paychex HR and Payroll Services in Auburn, Massachusetts
Paychex has been a trusted industry leader since 1971, providing payroll and HR services in Auburn. Located near our Auburn, Massachusetts office right off the Mass Turnpike, near the Goddard Rocket Launching Site. With our transformational HR technology and personal service, we have the features that can empower your business to reach the next level.
Contact Information for Paychex in Auburn
Business Hours
| Day | Time slot | Comment |
| --- | --- | --- |
| Monday | 8:00 am-5:00 pm | ET |
| Tuesday | 8:00 am-5:00 pm | ET |
| Wednesday | 8:00 am-5:00 pm | ET |
| Thursday | 8:00 am-5:00 pm | ET |
| Friday | 8:00 am-5:00 pm | ET |
| Saturday | Closed | |
| Sunday | Closed | |
Auburn
27B Midstate Drive, Suite 104
Midstate Office Park
Auburn, MA, 01501
HR and Payroll Services in Auburn
Ability to pay different types of workers — salaried, hourly, and contract
U.S.-based support with compliance experts to help you navigate and stay ahead of local, state, and federal regulations, such as the Massachusetts's Paid Family and Medical Leave Program
Tax services that calculate, pay and file your taxes and help ensure you get the tax credits you deserve
Employee benefit services — retirement, health, dental, and more — to keep your workforce happy
What Solutions Does Paychex Offer in Auburn?
We offer solutions for businesses of all sizes and types in Auburn, including corporations, LLCs, partnerships, and sole proprietorships. With our powerful, easy-to-use technology and friendly, experienced consultants, we help businesses pay, track, manage, and support their employees more effectively and efficiently.  
Find the Right Solution for Your Business in Auburn
Whether you seek freedom from burdensome paperwork, ultimate peace-of-mind for staying compliant with ever-changing regulations, or cost savings with greater HR and payroll efficiency, you can find the right solution at Paychex.
Find Your Solution
How many employees do you have?
Compare Our Payroll Options 
Paychex Flex® Essentials
Sign-up and start your customized payroll online, fast.
Do payroll from anywhere with our highly rated app
We'll handle your payroll taxes
24/7/365 support from U.S. representatives
Pay with direct deposit or print checks on-site
Paychex Flex® Select
Payroll and HR support for Auburn businesses of every size. This smart solution will transform necessary business functions into actions that can help your business grow. 
Conveniently submit payroll online or over the phone
Employee Financial Wellness program
Flexible pay options for your employees
Reliable support for payroll tax and labor compliance issues
Work with a dedicated payroll specialist for a single point-of-contact and a trusted relationship
Online learning management system to encourage and easily track employee professional development
Paychex Flex® Pro
Make payroll and HR easier to manage by connecting them in Paychex Flex.
Full-service payroll & taxes
Candidate screening
Employee onboarding
U.S. based support 24x7x365
What Are the Advantages of Outsourcing Payroll and HR Services to Paychex?
Dedicated HR consultants averaging 8 years of tenure.
An all-in-one HR, payroll, time and attendance, and benefits platform for flexible support where and when you need it.
Recipient of numerous honors and recognition for our technology and ethical practices.
Additional HR Resources for Businesses in Auburn
It's been a tough few years economically in the U.S. The pandemic and inflation have upended peoples' lives physically, mentally, and financially, making retirement seem even more like an improbable dream than before for many young people. As a result, some are adjusting their retirement goals.
But how is all of that affecting people who have already retired? To find out how many retirees are rejoining the workforce and what the experience is like for them and their employers, we surveyed 930 American employees, current and former retirees, and 206 hiring managers about their feelings on the matter.
Key Takeaways
1 in 6 retirees are considering returning to work, and 53% want remote positions.
55% of retirees went back to work because they needed more money.
74% of returned retirees feel judged by co-workers because of their age.
62% of hiring managers are skeptical about hiring retirees.
The Need To Go Back
There has been a lot of speculation about what inflation and the current economic climate mean for retirement, with some wondering if younger generations will be able to retire when all is said and done. But are these same issues leading retirees back to work as well?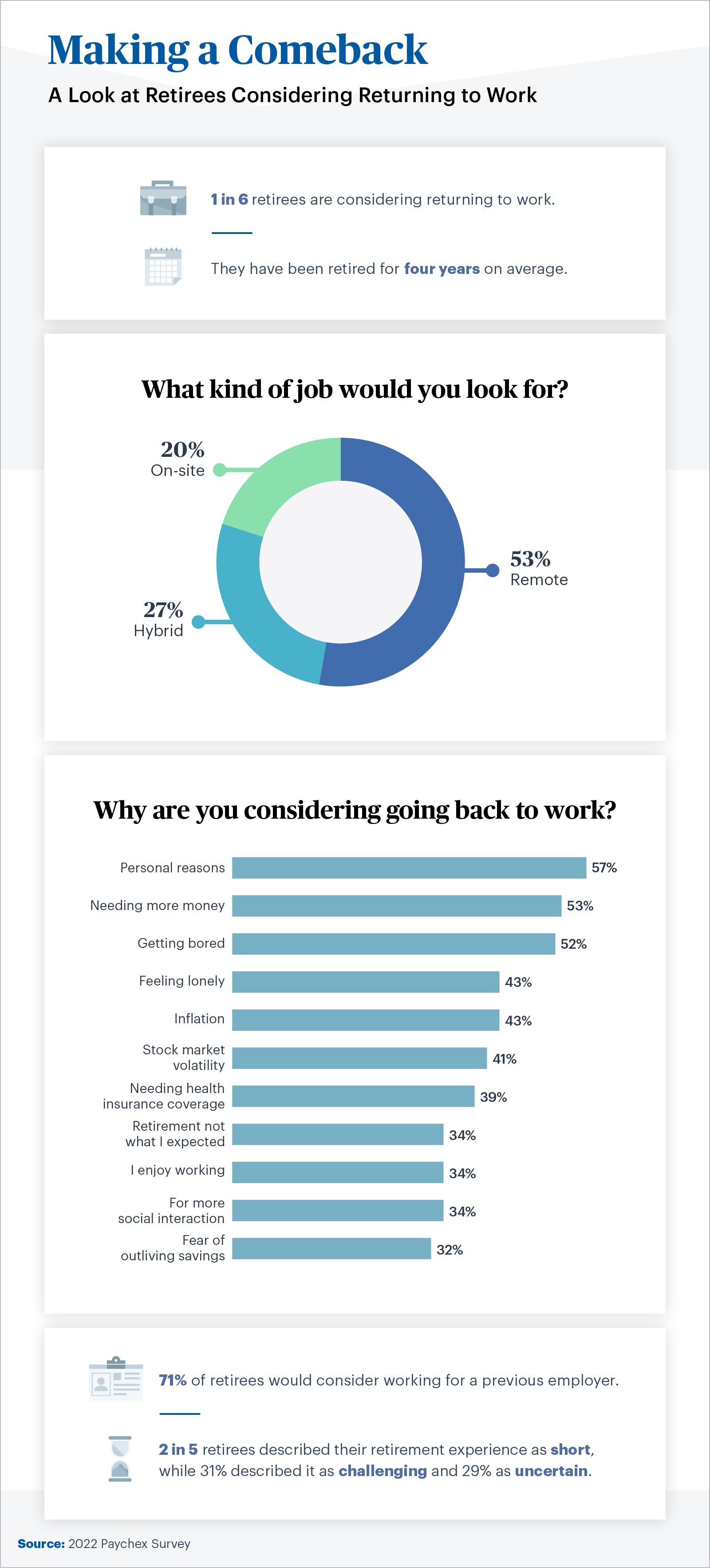 Among those we surveyed, one in six retirees are considering returning to work after being out of the workforce for an average of four years. With so many preferring to work from home these days, it's no surprise that more than half of our retired respondents would look for remote work (53%), 27% want a hybrid situation, and only 20% would seek an office job.
Most would want to work full-time (65%) instead of part-time (35%). This could be due to a need for more money — the reason cited by 53% of respondents. But nearly as many are thinking of going back to work because they're bored (52%).
Boredom is understandable, especially for those who went from working 40 hours per week to not working at all. For the same reason, it's not surprising that loneliness was the reason that 43% of retirees are considering working again. But the same number are also doing so because they're concerned about inflation.
Employment After Retirement
While their reasons may vary, many retirees have already decided to go back to work. Let's see what prompted them to return to the workforce and how they feel about it now.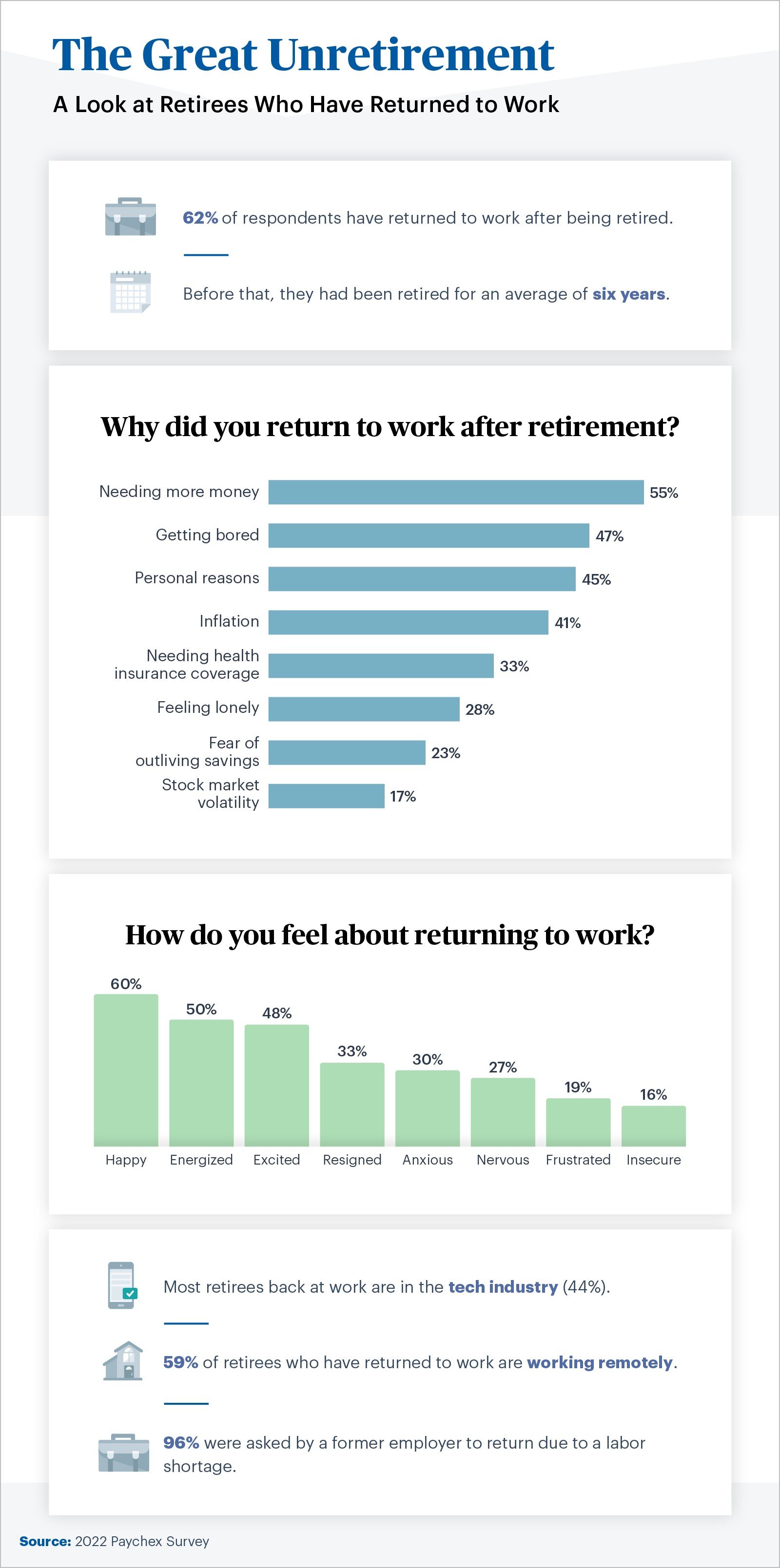 The overwhelming majority of retirees who returned to work have faced judgment from their co-workers (74%); only 3% haven't. Most of those working in finance (87%), education (83%), and information technology (72%) have experienced such discrimination.
One particular form of ageism that retirees feel they are dealing with when returning to work is younger employees making them feel insecure about their abilities, with 71% sharing this sentiment. With many having to work for employers who are younger than them, we were glad to learn that only 12% of our respondents find this extremely difficult. The majority feel that it's, at most, only a moderate challenge.
Recruiting Retirees
The state of our economy has pushed many to take serious measures to make more money — workers and retirees alike — such as getting second jobs. Is the competition making it harder for retirees to go back to work? And how do managers feel about hiring them?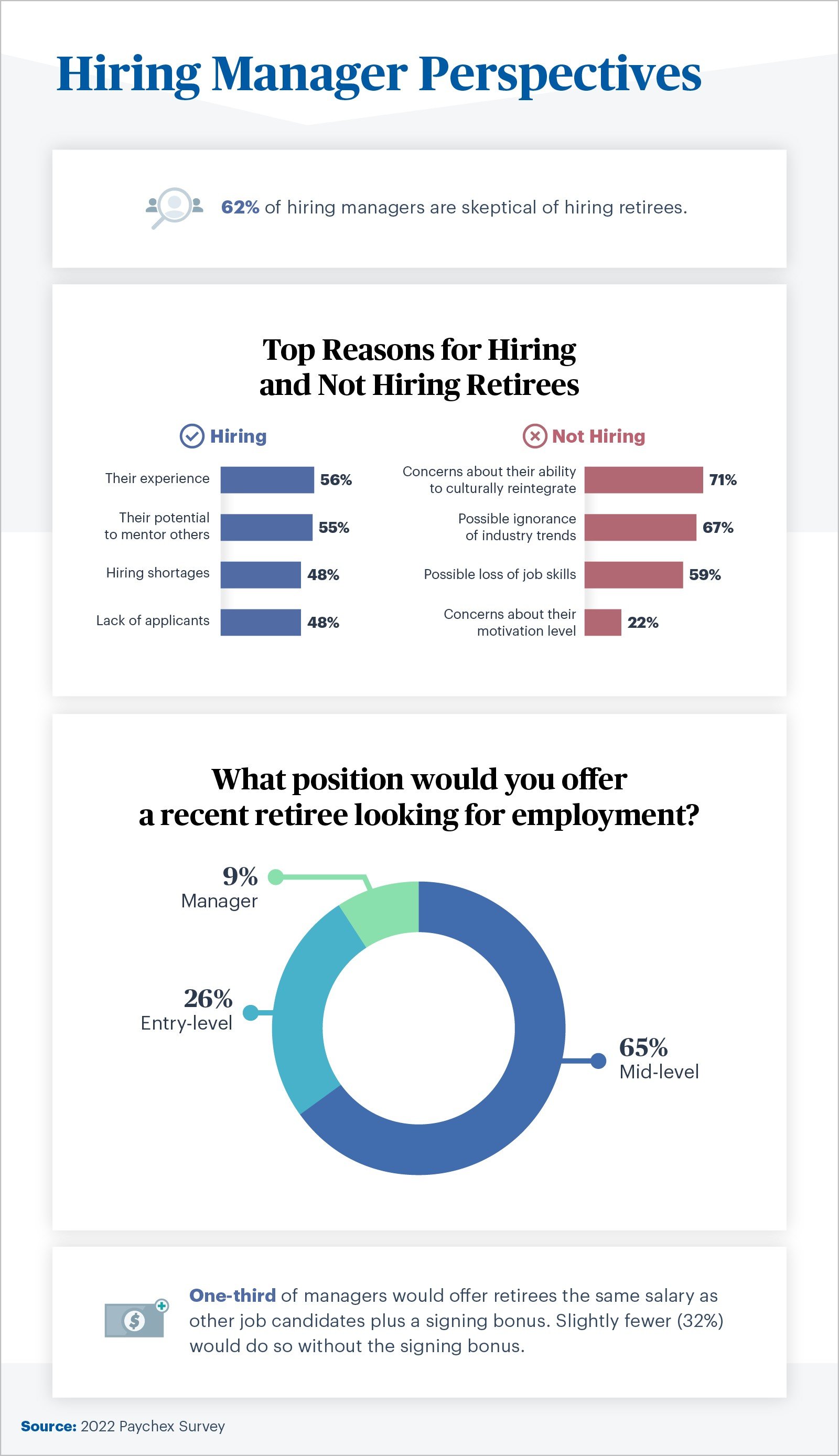 Our findings show that 62% of hiring managers are skeptical about hiring retirees, but they also shared some potential pros and cons. According to 56% of the hiring managers we surveyed, the main reason for hiring a retiree is their many years of experience. Nearly the same number feel that retirees can make great mentors in the workplace.
But the biggest reason to not hire a retiree is cultural, say 71% of hiring managers. Can these candidates integrate into the current company culture? This concern is followed by uncertainty about their knowledge of industry trends (67%) and whether they still have the skills needed for the job (59%).
When onboarding retirees, the top strategy hiring managers employ is taking it slow (50%) in case they need more time to adjust to the job. The next most common tactic was avoiding abbreviations and jargon that these new or returning hires may not understand (48%), followed by providing templates to help them find their bearings (44%).
Re-entering the Workforce
With concerns about inflation strongly impacting retirement, many retirees have either gone back to work or are considering it. Luckily, many hiring managers see the benefits of onboarding these experienced job candidates, despite ageism being a problem for post-retirees. Hopefully, their return will eventually make the workplace a more inclusive and adaptable place for people of all ages.
Methodology
For this campaign, we surveyed 930 Americans to explore their retirement plans. Among them, 16% were retired, 22% were still working, and 62% were retirees who had returned to work. We also surveyed 206 hiring managers to explore their sentiments about hiring retirees.
About Paychex
Paychex provides payroll and HR services for businesses of all kinds so that you can easily take your business from startup to enterprise.
Fair Use Statement
If you enjoyed our study, you're more than welcome to share it. We just ask that you link back to these findings and that your purposes are noncommercial.
Key Takeaways
Nearly half of Americans plan to work multiple jobs for more than three years.
Respondents working just one job are 44% more likely than those working multiple jobs to feel productive.
Over half of hiring managers view a candidate with multiple jobs as a red flag.
The Age of Overemployment
Time is money, and keen workers are capitalizing on every second. While some struggle to balance even just one full-time job with the rest of their obligations, others are juggling multiple jobs — a lifestyle called "polyworking."
Paychex surveyed over 1,000 Americans, both polyworkers and people holding just one job, to learn more about the increasing interest in taking on multiple part-time jobs. We then analyzed who had the highest interest in the polywork lifestyle by location and industry.
Why are people becoming polyworkers, and how long do they plan to do it? How are they different from other employees? Whether you have one or multiple jobs, read on to find out what the rest of America is doing to make a living.
Popularity of Polywork
Since 2019, online search volumes about polywork (and related terms like "gig work" and "side hustle") have risen. We found that residents of certain states are more curious about the concept than others.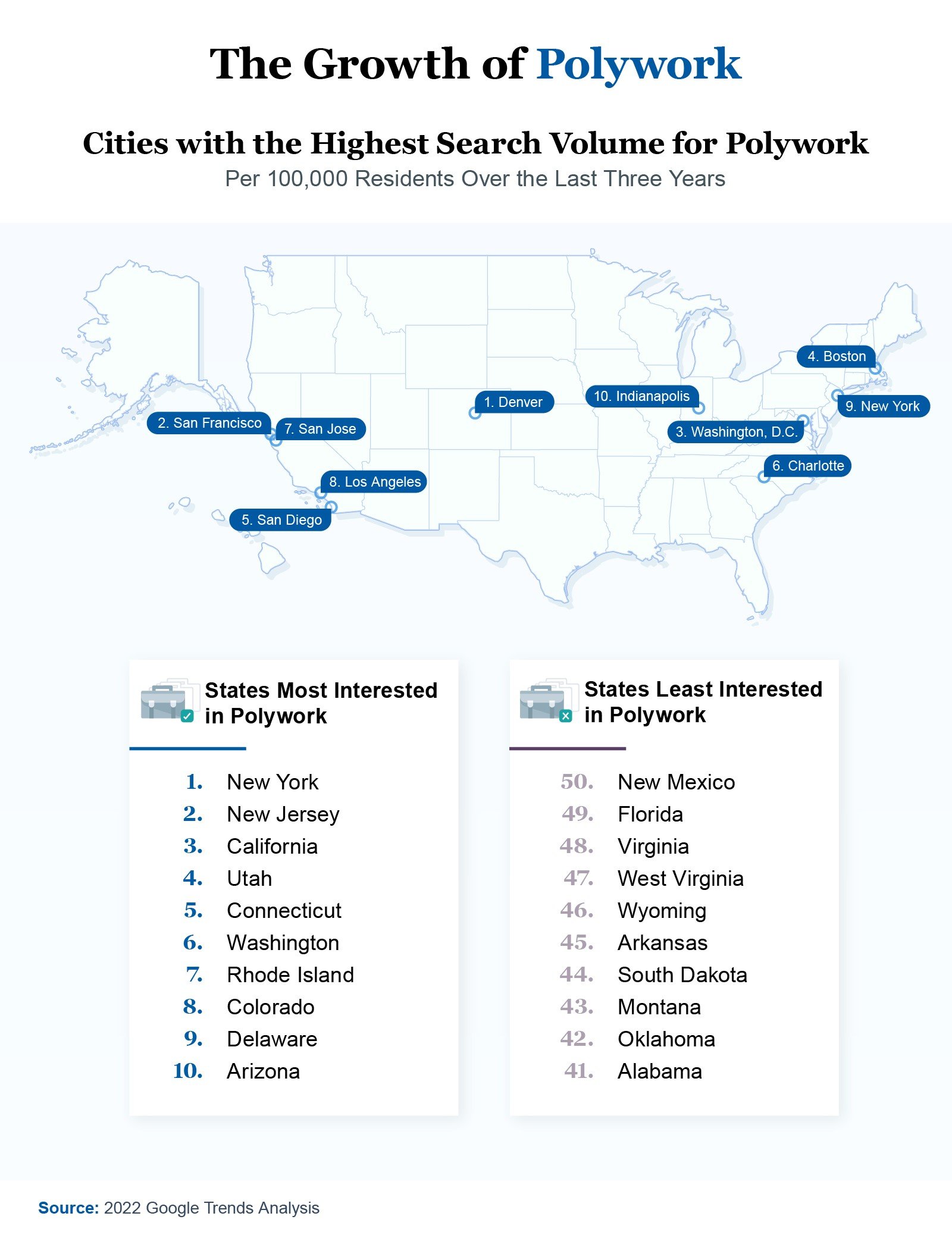 Residents of coastal cities, many of which are also the most expensive cities in the US, appear much more likely to be interested in polywork than residents of cities in the middle of the country. While Denver is a notable exception, six of the top 10 cities with the highest volume of polywork-related internet searches are on the coast. Boston and New York City led the pack in the east, while San Francisco, San Diego, San Jose, and Los Angeles generated the most searches out west.
From a state-by-state point of view, New York, New Jersey, California, Utah, and Connecticut residents are the most interested in polywork. On the other hand, New Mexico, Florida, Virginia, West Virginia, and Wyoming residents don't care nearly as much.
Either way, there were over 70 million freelancers in the U.S. as of 2022, which is 20% higher than the 2021 headcount. The number of people looking to transition to a multi-job lifestyle could easily keep rising through 2023 and beyond, especially in these places where people seem most keen on researching polywork.
Working Overtime
We surveyed 1,000 people about their work habits, including the number of jobs they currently hold. We asked polyworkers about their job levels, work locations, and ideal scenarios for working more than one job.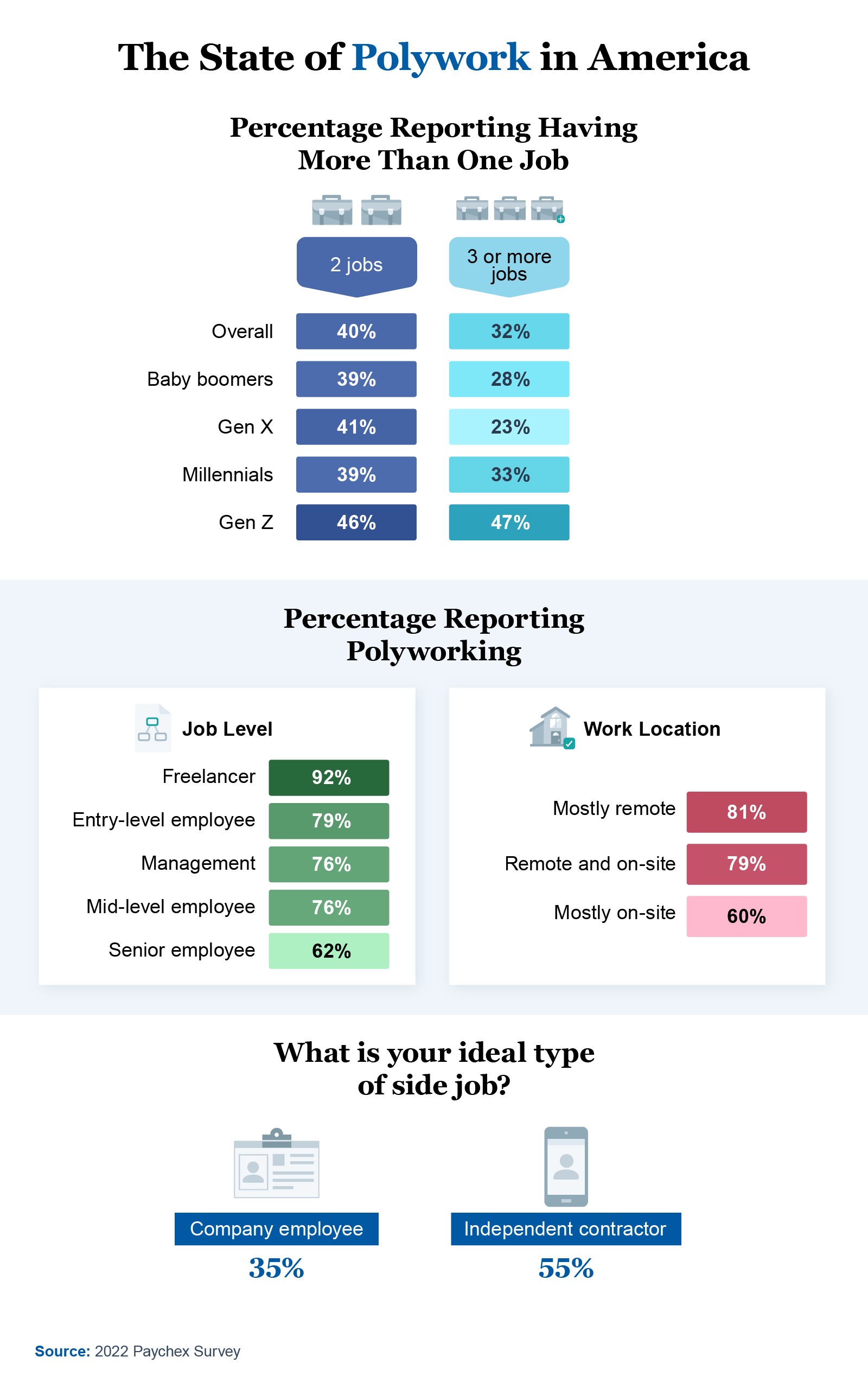 We found that 40% of respondents hold two jobs, while just under one-third juggle up to three or more. Gen Zers are more likely to polywork than other generations, with nearly half of them saying they're currently employed at two or three places.
Might that mean they're harder to lock into a single job commitment? To make your business attractive to young workers, consider offering them financial security, flexibility and be open to contract work, while emphasizing your company's commitment to authenticity and diversity.
The one-job lifestyle isn't for everyone, and polyworkers are no exception; nearly all the ones we surveyed are freelancers (92%). Most opt for a mostly remote work setting, and it's easy to assume why: The flexibility of remote work offers the luxury of more easily working two or more jobs. Still, balancing them can be challenging, which might mean some industries are more conducive to polywork than others.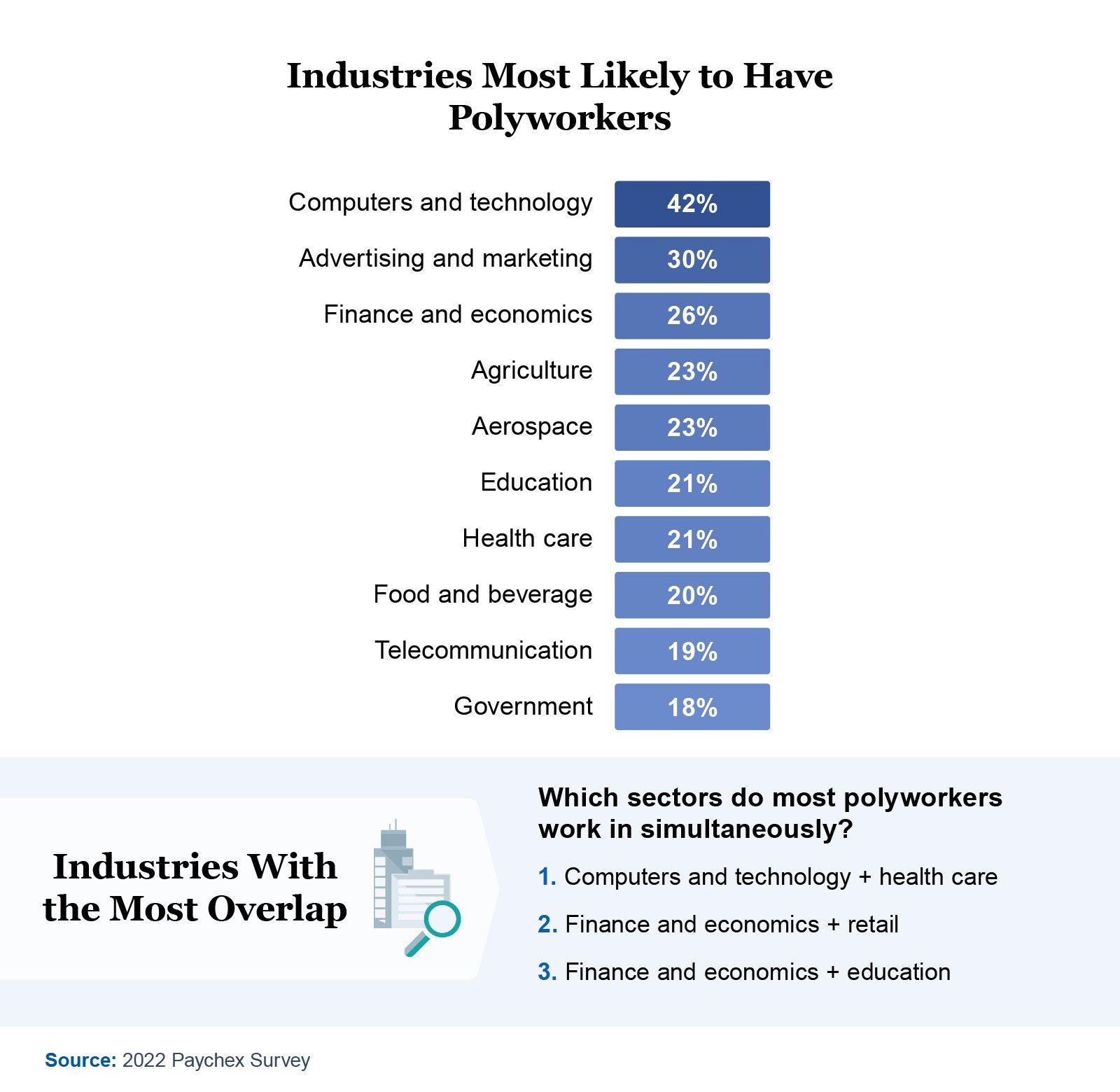 Computer and technology sector workers are most likely to have multiple income streams. This industry also has the most overlap with health care (people working in both simultaneously). While these workers might mix and match the most while working multiple jobs, people from many different professional backgrounds have taken on work in other fields as well. For example, finance and economics workers overlap with the retail and education sectors quite a bit, too.
Numerous Obligations
Whether polyworkers hold jobs in multiple industries or not, their plans may or may not be long-term. How long do they intend to keep it up, and why?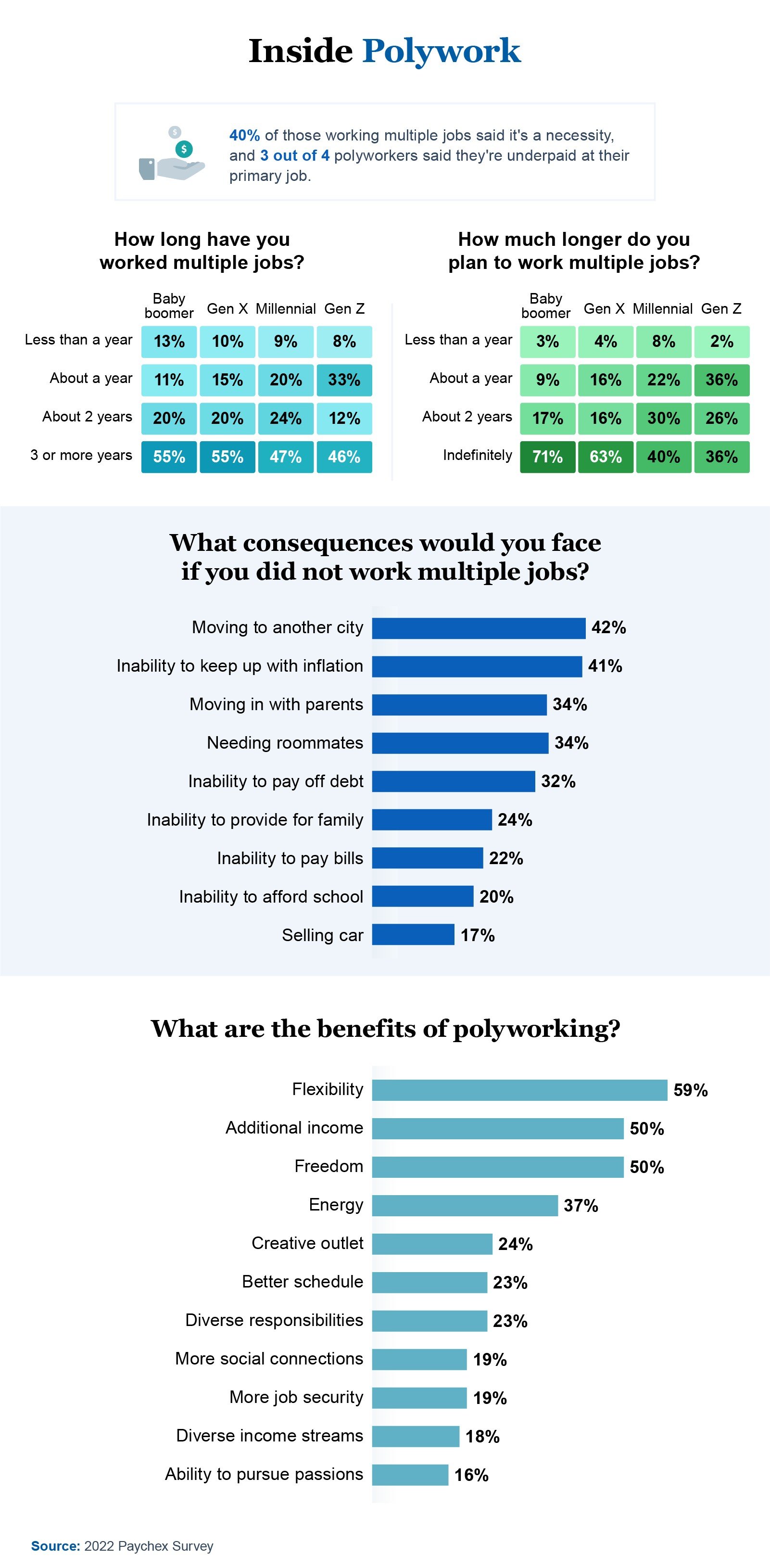 Nearly half of our respondents are polywork veterans, having worked multiple jobs for three or more years. Gen X has been working multiple jobs for the longest time, with 32% saying they have done so for five years or more.
But it's not just Gen Xers who are long-term polyworkers. Almost half of respondents plan to polywork indefinitely (47%), and their motivation varies. Without multiple income streams, Gen Xers and millennials most fear the possibility of having to move to a new home, while baby boomers are particularly worried about their inability to keep up with inflation.
That's one reason flexibility, additional income, and freedom are important to polyworkers. Having autonomy over their workloads and schedules allows them to structure their day however they need to, which is especially helpful to freelance polyworkers.
Taking a Toll
We now know why so many people pursue a polywork lifestyle, but how does it compare to that of one-job workers? Does the increased flexibility and freedom make them happier than those working nine to five?
In some cases, it might not. One-job workers are less burnt out and stressed than polyworkers. They also feel more inspired and productive at work. However, both types of workers were about equally satisfied with their career and work-life balance.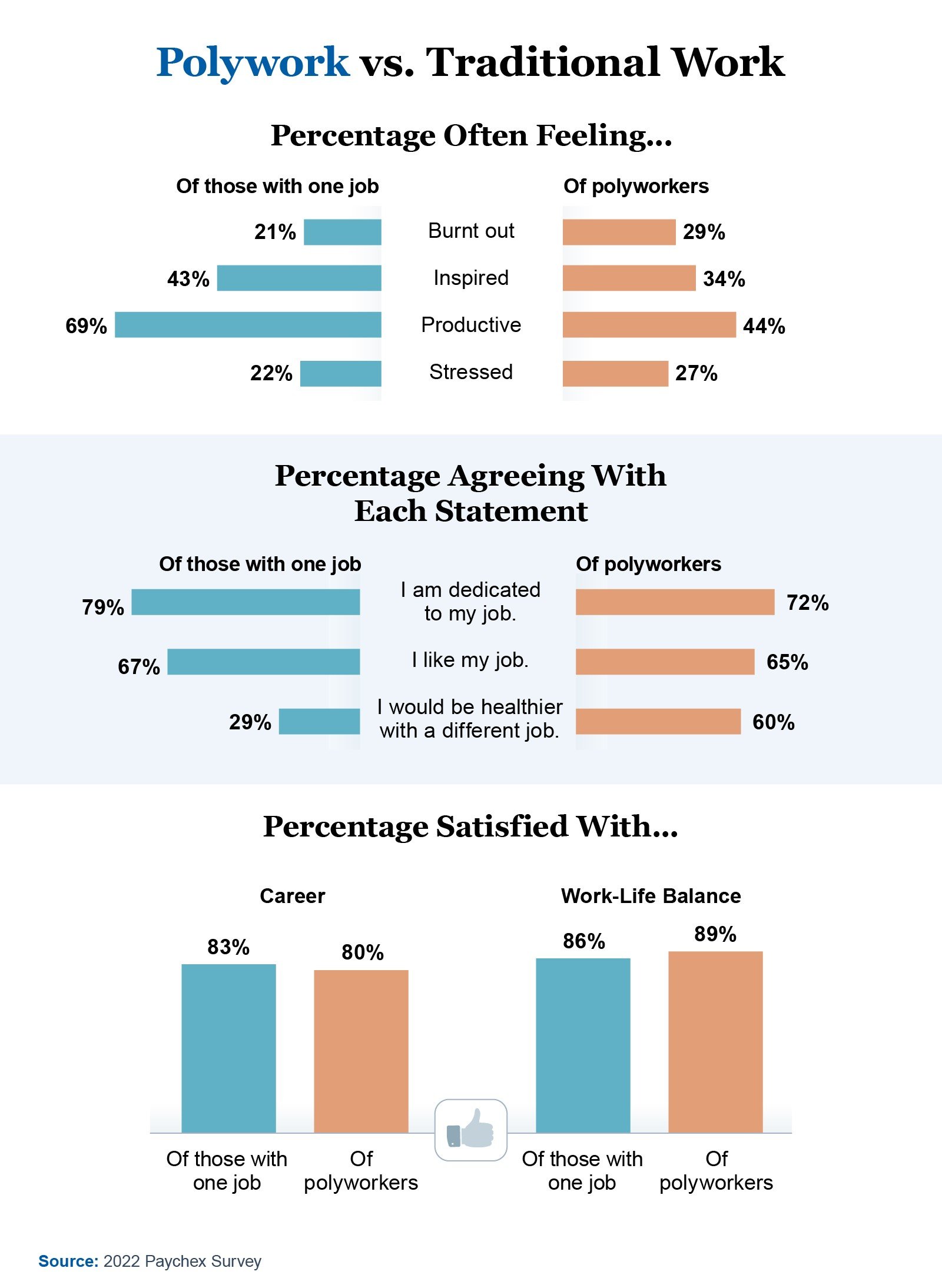 Some polyworkers are self-reportedly less dedicated to their jobs. They also generally like their jobs less and think they would be healthier if they had a different one. Even polyworkers working multiple jobs out of desire rather than necessity report these same sentiments.
Hiring a Polyworker
Higher levels of burnout and stress aren't the only issues polyworkers face. To find out how hard it might be for them to land the additional jobs they desire, we asked over 200 hiring managers how they feel about candidates already working other jobs.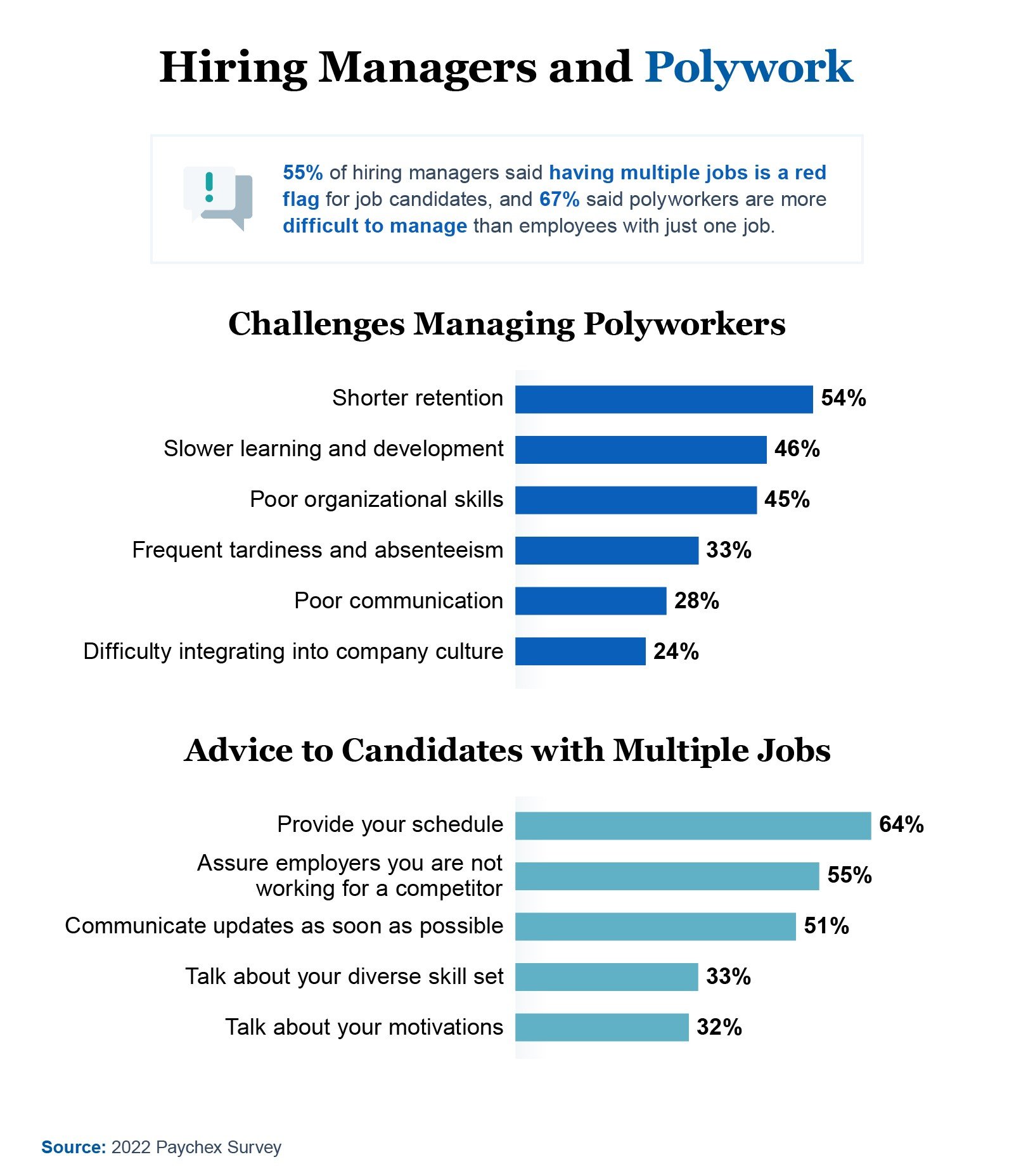 For polyworkers on the job hunt, hiring managers have some advice to give. The most important thing is to be transparent about your work schedule, so managers know when you're available and when you're not. They also appreciate knowing that they are competing with your other employers for your labor. Cover these bases in order to boost your chances of landing your next gig.
Over half of hiring managers say polyworking candidates immediately raise a red flag, and more than two-thirds say they're more challenging to manage than single-job employees. Manager also believe polyworkers don't stick around as long, are slower at learning and developing skills, and demonstrate poor organizational skills.
The Constant Hustle
The appeal of polywork is rising, but so far, people living in New York, New Jersey, and California are most interested in doing it. Most of the polyworkers we surveyed have held multiple jobs for at least three years with no plans to scale back, and more than half were Gen Z freelancers preferring remote work.
The flexibility and freedom of that lifestyle are simply too good for many to pass up, and quitting it could result in hardships like having to move or struggling to keep up with inflation. Is polywork here to stay, or will the traditional work model dominate once more? To each their own, but we'll be observing these trends well into the future.
Methodology
We surveyed 1,011 people in October 2022 about their work experience. Among them were 707 polyworkers and 304 people with only one job. Generationally, 11% were Gen Zers, 55% were millennials, 20% were Gen Xers, and 14% were baby boomers. Additionally, 57% were men, and 43% were women. We also surveyed 205 hiring managers. Finally, we looked at the search volume for the terms "polywork," "gig work," and "side hustles" in each U.S. state as well as the 25 most populous cities from January 1, 2019 through October 1, 2022.
About Paychex
As a leading provider of integrated human capital management solutions, Paychex offers services for your HR, payroll, retirement plan, employee benefit, and business insurance needs.
Fair Use Statement
If you know any polyworkers who might be interested in our findings, feel free to share this article with them. We just ask that you only do so for noncommercial use, and provide a link back to this original page so the contributors can earn credit for their work.
Employee performance reviews can be crucial to an organization's ability to build relationships and motivate and enhance the performance of its workforce. When done well, a review can influence an employee's sense of loyalty and desire to succeed.
The post-pandemic work models include in-office employees, remote employees, and a combination – or hybrid – model. This new blend of working arrangements changes the employee experience and how managers engage and oversee employees on a 1-on-1 basis to manage their performance.
This presentation will define performance management and outline how it has changed in a post-pandemic operating environment. We will share seven best practices to improve goal setting, outline four practical ways to manage employee performance reviews, and highlight how up upskilling and reskilling can help transform your workforce in a tight labor market. It will be supported by research and client stories.
Join Our 700,000+ Customers and Get Help Managing HR, Payroll, and Benefits for Your Auburn, Massachusetts Business