Paychex HR and Payroll Services in Mt Arlington, New Jersey
Right off I-80 and a quick drive from Allamuchy Mountain State Park, you'll find our Mt. Arlington, New Jersey Paychex office. Our national team of dedicated professionals supports businesses of all sizes throughout New Jersey. For HR services in Mt. Arlington, payroll solutions, or comprehensive PEO* options, Paychex has you covered.
Contact Information for Paychex in Mt. Arlington
Business Hours
| Day | Time slot | Comment |
| --- | --- | --- |
| Monday | 8:00 am-5:00 pm | ET |
| Tuesday | 8:00 am-5:00 pm | ET |
| Wednesday | 8:00 am-5:00 pm | ET |
| Thursday | 8:00 am-5:00 pm | ET |
| Friday | 8:00 am-5:00 pm | ET |
| Saturday | Closed | |
| Sunday | Closed | |
Mt Arlington
400 Valley Road
Suite 202
Mt Arlington, NJ, 07856
HR and Payroll Services in Mt. Arlington
Payroll and tax services
HR support and assistance throughout the employee life cycle
Benefits management assistance to meet New Jersey Secure Choice Savings Program requirements
Support to manage New Jersey's paid sick leave laws
Comprehensive PEO solutions* to help mitigate risk
Integrated payroll and HR dashboard with configurable views
All-in-one recruiting and onboarding software
New-hire reporting to government agencies
Time tracking solutions that integrate with payroll
24/7, U.S.-based customer service and technical support
What Solutions Does Paychex Offer in Mt. Arlington?
Whether you have one employee or 1,000, trust Paychex services to help with your payroll and HR needs in New Jersey.
Find the Right Solution for Your Business in Mt. Arlington
Provide a few company details and we can recommend solutions that work for your business and employees.
Find Your Solution
How many employees do you have?
Compare Our Payroll Options
Paychex Flex® Essentials
Sign-up and start your customized payroll online, fast.
Do payroll from anywhere with our highly rated app
We'll handle your payroll taxes
24/7/365 support from U.S. representatives
Pay with direct deposit or print checks on-site
Paychex Flex® Select
For businesses looking for additional payroll and HR services and support.
Submit payroll online or over the phone
Flexible pay options
Integrated system between Paychex Flex and HR, accounting, POS, and productivity tools
Automatic tax forms (W-2s, 1099s, etc.)
Online learning management system
Paychex Flex® Pro
Connect payroll with HR to make it easier to hire, onboard, and manage employees.
Manages payroll & taxes
Includes candidate screening
Simplifies complex onboarding
Supported by U.S. based representatives, 24/7/365
What Are the Advantages of Outsourcing Payroll and HR services to Paychex?
710,000+ customers in the U.S. and Northern Europe
From startups to Fortune 500 enterprises, our customers trust us to help them meet their unique business objectives.
Dedicated, knowledgeable compliance experts
Our team of compliance experts monitors and interprets ever-changing federal, state, and local employment laws that matter to your business.
Top 401(k) recordkeeper
Serving more than 90,000 401(k) plans, we're the largest 401(k) recordkeeper by number of plans in the U.S., according to PLANSPONSOR magazine.
Additional Resources for Businesses in Mt. Arlington
On May 2, 2018 Gov. Phil Murphy signed the New Jersey Paid Sick Leave Act into law — becoming the tenth state to enact a statewide mandatory sick leave law. The Act took effect Oct. 29, 2018, and requires New Jersey employers of all sizes to provide their eligible employees with up to forty hours of paid sick leave per year. Additionally, the law preempts municipal paid sick leave ordinances, helping to standardize obligations for businesses that have employees working in more than one jurisdiction in the state.
Covered employers include business entities of any size that hire staff in New Jersey, including temporary help services, and excluding public employers that are already required to provide paid sick leave. Most employees working in New Jersey for compensation are eligible to accrue paid sick leave time. Exceptions from coverage include, construction industry workers employed under a collective bargaining agreement, per diem healthcare employees, and public employees who have existing sick leave benefits.
The New Jersey Paid Sick Leave Act took effect Oct. 29, 2018 and requires New Jersey employers of all sizes to provide their eligible employees with up to 40 hours of paid sick leave per year.
The Act allows employees to take earned paid sick leave time for:
Diagnosis, care, treatment of, or recovery from the employee's mental or physical health condition, including preventive care;
Diagnosis, care, treatment of, or recovery from a family member's mental or physical health condition, including preventive care;
Time needed for employees or their family members condition as a victim of domestic or sexual violence, including counseling, legal services, or participation in civil or criminal proceedings;
Closure of the workplace, school, or childcare by order of a public official due to a public health concern; and
Attendance at a school-related conference or meeting.
Eligible employees accrue paid sick leave at a rate of 1 hour for every 30 hours worked up to 40 hours per benefit year. Employees may carry over up to 40 hours of unused earned paid sick leave from one year to the next. Alternatively, employers may offer to pay employees for unused earned sick leave in the final month of the benefit year, to receive a payment for either the full amount of unused earned sick leave or for 50 percent of the amount. In the latter case, employees would be able to carry the balance of unused earned sick leave to the next benefit year.
Eligible New Jersey employees accrue paid sick leave at a rate of 1 hour for every 30 hours worked up to 40 hours per benefit year.
Employers may also choose to forego the accrual process for earned sick leave hours and instead frontload the paid sick leave providing eligible employees with the full amount of earned sick leave for a benefit year on the first day of each benefit year. Employers who choose this option must either provide to employees a payment for the full amount of unused earned sick leave in the final month of the benefit year (only if they intend to continue frontloading each year) or permit employees to carry forward all unused sick leave to the next benefit year.
Employees are not entitled to pay for unused earned paid sick leave upon termination; exceptions may apply in the case of company policy and collective bargaining agreements.
Under the new law, businesses must preserve records of hours worked and earned sick leave time utilized per employee for a duration of five years. Employers shall also provide notification, in a form issued by the state, to employees of their rights under this act, including conspicuously posting the notification in a place accessible to all employees in each of the employer's workplaces, and providing to each employee employed by the employer with a written copy of the notification not later than 30 days after the form of the notification is issued by the state; at the time of the employee's hiring, and at any time, when first requested by the employee.
Employers may not discriminate or retaliate against employees for requesting or using earned sick leave time.
Enforcement of the New Jersey Paid Sick Leave Act
Violations of the law will be addressed under New Jersey wage and hour laws, and the state will deem a failure to provide or pay sick leave as a failure to meet wage payment requirements. Violations can subject an employer to pay the owed wages, fines, or liquidated damages.
Given the complexities of complying with this paid leave program, Garden state employers of any size may want to consider the help of an experienced HR professional.
It's been a tough few years economically in the U.S. The pandemic and inflation have upended peoples' lives physically, mentally, and financially, making retirement seem even more like an improbable dream than before for many young people. As a result, some are adjusting their retirement goals.
But how is all of that affecting people who have already retired? To find out how many retirees are rejoining the workforce and what the experience is like for them and their employers, we surveyed 930 American employees, current and former retirees, and 206 hiring managers about their feelings on the matter.
Key Takeaways
1 in 6 retirees are considering returning to work, and 53% want remote positions.
55% of retirees went back to work because they needed more money.
74% of returned retirees feel judged by co-workers because of their age.
62% of hiring managers are skeptical about hiring retirees.
The Need To Go Back
There has been a lot of speculation about what inflation and the current economic climate mean for retirement, with some wondering if younger generations will be able to retire when all is said and done. But are these same issues leading retirees back to work as well?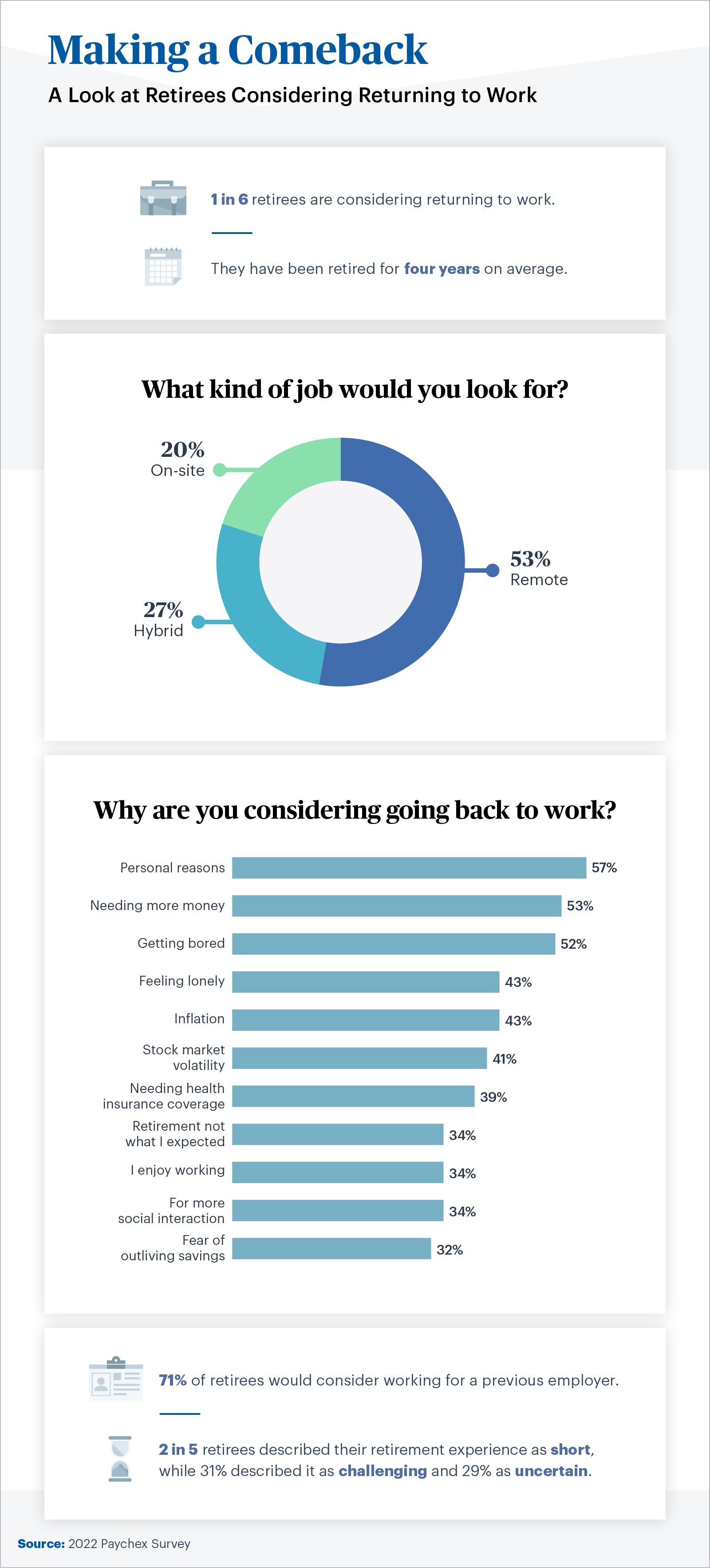 Among those we surveyed, one in six retirees are considering returning to work after being out of the workforce for an average of four years. With so many preferring to work from home these days, it's no surprise that more than half of our retired respondents would look for remote work (53%), 27% want a hybrid situation, and only 20% would seek an office job.
Most would want to work full-time (65%) instead of part-time (35%). This could be due to a need for more money — the reason cited by 53% of respondents. But nearly as many are thinking of going back to work because they're bored (52%).
Boredom is understandable, especially for those who went from working 40 hours per week to not working at all. For the same reason, it's not surprising that loneliness was the reason that 43% of retirees are considering working again. But the same number are also doing so because they're concerned about inflation.
Employment After Retirement
While their reasons may vary, many retirees have already decided to go back to work. Let's see what prompted them to return to the workforce and how they feel about it now.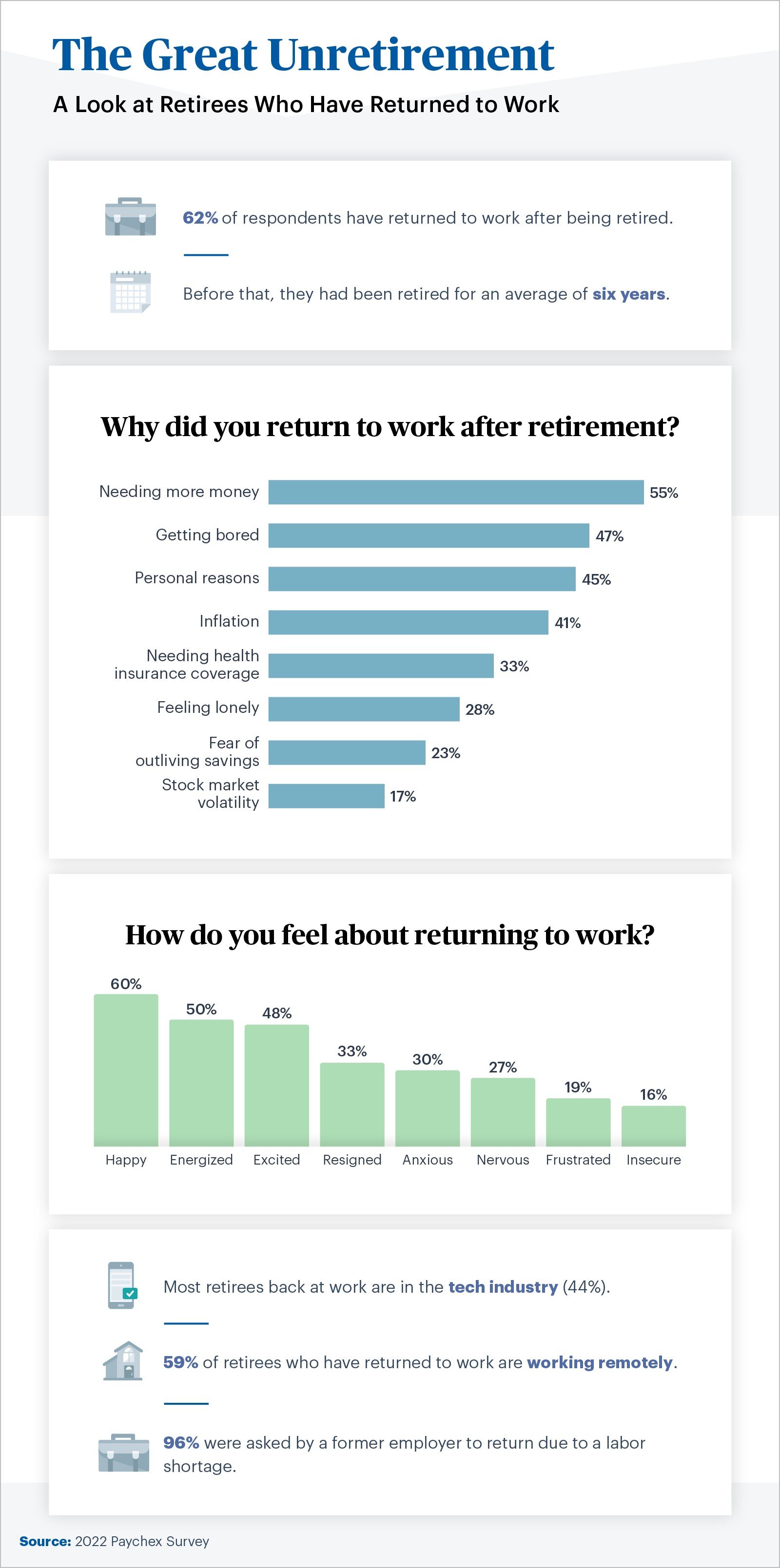 The overwhelming majority of retirees who returned to work have faced judgment from their co-workers (74%); only 3% haven't. Most of those working in finance (87%), education (83%), and information technology (72%) have experienced such discrimination.
One particular form of ageism that retirees feel they are dealing with when returning to work is younger employees making them feel insecure about their abilities, with 71% sharing this sentiment. With many having to work for employers who are younger than them, we were glad to learn that only 12% of our respondents find this extremely difficult. The majority feel that it's, at most, only a moderate challenge.
Recruiting Retirees
The state of our economy has pushed many to take serious measures to make more money — workers and retirees alike — such as getting second jobs. Is the competition making it harder for retirees to go back to work? And how do managers feel about hiring them?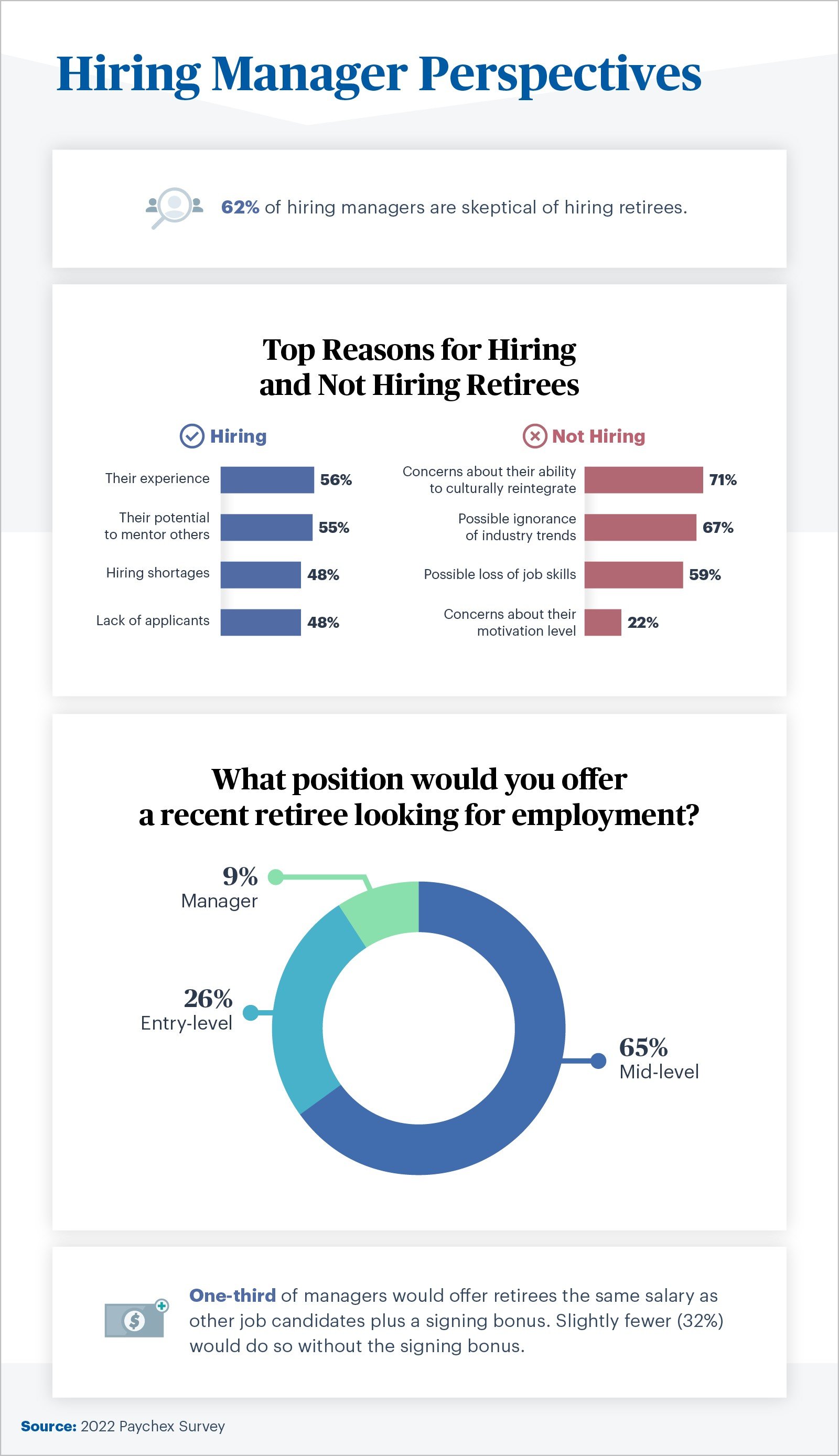 Our findings show that 62% of hiring managers are skeptical about hiring retirees, but they also shared some potential pros and cons. According to 56% of the hiring managers we surveyed, the main reason for hiring a retiree is their many years of experience. Nearly the same number feel that retirees can make great mentors in the workplace.
But the biggest reason to not hire a retiree is cultural, say 71% of hiring managers. Can these candidates integrate into the current company culture? This concern is followed by uncertainty about their knowledge of industry trends (67%) and whether they still have the skills needed for the job (59%).
When onboarding retirees, the top strategy hiring managers employ is taking it slow (50%) in case they need more time to adjust to the job. The next most common tactic was avoiding abbreviations and jargon that these new or returning hires may not understand (48%), followed by providing templates to help them find their bearings (44%).
Re-entering the Workforce
With concerns about inflation strongly impacting retirement, many retirees have either gone back to work or are considering it. Luckily, many hiring managers see the benefits of onboarding these experienced job candidates, despite ageism being a problem for post-retirees. Hopefully, their return will eventually make the workplace a more inclusive and adaptable place for people of all ages.
Methodology
For this campaign, we surveyed 930 Americans to explore their retirement plans. Among them, 16% were retired, 22% were still working, and 62% were retirees who had returned to work. We also surveyed 206 hiring managers to explore their sentiments about hiring retirees.
About Paychex
Paychex provides payroll and HR services for businesses of all kinds so that you can easily take your business from startup to enterprise.
Fair Use Statement
If you enjoyed our study, you're more than welcome to share it. We just ask that you link back to these findings and that your purposes are noncommercial.
Key Takeaways
Nearly half of Americans plan to work multiple jobs for more than three years.
Respondents working just one job are 44% more likely than those working multiple jobs to feel productive.
Over half of hiring managers view a candidate with multiple jobs as a red flag.
The Age of Overemployment
Time is money, and keen workers are capitalizing on every second. While some struggle to balance even just one full-time job with the rest of their obligations, others are juggling multiple jobs — a lifestyle called "polyworking."
Paychex surveyed over 1,000 Americans, both polyworkers and people holding just one job, to learn more about the increasing interest in taking on multiple part-time jobs. We then analyzed who had the highest interest in the polywork lifestyle by location and industry.
Why are people becoming polyworkers, and how long do they plan to do it? How are they different from other employees? Whether you have one or multiple jobs, read on to find out what the rest of America is doing to make a living.
Popularity of Polywork
Since 2019, online search volumes about polywork (and related terms like "gig work" and "side hustle") have risen. We found that residents of certain states are more curious about the concept than others.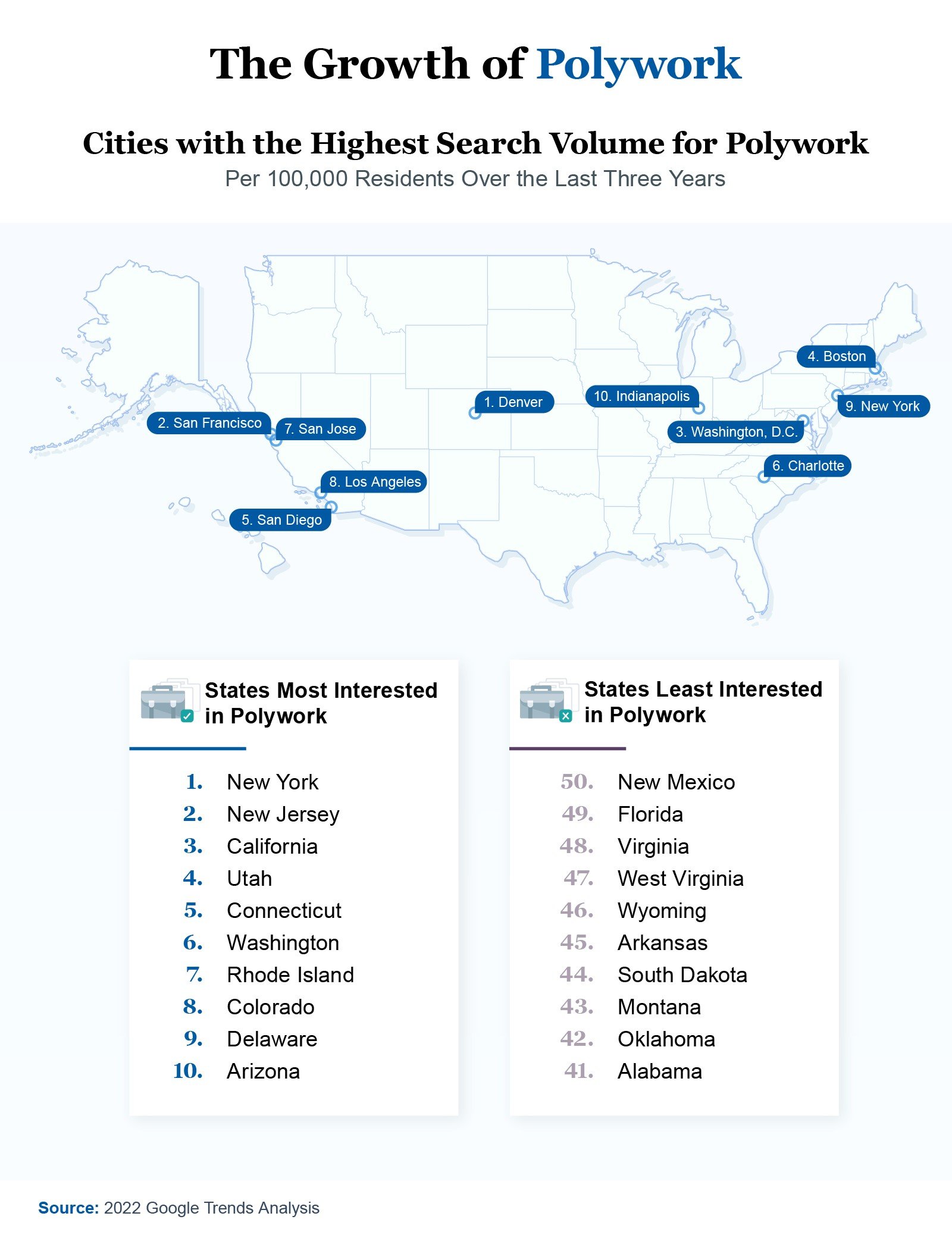 Residents of coastal cities, many of which are also the most expensive cities in the US, appear much more likely to be interested in polywork than residents of cities in the middle of the country. While Denver is a notable exception, six of the top 10 cities with the highest volume of polywork-related internet searches are on the coast. Boston and New York City led the pack in the east, while San Francisco, San Diego, San Jose, and Los Angeles generated the most searches out west.
From a state-by-state point of view, New York, New Jersey, California, Utah, and Connecticut residents are the most interested in polywork. On the other hand, New Mexico, Florida, Virginia, West Virginia, and Wyoming residents don't care nearly as much.
Either way, there were over 70 million freelancers in the U.S. as of 2022, which is 20% higher than the 2021 headcount. The number of people looking to transition to a multi-job lifestyle could easily keep rising through 2023 and beyond, especially in these places where people seem most keen on researching polywork.
Working Overtime
We surveyed 1,000 people about their work habits, including the number of jobs they currently hold. We asked polyworkers about their job levels, work locations, and ideal scenarios for working more than one job.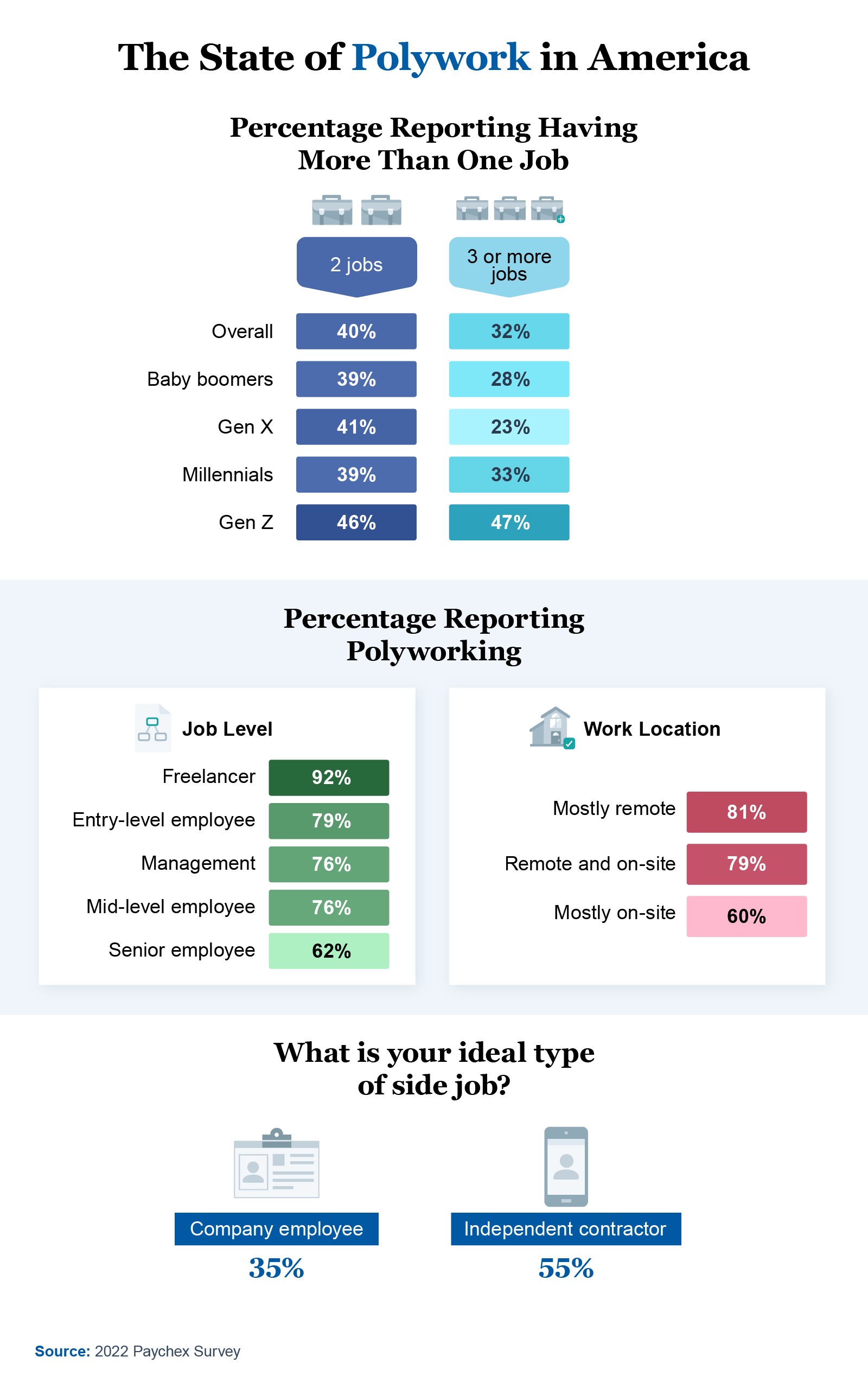 We found that 40% of respondents hold two jobs, while just under one-third juggle up to three or more. Gen Zers are more likely to polywork than other generations, with nearly half of them saying they're currently employed at two or three places.
Might that mean they're harder to lock into a single job commitment? To make your business attractive to young workers, consider offering them financial security, flexibility and be open to contract work, while emphasizing your company's commitment to authenticity and diversity.
The one-job lifestyle isn't for everyone, and polyworkers are no exception; nearly all the ones we surveyed are freelancers (92%). Most opt for a mostly remote work setting, and it's easy to assume why: The flexibility of remote work offers the luxury of more easily working two or more jobs. Still, balancing them can be challenging, which might mean some industries are more conducive to polywork than others.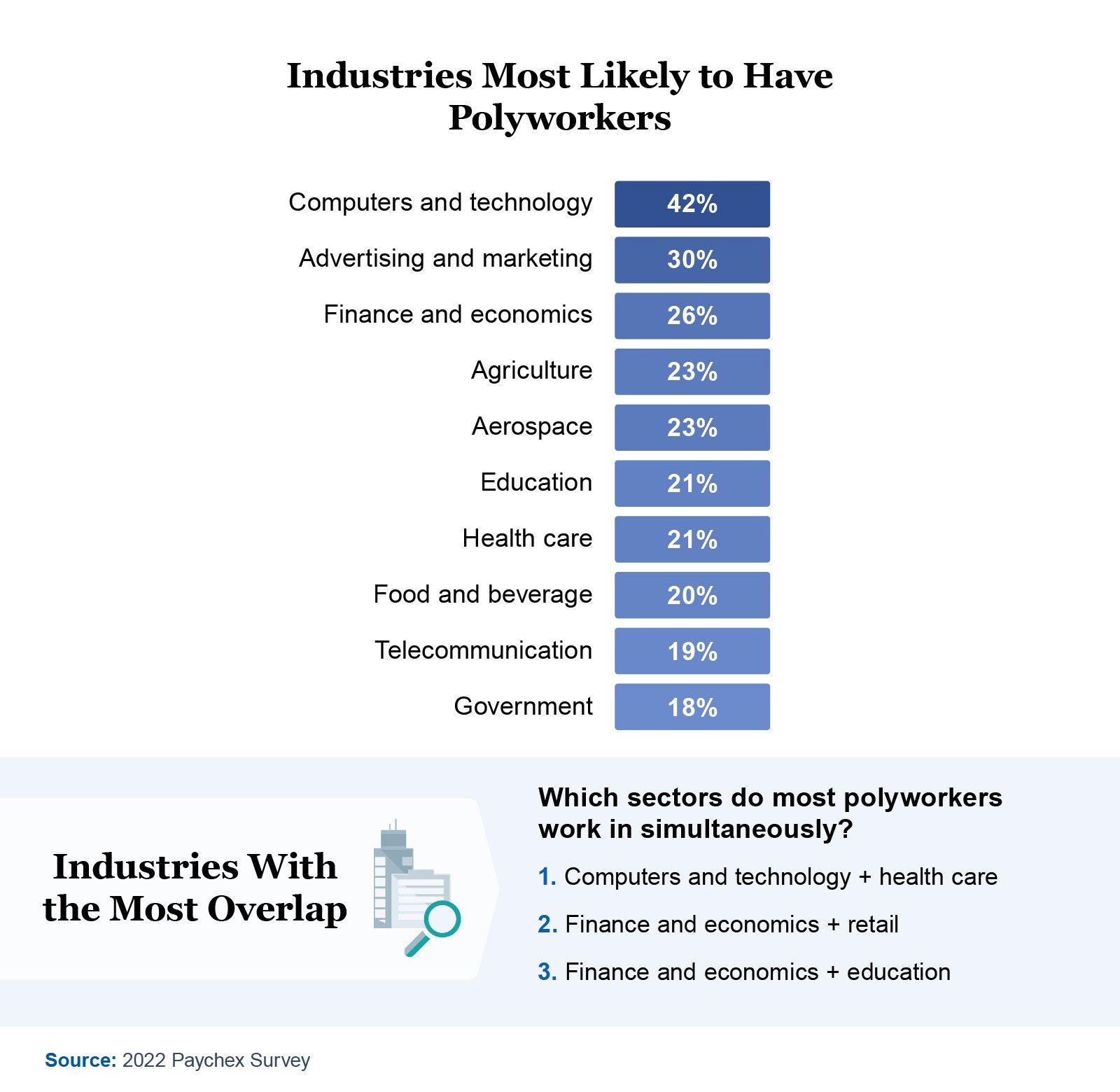 Computer and technology sector workers are most likely to have multiple income streams. This industry also has the most overlap with health care (people working in both simultaneously). While these workers might mix and match the most while working multiple jobs, people from many different professional backgrounds have taken on work in other fields as well. For example, finance and economics workers overlap with the retail and education sectors quite a bit, too.
Numerous Obligations
Whether polyworkers hold jobs in multiple industries or not, their plans may or may not be long-term. How long do they intend to keep it up, and why?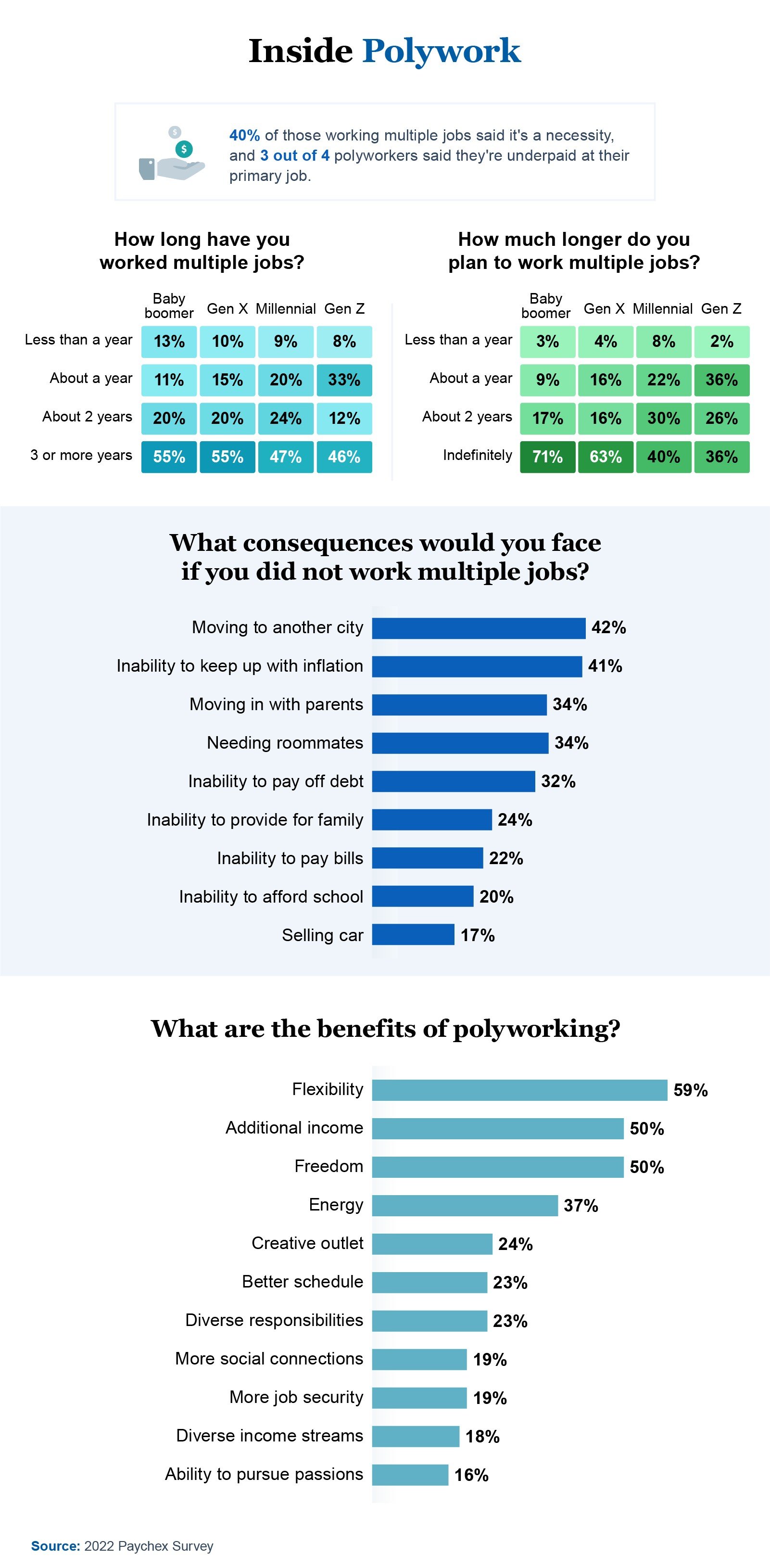 Nearly half of our respondents are polywork veterans, having worked multiple jobs for three or more years. Gen X has been working multiple jobs for the longest time, with 32% saying they have done so for five years or more.
But it's not just Gen Xers who are long-term polyworkers. Almost half of respondents plan to polywork indefinitely (47%), and their motivation varies. Without multiple income streams, Gen Xers and millennials most fear the possibility of having to move to a new home, while baby boomers are particularly worried about their inability to keep up with inflation.
That's one reason flexibility, additional income, and freedom are important to polyworkers. Having autonomy over their workloads and schedules allows them to structure their day however they need to, which is especially helpful to freelance polyworkers.
Taking a Toll
We now know why so many people pursue a polywork lifestyle, but how does it compare to that of one-job workers? Does the increased flexibility and freedom make them happier than those working nine to five?
In some cases, it might not. One-job workers are less burnt out and stressed than polyworkers. They also feel more inspired and productive at work. However, both types of workers were about equally satisfied with their career and work-life balance.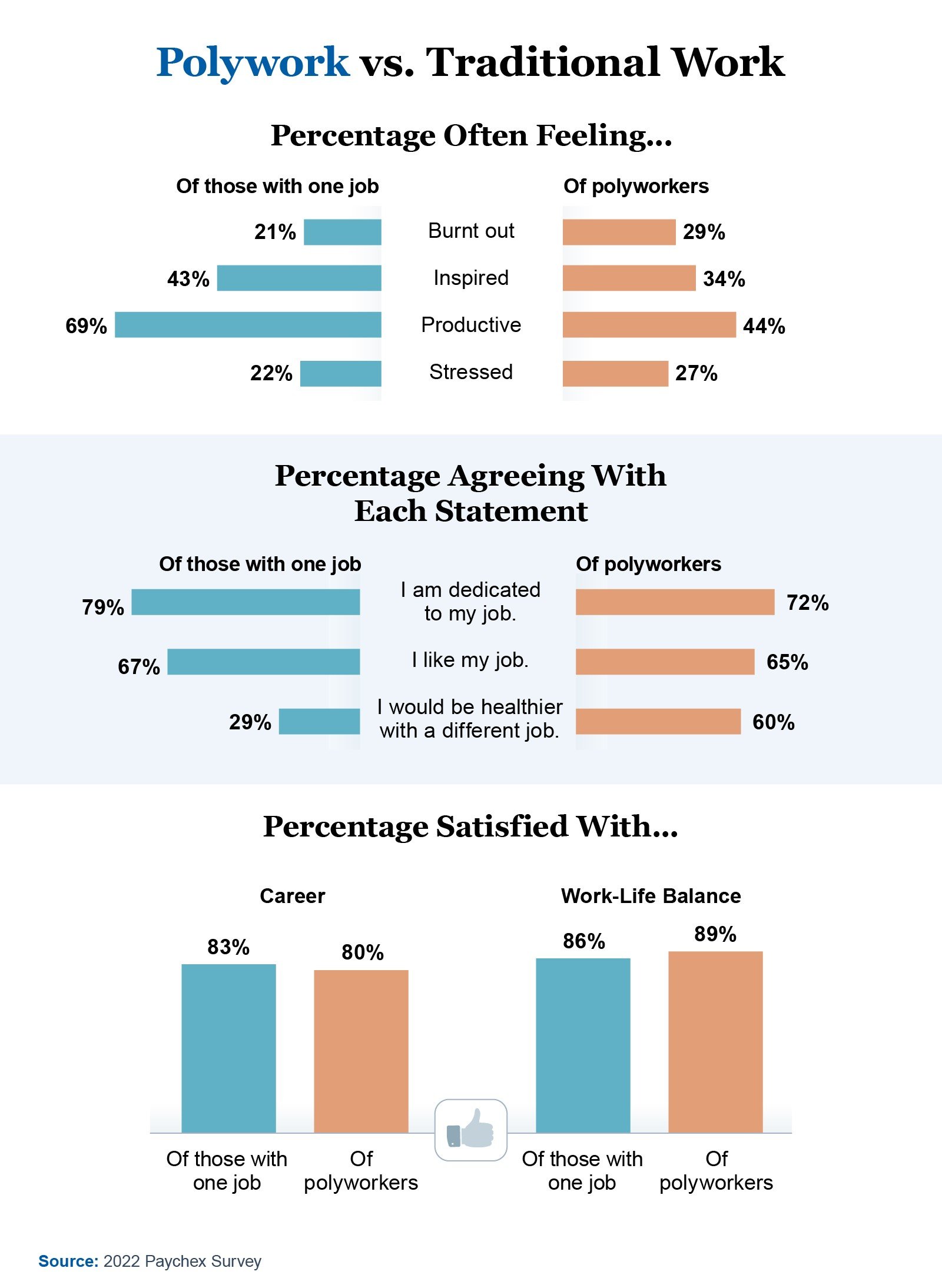 Some polyworkers are self-reportedly less dedicated to their jobs. They also generally like their jobs less and think they would be healthier if they had a different one. Even polyworkers working multiple jobs out of desire rather than necessity report these same sentiments.
Hiring a Polyworker
Higher levels of burnout and stress aren't the only issues polyworkers face. To find out how hard it might be for them to land the additional jobs they desire, we asked over 200 hiring managers how they feel about candidates already working other jobs.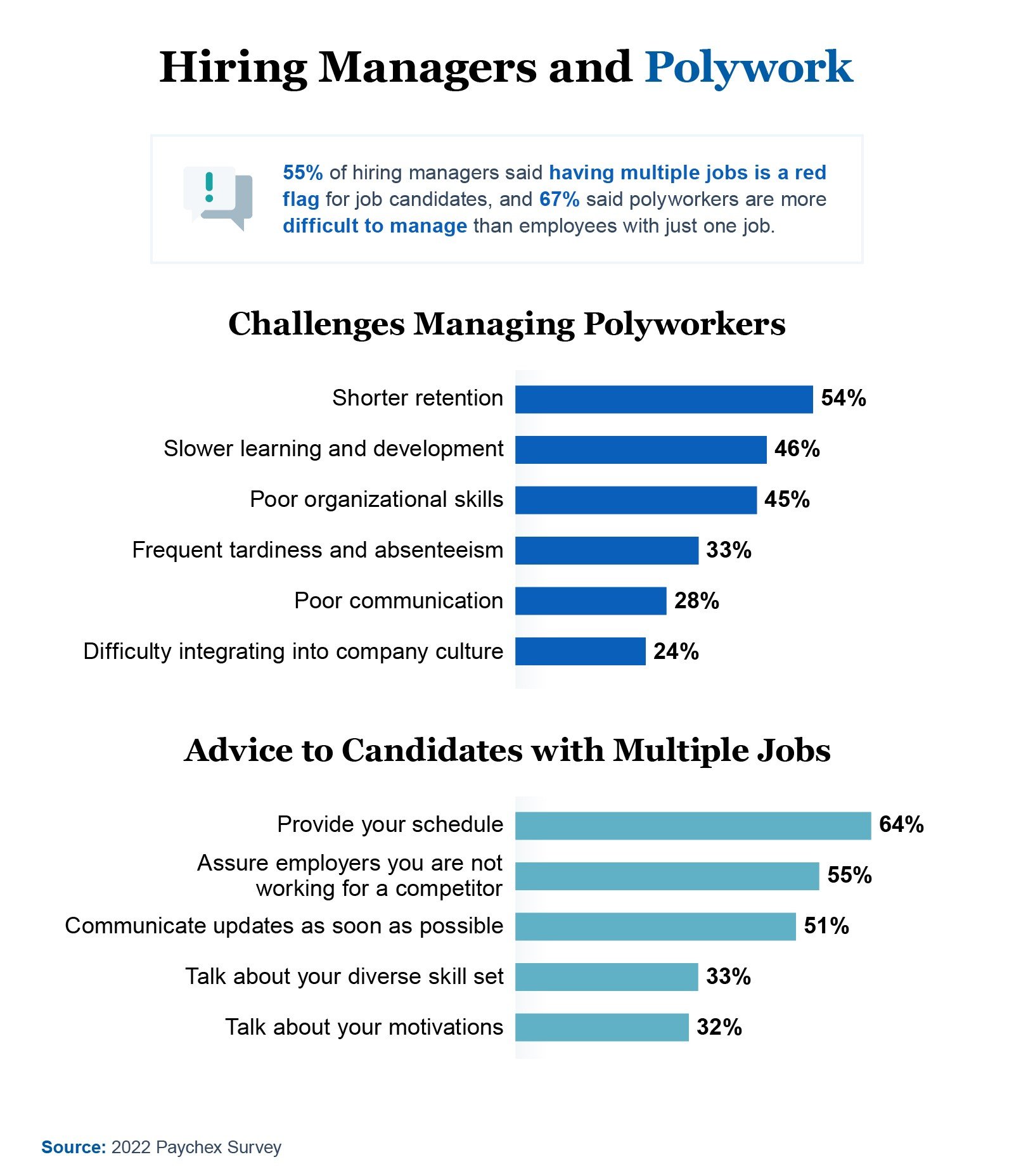 For polyworkers on the job hunt, hiring managers have some advice to give. The most important thing is to be transparent about your work schedule, so managers know when you're available and when you're not. They also appreciate knowing that they are competing with your other employers for your labor. Cover these bases in order to boost your chances of landing your next gig.
Over half of hiring managers say polyworking candidates immediately raise a red flag, and more than two-thirds say they're more challenging to manage than single-job employees. Manager also believe polyworkers don't stick around as long, are slower at learning and developing skills, and demonstrate poor organizational skills.
The Constant Hustle
The appeal of polywork is rising, but so far, people living in New York, New Jersey, and California are most interested in doing it. Most of the polyworkers we surveyed have held multiple jobs for at least three years with no plans to scale back, and more than half were Gen Z freelancers preferring remote work.
The flexibility and freedom of that lifestyle are simply too good for many to pass up, and quitting it could result in hardships like having to move or struggling to keep up with inflation. Is polywork here to stay, or will the traditional work model dominate once more? To each their own, but we'll be observing these trends well into the future.
Methodology
We surveyed 1,011 people in October 2022 about their work experience. Among them were 707 polyworkers and 304 people with only one job. Generationally, 11% were Gen Zers, 55% were millennials, 20% were Gen Xers, and 14% were baby boomers. Additionally, 57% were men, and 43% were women. We also surveyed 205 hiring managers. Finally, we looked at the search volume for the terms "polywork," "gig work," and "side hustles" in each U.S. state as well as the 25 most populous cities from January 1, 2019 through October 1, 2022.
About Paychex
As a leading provider of integrated human capital management solutions, Paychex offers services for your HR, payroll, retirement plan, employee benefit, and business insurance needs.
Fair Use Statement
If you know any polyworkers who might be interested in our findings, feel free to share this article with them. We just ask that you only do so for noncommercial use, and provide a link back to this original page so the contributors can earn credit for their work.
Join Our 700,000+ Customers and Get Help Managing HR, Payroll, and Benefits for Your Mt Arlington, New Jersey Business